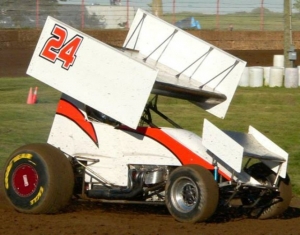 By Bill W
July 27, 2010 – Terry McCarl is a historian and a numbers guy. Last weekend, a historical marker fell when he won his 250th career sprint car feature Friday at the ELKO Speedway in New Market, Minnesota. Not satisfied, he followed up that win with the IRA with a victory on Saturday night in Knoxville's 410 class. This weekend, he will focus on a tripleheader at the Huset's Speedway near Brandon, South Dakota with the All Stars.
ELKO Speedway puts dirt on once a year, and gets a good response from the IRA sprinters and their fans. "It's just a great facility," says TMAC. "I had never seen it before last year, and 'Wow' what a neat place. Everything surrounding it is nice, and we were looking forward to going back."
The Altoona, Iowa driver wasn't planning on putting in as much interstate time as he did on Friday. "It was a little crazy," he says. "Jerry Russell, his son Steven and I left in plenty of time. We were 15 miles south of Owatonna, and we were into the worst traffic jam in my life this side of California. It took us two hours to get through fifteen miles of construction. We missed the driver's meeting and had to qualify last."
Preliminary events went well despite the handicap. "We were pretty strong," says TMAC. "We qualified well (4th) for going out late, and the heat was fine (3rd). We picked up a good draw for the feature and started on the pole."
The win did not come easy. "Brooke Tatnell got the jump on us at the start," says TMAC. "I was a little tight early, and waiting for the car to come to me. Brooke had some problems and that gave us the lead. Scott Winters was able to get by us, but my fuel load burned off, and the track slicked to us."
The Eagle Chassis really started working for TMAC, and he went on to take the point and pull away with win #250. "We were able to get back by Scott and set sail," he says. "The car felt really good. Some of it is myself getting better, and some of it is the car. Confidence is such a huge thing, so it is good to get these wins."
Saturday at Knoxville, he continued his hot streak. "We were second quick, and winning the heat race started things out right," says TMAC. "That put us in the sixth spot starting the feature. We were able to jump up to second on the first lap."
Mark Dobmeier took the early lead with TMAC in tow. "Mark has one of the best teams in the Midwest and he was out there running strong on the cushion as usual," he says. "I was trying to find a line that might be working a little better when we got in traffic."
TMAC was delayed in traffic again, this time on the track. "I was able to reel him in a bit, but a lapped car got a little sideways in front of me off of turn two and that killed my momentum," he says. "I tried to get by him again and the same thing happened. That set us back a bit, so definitely the yellow helped us."
On the restart, TMAC used a successful slidejob to take the lead and go on to win #251. "It was a good race, and I had a lot of fans who came down that enjoyed it," he says. "We want to put on a good race for the fans. Jerry (Russell) and I learned a lot about the car again this week, and that will help us out. We're making some changes to the car that I never would have done in the past as a result of the tires we're running. It's great having Jerry there, and I can't thank him enough. Eagle is starting to sell more and more cars and I think they're going to be a real player again."
TMAC also competed in a pair of 360 cars last week. On Wednesday, he drove from 15th to 7th in Gary Swenson's #24A in Denison, Iowa, and at Knoxville, he suffered a DNF in Jerry and Jeff Smith's #86. "I am trying to get back in shape and running for Gary Swenson and the Smith's was a good way to do that," he says. "It's a good thing when you can build new relationships in this sport."
Plans this week are to run Friday, Saturday and Sunday at Huset's with the All Star Circuit of Champions. "I really would like to support Mr. (Danny) Schatz at Fargo Thursday and even hit Belleville, but we really don't have the truck and trailer to get that done," says TMAC. "We've got nine nights on the Ott, and three nights at Huset's will make it twelve. We'll overnight it to Don (Ott) on Monday to make sure we have it ready for the Nationals. I appreciate everything he's done for us, and obviously, his motors have been really strong for us."
Front Row Challenge/Ultimate Challenge
The 15th Annual Front Row Challenge and the 9th Annual Ultimate Challenge will be held Monday and Tuesday, August 9 and 10, 2010 at the Southern Iowa Speedway in Oskaloosa, Iowa. Order your seats NOW by calling McTwo Promotions, Inc. at 515 957-0020. Visit www.OskyChallenges.com for further details.
Websites for the McCarl Gang!
Driverwebsites.com has developed websites for the McCarl boys. Check out www.TerryMcCarl.com, and check out www.AustinMcCarl.com and www.CarsonMcCarl.com!
In"Terry"gation
Jeffery Swim asks: What do you find yourself doing outside of racing on your free time? Thanks!
TMAC Answers: Everyone thinks this is a rock star life, and once in awhile it is, but most of the time it's not. I don't get the opportunity to vacation or boat, but the bright side of my injury this year has been the time with family. I think we've used our deck more this year than the three years prior combined. We really don't do a whole lot outside of it. When I'm not doing it, we're concentrating on the boys' racing or promoting the Front Row Challenge and the Ultimate Challenge.
Got a question for TMAC? Send it to us at sprntcar@iowatelecom.net, and we may answer it in this section! Put "? for TMAC" in your subject line.
This Day in TMAC History!
On this day in 1996, TMAC pulled a double feature win at Knoxville Raceway taking home both the 360 Nationals and the 410 feature that night. Driving for Brad Gray in the #51 he won the $3500 360 Nationals over Danny Lasoski, Doug Wolfgang, Don Droud Jr., Larry Pinegar II and Rickey Hood. He won the 410 feature ahead of Steve Beitler, Lasoski, Dennis Moore Jr. and Gary Wright.
Website Updates
Keep up to date with McCarl Motorsports at www.TerryMcCarl.com. We keep it fresh for TMAC fans!
"Tuesdays with TMAC"!
"Tuesdays with TMAC" is an up close and personal look at colorful sprint car veteran Terry McCarl. To receive "Tuesdays with TMAC", send an e-mail to sprntcar@iowatelecom.net with "TMAC" in the subject line.
TMAC Motorsports would like to thank sponsors Deanfield Farms, AmeriCashAdvance.com, DeBerg Concrete, and Rossie Feed and Grain.