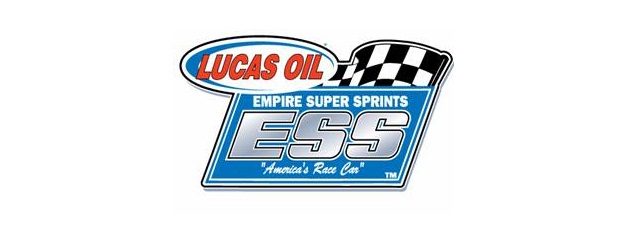 By Dean Reynolds

SYRACUSE, NY – After a well deserved weekend off, the stars and cars from the Lucas Oil Empire Super Sprints (ESS) are ready for a busy August and it all starts this Friday for "Mohawk Madness" at the Mohawk International Raceway. Mohawk Racing Parts is sponsoring the lucrative A-Main that pays $2,500 to win, $1,500 for second and $1,000 for third.
To make this visit even more important is that not only does it count towards the overall Lucas Oil championship but also the Northwood 2 Construction/LaSalle Motorsports Canadian Sprint Car Series and also the SUNY canton Series. Leading both the Lucas and SUNY Canton points is defending champion Justin Barger while the "Cobra" Chuck Hebing is atop the Canadian points.
These two will be in the pits at the ultra-modern facility along with a pair of two-time champions Lance Yonge and Steve Poirier as well as Dan Kaszubinski, local favorites Jeff Cook and Brian McDonald, Alain Bergeron, Tommy Wickham, Michael Parent, Kevin Ward Jr., Mike Stelter, Anthony Cain, Lee Ladouceur, James Hanson, Shawn Donath, Chris Jones, Devon Caron, Zach Weigand, Jami Russell, Tyler Rand, Normand Beaudreault, Paul Pekkonen, Mark Zemcik and others.
C&B Enterprises brings you the Cobra Coaches Dash Series event in what will be an exciting night of winged sprint car action. The point races are some of the closest in the 28 year history of ESS and the fans will be rewarded with some mud slinging action on the 3/8ths mile oval.
Mohawk International Raceway, the Lucas Oil Empire Super Sprints…a whole boat load of money and it's called "Mohawk Madness"! It's going to be excitement guaranteed!
For more information:
www.mohawkinternationalraceway.com
www.empiresupersprints.com
Past Empire Super Sprint Winners at Mohawk International Speedway
July 8, 1989
Rick Crane
July 26, 1997
Craig Keel
July 25, 1998
Ray Preston
July 21, 2001
Rob Dietrick
July 20, 2002
Erin Crocker
July 17, 2004
Billy Krull
July 16, 2005
Kyle Moffit
July 15, 2006
Sep. 22, 2007
June 7, 2008
Sept. 20, 2008
Aug. 14, 2009
Jeff Cook
Jeff Cook
Steve Poirier
Brian McDonald
Steve Poirier
The Lucas Oil Empire Super Sprints are brought to you by: Lucas Oil, Northwood 2 Construction/LaSalle Motorsports, SUNY Canton, 730 Truck Stop, Hoosier Racing Tires, Les Constructions Ultra, Cooks Contracting Services, Fondations 4 Saisons, Car Mate Trailers, The National Parts Peddler Newspaper, WestFront Construction, Cobra Coaches, The Ohsweken Speedway, Mohawk Racing Parts, Engine Research, Brodix Cylinder Heads, Total Race Supply, Riverside Bar and Grill, Coffrage Daniel Lampron, Mohawk Valley Community College, FX Chevy and many, many associate sponsors.