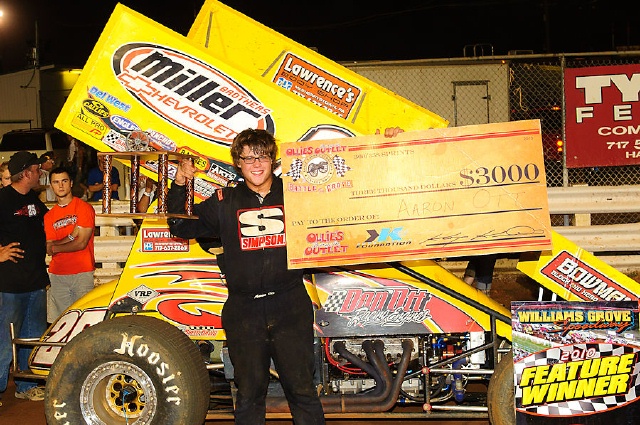 From Steve Pegram

MOORESVILLE, NC (August 9, 2010) – An entertained crowd of sprint car and stock car racing fans at Williams Grove Speedway in Mechanicsburg, Pa. raised over $50,000 in net proceeds at last Thursday's Ollie's Bargain Outlet "Battle at the Grove" charity race to benefit the Kasey Kahne Foundation and local charities designated by Ollie's. Eighteen-year-old Aaron Ott of East Berlin, Pa. stole the show by easily winning the URC-sanctioned 360/358 Sprints feature that included event host Kasey Kahne and fellow NASCAR star Tony Stewart.
This year's event is the fourth year that Ollie's Bargain Outlet and the Kasey Kahne Foundation have partnered together on a charity race at Williams Grove Speedway, a half-mile clay oval that is regarded as one of the most historic dirt track venues in the country and has hosted legendary racers such as A.J. Foyt and Mario Andretti.
"It's been four good years for Ollie's, Kasey Kahne Foundation and Williams Grove Speedway," Kahne said about the charity race. "We hope to do it again and keep trying to grow it and make it better every year."
"Kasey, Tony and Kyle put on a great show with the local drivers Thursday night and we are all proud of Aaron Ott's victory and the money the Battle raised for charity," said Ollie's President and CEO Mark Butler. "Central Pennsylvania race fans prove to be loyal and supportive year after year."
Ott, a recent high school graduate who races for his father at Don Ott Motorsports, took the lead soon after the half-way point in the 25-lap main 360/358 Sprints feature and held off Pat Cannon in the green-white-checker finish to claim the $3,000 first place prize. Kahne started 20th and passed ten cars, including Stewart near the end, to finish tenth. Gary Stuhler won the hotly contested 20-lap Super Late Model feature that included NASCAR's Kyle Busch.
"This race only comes once a year and you get to race with Kasey and the competition that's here, which speaks for itself," said Ott in Victory Lane. "I really owe it all to Ollie's Bargain Outlet and Kasey for putting on this great event. It's great for the fans and for the racecar drivers."
"Aaron Ott did an awesome job to win the race; he was really fast," said Kahne after congratulating Ott in Victory Lane.
About Kasey Kahne Foundation
The Kasey Kahne Foundation, a not-for-profit 501(c)3, was created by NASCAR driver Kasey Kahne to raise and donate funds to charitable organizations that care for chronically ill children and their families. The foundation is dedicated to positive cultural changes by giving underprivileged boys and girls ample opportunities for success. Community involvement projects and volunteerism are valued as they have the chance to make a positive impact on a life. For more information, visit www.kaseykahnefoundation.org/.
About Ollie's Bargain Outlet
Ollie's Bargain Outlet, founded in 1982, is one of America's largest retailers of closeouts, salvage and surplus merchandise. Famous for its signature catch-phrase Good Stuff Cheap, Ollie's offers a huge variety of famous brand name merchandise at savings from 30-percent to 70-percent off the regular retail price, and the assortment is always changing. Ollie's Bargain Outlet operates over 85 stores in Pennsylvania, Maryland, Delaware, Virginia, Ohio, West Virginia, New York, New Jersey, Kentucky and North Carolina. For more information, visit www.ollies.us.