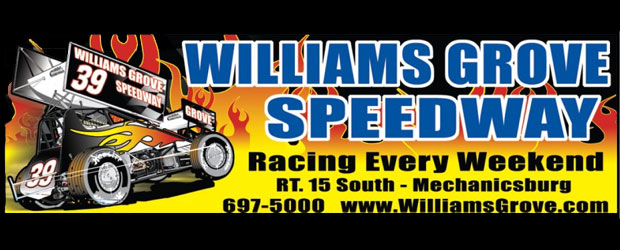 From Williams Grove Speedway
MECHANICSBSURG, PA — Tyler Walker scored his first career victory in sprint car competition at Williams Grove Speedway Friday night and Mark Smith won the URC feature. Walker started seventh in the 25-lap main event and moved into second place on the first lap. Cory Haas started on the pole and set the early pace for the first eight laps. Walker made his move entering the first turn on lap nine and slid in front of Haas to take the lead. At that point Lance Dewease, who started eleventh, was third. He drove by Haas on lap twelve and Brian Montieth, who started 12th, followed Dewease past the early leader. Despite three restarts which wiped out substantial leads for Walker, Dewease was unable to make a serious challenge and the Californian rolled to a 1.67 second victory worth $4270. Walker, 31, of Los Angeles, has won in every major winged sprint car series in America, but made it clear that his first Williams Grove win was special. He credited new crew chief Steve Suchy for helping him get to victory lane. Dewease settled for second with Montieth a close third. Brent Marks was fourth and Fred Rahmer, who started 18th, completed the top five. Mark Smith, Todd Shaffer, Danny Dietrich, Steve Buckwalter and Chad Layton finished in positions six through ten respectively. Heats for the 25 sprint cars in competition went to Haas, Rick Lafferty and Mark Coldren. In the URC feature Mark Smith and Pat Cannon swapped the lead during the early stages before Smith took over and rolled to a convincing victory. Cannon finished 5.53 seconds off the pace. Aaron Ott, who started 13th, charged to a third-place finish. Daryn Pittman moved from tenth to fourth. Blane Heimbach completed the top five. J. J. Grasso, Josh Weller, Davie Franek, Robbie Stillwaggon and Curt Michael rounded out the top ten. Heats for the 43 URC sprints in competition were won by Smith, Heimbach, Stillwaggon and Michael. The B-mains went to Glenndon Forsythe and Kevin Nouse.
Williams Grove Speedway Feature Finishes – August 27, 2010
Sprint Car Feature – 25 laps – 1. Tyler Walker, 2. Lance Dewease, 3. Brian Montieth, 4. Brent Marks, 5. Fred Rahmer, 6. Mark Smith, 7. Todd Shaffer, 8. Danny Dietrich, 9. Steve Buckwalter, 10. Chad Layton, 11. Keith Kauffman, 12. Don Kreitz, Jr., 13.. Cory Haas, 14. Brian Leppo, 15. Mark Coldren, 16. Troy Fraker, 17.. John Rudisill, 18. Trevor Lewis, 19. Chris Meleason, 20. Justin Henderson, 21. Derek Sell, 22. Greg Hodnett, 23. Alan Krimes, 24. Rick Lafferty. DNQ: Aaron Ott
URC Sprint Car Feature – 25 laps – 1. Mark Smith, 2. Pat Cannon, 3. Aaron Ott, 4. Blane Heimbach, 5. Daryn Pittman, 6. J. J. Grasso, 7. Josh Weller, 8. Davie Franek, 9. Robbie Stillwaggon, 10. Curt Michael, 11. Gerard McIntyre, 12. Kevin Nouse. 13. John Barnett, 14. Glenndon Forsythe, 15. Randy West, 16. Tim Iulg, 17. Billy Johns, 18. Becca Anderson, 19. Kevin Nagy, 20. Rory Janney, 21. Denny Garl, 22. Tim Higgins, 23. Austin Reed, 24. Kramer Williamson, 25. Matt Boland, 26. Justin Collett (DNS). DNQ: Art Liedl, Jonathan Swanson, Midge Miller, Derek Frohlich, Joe Zuczek, Ryan Price, Jason Clauss, Gary Gollub, Andy Best, Nicole Bower, Tim Hogue, Kevin Darling, Duane Morris, Jimmy Reppert, Troy Severin, Eric Tomecek, Bill Unglert.