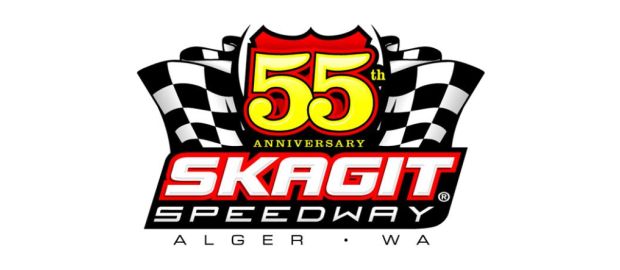 By Kaleb Hart
A strange night at ASA member track Skagit Speedway ended with the returning Kasey Kahne winning the Sage Fruit Showdown. After running second for the first half of the Budweiser 360 sprint car 20 lap main event, Kasey experimented with the high groove coming through turns three and four, finding the extra speed he needed to catch up with race leader Seth Bergman. Kahne pulled even with Bergman coming out of turn two on the thirteenth lap, powering by him down the back straight away to take the point. Kahne expertly navigated lapped traffic until a yellow came out on lap 16, giving him open air with Bergman and Austen Wheatley in behind him. Kahne was flawless on the restart, visiting Skagit Speedway's victory lane for the first time since the Jim Raper Memorial Dirt Cup in 2003 in his Sage Fruit sponsored #4 Maxim. "The guys did a good job…the Sage Fruit car was really fast. The 23 car (Bergman) got me on the second start, so I had to pass him back at that point" said Kasey with a smile in victory lane. Bergman came home second in the Superior Marine #23 Eagle. Austen Wheatley took third in his Skagit Speedway debut driving the #44w Wolfweld. Wheatley set quick time on the night and won his heat race. Rod Perkins and Danny Kirkpatrick showed the young guys how to get around, as both veterans also won their heats. Kahne won the dash.
The enthusiastic crowd sat through two delays during the night, as sprint car driver Bud Ashe crashed hard into the turn two wall, heading to the local hospital for observation after a lengthy extraction. In between the second and third heat race, a local power line went down, knocking out the power to the back straight lights. Speedway crews scrambled to put backup lighting in place, with the push truck crew illuminating the back stretch with the flood lights on their trucks. The 360 drivers in heat three gave speedway officials the thumbs up, and ran the third heat without incident. Both Outlaw Hornet heats were also run without incident under the push truck lit back stretch. Skagit Speedway wants to thank the fire and safety crew, push trucks, officials as well as the drivers and fans for sticking with us through the hardships of the evening.
In the Pull A Part Outlaw Hornet division, Ken Higby overcame his season long motor woes to hit victory lane, leading every lap except the first on his way to the W. Rick Young took second and Ashley Lewellen third. Higby and John Gunderson won the heats.
Budweiser 360 Sprints
Fast Time – Austen Wheatley
Heat 1 – Austen Wheatley, Jonathan Jorgenson, Henry Van Dam, Mack Brown, Eddie Evans, Bud Ashe, Trey Starks, Jared Peterson
Heat 2 – Rod Perkins, Seth Bergman, Tyler Anderson, Kasey Kahne, Brett Cole, Josh Edson, Michael Hodel, Devin Madonia
Heat 3 – Danny Kirkpatrick, Travis Jacobson, Kelsey Carpenter, Alan Munn, Shawn Rice, Cam Smith, Steven James, Shane Broers
Main- Kasey Kahne, Seth Bergman, Austen Wheatley, Travis Jacobson, Shawn Rice, Henry Van Dam, Mack Brown, Jonathan Jorgensen, Rod Perkins, Alan Munn, Josh Edson, Shane Broers, Cam Smith, Steven James, Michael Hodel, Tyler Anderson, Danny Kirkpatrick, Eddie Evans, Trey Starks, Kelsey Carpenter, Brett Cole
Lap Leaders – Bergman 1-12 Kahne 13-20
Pull A Part Outlaw Hornets
Heat 1 – Ken Higby, Tyler Ketchum, Ben Gunderson, Eric Thibert, Freddy Vela, Rick Young, Howard Vos, TJ Campbell
Heat 2 – John Gunderson, Ashley Lewellen, Tony Mascio, Brigham Mirabelli, Matt Ploeg, Stacy Day, Jerry Birdsey Jr
Main – Ken Higby, Rick Young, Ashley Lewellen, Ben Gunderson, Freddy Vela, Tina Thibert, Tyler Ketchum, Matt Ploeg, Brigham Mirabelli, Howard Vos, Jerry Birdsey JR, Stacy Day, Tony Mascio, TJ Campbell
Lap Leaders – Mascio 1 Higby 2-17