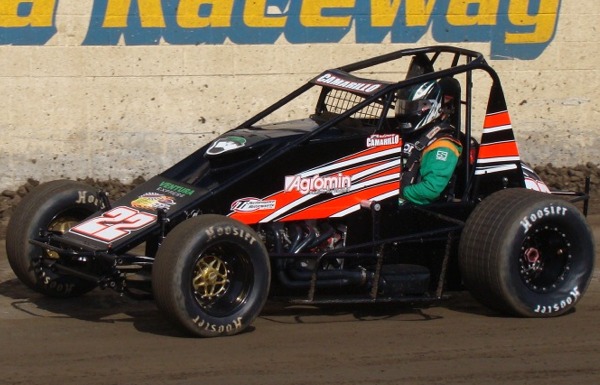 From Lance Jennings
VENTURA, CA – SEPTEMBER 8, 2010… The 360 Sprint Cars of the Ventura Racing Association will battle this Saturday, September 11th, at "The Best Little Dirt Track In America." Sharing the action packed card at Jim Naylor's Ventura Raceway will be the VRA Senior Sprints, Dwarf Cars, California Lightning Sprints, Junior Midgets, and Mini Dwarfs. The Front Gates will open at 3:00pm with Racing to start at 5:30pm.
Ojai's Troy Rutherford is having an outstanding season as he looks for his first series championship. Driving the #11 Trench Shoring / L&H Consulting entry, Rutherford won his series leading twelfth heat race of the year and finished second in the August 28th feature. The veteran driver has a 370 point advantage with four feature wins, fifteen top-10 finishes, and one semi-main triumph on the year.
Ventura's Greg Taylor will be working to cut into Rutherford's point lead with a feature win. Piloting the #7 Taylor Trucking & Crane Service / Four Paws Pet Grooming car, Taylor took advantage of an off night with VRA by winning last Sunday's 360 main event at Victorville. On August 28th at Ventura, the 2007 champion finished third in his heat race and was eleventh in the feature. To date, Greg has four main event wins, four heat race wins, and fourteen top-10 finishes.
Camarillo's Josh Ford will be looking to make a charge for the championship on Saturday. The driver of the #73 King Racing Products / A&A Precision Machining car is third in the point standings. On August 28th, Ford won his fifth heat race of the year and finished third in the 30-lap main event. The March 20th feature winner has thirteen top-10 finishes and one semi-main win on the season.
Reseda's Kevin Kierce is currently fourth in the point chase. Piloting the Fast Undercar / Direct Tire sponsored machine, Kierce won the Ventura season opener on March 13th. The 2-time defending series champion has five heat race wins and eleven top-10 finishes on the year.
Palmdale's Rick Hendrix will be looking for his second feature win of the year on Saturday. Driving the #15 Rick's Gates Works / Simpson entry, Hendrix won his fifth heat race of the year and scored a fourth place finish in the August 28th main event. The former USAC Western Sprint Car champion is fifth in the point standings and has nine top-10 finishes in 2010.
Among the other top contenders expected to be in action are Camarillo's Brian and Brent Camarillo, Steve Conrad of Quartz Hill, Rialto's Don Gansen, Reseda's Justin Kierce, Oak Park's Cody and Dakota Kershaw, Buena Park's Brody Roa, 2006 champion "Hollywood" Luis Espinoza of Castaic, and many more.
The VRA Sprint Car Series would like to thank Fast Undercar, ITI Performance, Kaeding Performance, LRB Manufacturing, Lucas Oil, Snap On Tools, Steve Watt Enterprises, Sushi Fresh, and Twister-X for their support.
Ventura Raceway is located on the Ventura County Fairgrounds at 10 West Harbor Blvd. in Ventura. Adult tickets are $14, Senior, Military, and Student tickets (ID Required) are $11, while Children's tickets (12 and under) are FREE. For more event information, please visit www.venturaraceway.com.
——————————————————–
VRA SPRINT CAR POINT STANDINGS:
1. Troy Rutherford 3585; 2. Greg Taylor 3215; 3. Josh Ford 3110; 4. Kevin Kierce 2910; 5. Rick Hendrix 2745; 6. Brian Camarillo 2655; 7. Steve Conrad 2650; 8. Brent Camarillo 2390; 9. Don Gansen 2230; 10. Justin Kierce 1800; 11. Cody Kershaw 1755; 12. Dakota Kershaw 1675; 13. Brody Roa 1620; 14. Guy Woodward 1615; 15. Kenny Perkins 1590; 16. John Nock 1400; 17. Brandon Thomson 1265; 18. Marcus Niemela 1245; 19. Scott Hansen 1180; 20. Luis Espinoza 1175.