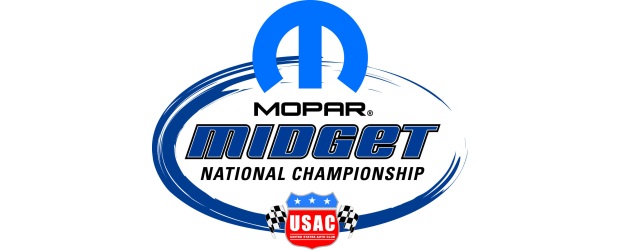 By Dick Jordan
Saturday's 31st "Pacific Coast Nationals" at the Gropetti Automotive Thunderbowl Raceway in Tulare, Calif. will feature the USAC Mopar National/Western Midgets as part of a "doubleheader" also showcasing the AMSOIL USAC National and USAC/CRA Sprints.
Bryan Clauson of Noblesville, Ind. and Cory Kruseman of Ventura, Calif. enter Saturday's events as the respective Midget point leaders, but while Clauson's lead is safe at 98 points, Kruseman is in a battle with two other drivers for the Western championship.
Alex Schutte of Redding, Calif. is just seven points behind Kruseman and Robby Josett of Agua Dulce, Calif. is only three behind Schutte with a total of 74 points on the line Saturday.
The Midgets are "new" to Tulare, not part of last year's "Pacific Coast Nationals." None of the three title combatants have won the Western Midget title in the past.
Clauson hopes to take a big step toward the National Midget title, which would be his first under USAC sanction, although Coons is piloting an entry for the winningest National team in USAC racing history – the Wilke-Pak Racers from Milwaukee, Wisc.
It will be interesting to watch Clauson's progress as he tries to maintain his slim lead in USAC's National Drivers Championship, which stands at nine points over Levi Jones going into Tulare.
USAC MOPAR WESTERN MIDGET SERIES POINT STANDINGS
1-Cory Kruseman-644, 2-Alex Schutte-637, 3-Robby Josett-634, 4-Randi Pankratz-370, 5-Jake Swanson-364, 6-Kody Swanson-333, 7-Cody Swanson-308, 8-Scott Pierovich-282, 9-Josh Lakatos-244, 10-Sean Dodenhoff-230.
USAC MOPAR NATIONAL MIDGET SERIES POINT STANDINGS
1-Bryan Clauson-1,440, 2-Jerry Coons Jr.-1,342, 3-Darren Hagen-1,318, 4-Tracy Hines-1,317, 5-Brad Kuhn-1,298, 6-Dave Darland-1,153, 7-Bobby East-870, 8-Brad Sweet-860, 9-Brad Loyet-767, 10-Zach Daum-767.