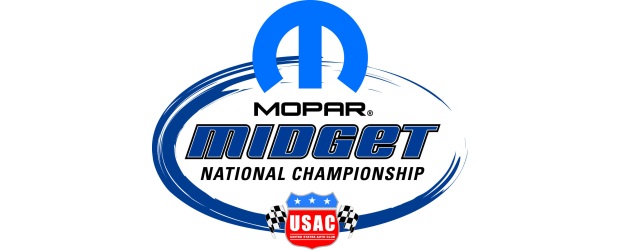 From Dick Jordan
Alex Schutte of Redding, Calif. will lead the USAC Mopar Western Midgets into this Saturday night's "ARP Fall Classic" National/Western showdown at the Ventura (Calif.) Raceway. Schutte finds himself 31 points ahead of former leader Cory Kruseman after finishing fourth in last Saturday night's 30-lap "Pacific Coast Nationals" feature at the Gropetti Automotive Thunderbowl Raceway in Tulare, Calif. Kruseman finished 18th at Tulare.
Tracy Hines of New Castle, Ind. led all 30 laps of Saturday night's 31st "Pacific Coast Nationals" in his Parker Machinery/Turbines, Inc. Spike/Toyota. Hines was trailed at the checkered flag by Jerry Coons Jr., fast qualifier Bryan Clauson, Schutte and Brad Kuhn.
Clauson's Tulare finish gave him a 100-point cushion over Coons in the National standings entering the final two races of the season.
Western title contender Robby Josett finished 20th and he trails Schutte by 44 points in the new standings entering Saturday's Ventura race.
Saturday's Ventura program also includes the USAC Western Ford Focus and Focus Young Guns.
Josett is one of three Ventura Midget race winners so far this season. He won in May, while Johnathon Henry won in April and Brad Loyet won last month.
The USAC Mopar National and Western Midget Series conclude November 25 in the 70th "Turkey Night Grand Prix" at the Toyota Speedway at Irwindale, Calif.
USAC MOPAR NATIONAL MIDGET SERIES POINT STANDINGS
1-Bryan Clauson-1,508, 2-Jerry Coons Jr.-1,408, 3-Tracy Hines-1,385, 4-Brad Kuhn-1,350, 5-Darren Hagen-1,318, 6-Dave Darland-1,171, 7-Bobby East-921, 8-Brad Sweet-860, 9-Zach Daum-819, 10-Brad Loyet-795.
USAC MOPAR MIDGET SERIES DIRT POINT STANDINGS
1-Bryan Clauson-1,204, 2-Jerry Coons Jr.-1,163, 3-Brad Kuhn-1,125, 4-Tracy Hines-1,056, 5-Dave Darland-920, 6-Darren Hagen-918, 7-Brad Loyet-795, 8-Bobby East-671, 9-Zach Daum-631, 10-Brad Sweet-629.
USAC MOPAR WESTERN MIDGET SERIES POINT STANDINGS
1-Alex Schutte-692, 2-Cory Kruseman-661, 3-Robby Josett-648, 4-Randi Pankratz-398, 5-Jake Swanson-387, 6-Kody Swanson-354, 7-Cody Swanson-348, 8-Scott Pierovich-309, 9-Brad Loyet-254, 10-Sean Dodenhoff-250.