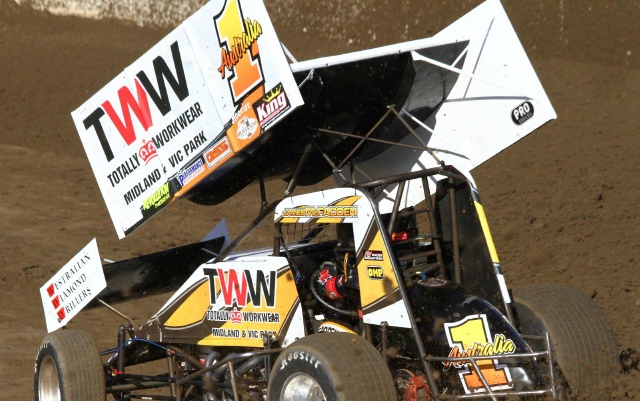 From Redline Media
After much deliberation and under the stern advice of doctors; James McFadden has today unfortunately confirmed that he is going to be sidelined for the best part of the next two months of racing due to an ongoing injury.
There has been no secret that the former Australian Championship has struggled to overcome a shoulder injury, which was sustained in a crash during his opening appearance of the season at Mac's Speedway in North Queensland, throughout this current season.
"We've had some further scans on the shoulder and it's been revealed that there is a crack in the collarbone and also some further ligament damage," explained a disappointed McFadden. "The doctors have said that in order for it to heal properly then I'll need to spend some time out of the driver's seat and although that's far from the ideal scenario I've got to do what's best for my body."
In terms of a likely return aboard the Scott Milling owned WA # 25 Totally Workwear supported Cool; the 21-year-old isn't too sure about when that will be.
"If everything goes smoothly with my recovery then I'd like to think that I could be back to defend my Queensland Easter Trail Series in late April, but we'll just have to wait and see," commented McFadden. "The main focus at this stage is just to recover as soon as possible. The support I've received from my car owner Scott Milling and the rest of the team, along with all my sponsors, family and friend's has been wonderful and it's made dealing with this whole situation a lot easier."
In the 2010/11 season McFadden would like to thank his car owner Scott Milling, his parents Dave (crew chief) and Tania, along with his valued sponsors Totally Workwear, Western Diamond Drillers, KRE Race Engines, OMP, Racer Industries and Cool Chassis for all their wonderful support.
To find out more about James McFadden visit his official website: www.jamesmcfadden.com.au