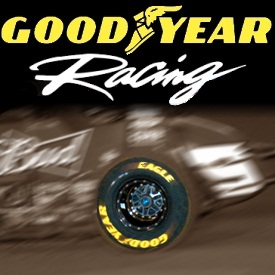 By Lee Elder
GASTORIA, N.C. (April 18, 2011) – There is an old racing axiom that if you can't win you should at least be spectacular.
Erin Crocker did both and made history by becoming the first woman to win a main event in the 15-year existence of the United Sprint Car Series presented by Goodyear when she won at Carolina Speedway. Immediately after crossing the finish line, Crocker's racer struck another car and the crash resulted in a series of flips which carried Crocker over an outside retaining wall.
Crocker was not hurt and attended the winner's circle ceremony.
Goodyear is the exclusive tire supplier for the rear wheel positions of USCS race cars. The line of tires supplied for the USCS program comes from the same line Goodyear supplies other touring racing programs as well as weekly racing programs around the country.
It looked as if Morgan Turpen, the 2010 USCS Rookie of the Year, might become the first woman winner. She led laps 12-23 of the 30-lap feature. But Crocker led the final seven laps and put her name in the record book. Turpen finished second, followed by Lane Moss, 2010 series champion Terry Gray and Matt Linder.
Gray won the Goodyear Speed Dash.
More information about Goodyear Racing is available at www.racegoodyear.com. More information about the USCS presented by Goodyear is available at www.uscsracing.com.