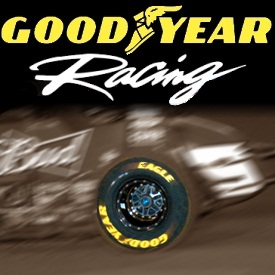 By Lee Elder
WATSONVILLE, Calif. (April 25, 2011) – Tim Kaeding passed his father with both front wheels in the air to take the lead, then fended off a determined charge to win the Golden State King of the West Series race at Ocean Speedway.
The victory was the 50th in Series competition for the younger Kaeding.
Goodyear is the Official Tire Supplier for the Golden State King of the West sprint car series. Though the competitors were allowed a brief period at the beginning of the season to use their tire inventory left over from the 2010 season, drivers are choosing to run on Goodyear Eagles and winning.
Tim Kaeding, the canny veteran, raced on four Goodyear tires.
Kaeding won a drag race with his father, Brent Kaeding, down the front straight to get to the front on lap 13. At the finish, Tim Kaeding narrowly held off rookie Justin Sanders to collect the victory. Sanders was impressive in just his second start in a winged, 410 sprint car.
Jonathan Allard took third, followed by the elder Kaeding and Andy Gregg. Jason Statler had the quickest time in qualifying.
Tim Kaeding now leads the standings with 468 points. Allard is second with 443 and Evan Suggs is third with 437.
More information about Goodyear Racing is available at www.racegoodyewar.com. More information about the King of the West series is available at www.kingofthewestsprintcarseries.com.