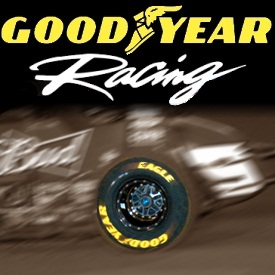 By Lee Elder
KANSAS CITY, Ks (June 6, 2011) – You've heard about the mysterious healing qualities of the sight of a green flag for a race car driver. Strap a racer into a competitive machine and most ailments magically disappear.
Imagine what a checkered flag does for a driver's malady.
Just ask Steve Kinser. Five days after wrist surgery, Kinser applied the soothing balm of winning when he conquered the 30-lap World of Outlaws Sprint Car Series feature event at Lakeside Speedway.
Goodyear is the exclusive rear tire provider for the World of Outlaws Sprint Car Series, as well as the Official Tire Company of the Series. The tiremaker supplies a variety of sizes and tread compounds for the competitors, for both the front and rear wheel positions. The bias-ply tires Goodyear manufacturers for the WoO program are also supplied to various touring winged sprint car programs and for weekly racing programs around the country.
Kinser's win was his fifth of the season and the 566th of his amazing career.
Brian Brown, who led the first 21 laps of the race, finished second. Cody Darrah was third, followed by Sammy Swindell and Jason Meyers.
Earlier in the weekend, Paul McMahan won the Outlaws race at the Belleville High Banks and set a track record in the process. McMahan's qualifying lap of 14.258 seconds broke a two-year-old record for the Series at the track.
Craig Dollansky was second at Belleville, followed by Meyers, Kerry Madsen and Joey Saldana.
Saldana leads the championship standings with 2,774 points. Donny Schatz is second with 2,761 and Kinser is third with 2,747.
More information about Goodyear Racing is available at www.racegoodyear.com. More information about the World of Outlaws is available at www.worldofoutlaws.com.