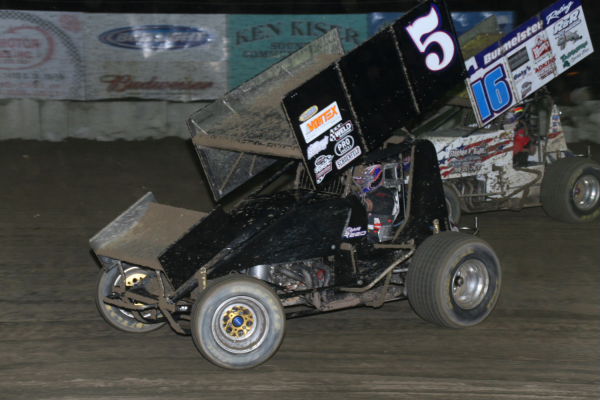 By BRIAN LISKAI
FREMONT, Ohio – Byron Reed proved his team is resilient. After last weekend when mechanical woes cost him the Kistler Racing Products Fremont Attica Sprint Title (FAST) point lead, the Monclova Missile set out to regain that championship form and did just that Saturday, June 11 on Crown Battery Night at Fremont Speedway.
"We were just kind of okay in one and two but we were pretty good in three and four. People are really running good here and I just couldn't wait on the lapped cars or I'd be in trouble. Bryan Sebetto has been running pretty good here and he called me old here last week so I had to beat him," said Reed beside his Crown Batter, Reebar Diecasting, ProShocks backed #5.
"We got off to a little rough start…we're still running pretty good just had some bad luck. But I think we're getting it together…it's good to get a win with speedweek coming up," added Reed of his second victory of the season at "The Track That Action Built."
The Fremont Federal Credit Union 305 Sprint feature was a barn-burner with last week's feature winner Zack Kramer, Jimmy Colvin and Dean Jacobs battling throughout the 25 laps. When Colvin slipped up in turn two on the last lap Kramer was there to pounce and he slid under Colvin in turn three and took the lead coming down for the checkered flag.
"That was a hell of a race. He slid up the last two corners and it worked out for the best," said Kramer in the Engine Pro Victory Lane. "I have to thank Grandpa and Grandma, Kear's Speed Shop, Jenny's Copper Penny, B&L Plumbing and Willey's Towing for all their support.
Fostoria's Bob Dible would not budge off the bottom of the track in the Fremont Fence & Guardrail Dirt Truck feature. He led all 20 laps but it wasn't easy as first Cory Ward challenged and then at the end Dan Hennig put the pressure on.
"Finally…it's been a year and half since we won at Fremont. We've been good. We have a couple of seconds but a couple of DNFs. I seen Cory and I thought about one lap to go up and it was just too slippery for me," said Dible beside his Bob's Machine Shop, BMS Engines backed machine.
In the 30-lap feature for the Fort Ball Pizza Palace 410 Sprints, pole-sitter Jody Keegan grabbed the early lead with Brandon Martin, Reed, Dean Jacobs and outside front row starter Bryan Sebetto giving chase. Martin would drive to Keegan's inside to challenge for the lead but a Duane Zablocki spin on lap three – the only caution of the event – would bunch up the field.
On the restart Reed would drive around Martin into second with Jacobs and Martin waging a tremendous battle for third. Reed would execute the slide job in turns three and four on lap eight to take the lead away from Keegan while Jacobs and Martin continued to duke it out for third. Jacobs would get around Keegan for second on lap nine.
The car on the move was Kevin Lee who had raced his way into fifth from his 15th starting spot by lap 10. Lee would drive under both Martin and Keegan into third on lap 12. Meanwhile Reed was in heavy lapped traffic by lap 13 but Jacobs could not close the distance while Lee had his hands full with a resurgent Sebetto. Lee and Sebetto would race side by side over the next seven laps.
Reed would encounter heavy lapped traffic by lap 21, but again Jacobs could not close while Sebetto secured third from Lee with Martin in fifth and 14th place starter Greg Wilson into sixth. Reed would slice his way through the traffic and would go on to his 22nd career Fremont victory with Jacobs, Sebetto, Lee and Wilson rounding out the top five.
Sebetto's lead in the FAST championship hunt is now just 13 over Reed with Jacobs just 26 points out.
In the 25-lap 305 sprint main, front row starters Kramer and Colvin would battle for the lead at the drop of the green with D.J. Foos, Dustin Dinan and Dean Jacobs in pursuit. A Matt Merrill spin after one lap was in the books would bunch up the field with Kramer leading Colvin, Foos, Dinan and Jacobs. Colvin would drive under Kramer on the restart to take the lead but Kramer continued to race to his outside while Foos, Jacobs and Dinan stayed glued to their rear bumpers.
With 12 laps in the books, it was now a three car battle for the lead between Colvin, Kramer and Foos with Jacobs and Dinan waiting to pounce. Colvin and Kramer raced side-by-side for the lead throughout the 25 lap affair. Foos would slip up in turn two on lap 14 allowing Jacobs to move into third. Colvin and Kramer would hit lapped traffic by the 16th circuit allowing Jacobs and Dinan to close. Jacobs would take the second spot and challenge for the lad on lap 18 but Kramer rallied to regain the runner-up spot with five laps to go.
Kramer would again race to Colvin's outside as the leader encountered lapped machines racing side-by-side in front of him with two laps to go. Colvin would take the white flag but slid up the track in turn two allowing Kramer to get a run down the back stretch. Colvin again slid up the track in turn three and Kramer pounced, diving under to take the lead as they raced to the checkered. Jacobs, Dinan and Foos would round out the top five.
Dible would use his pole starting spot to take the lead in the truck main with Ward, Kent Brewer, Brian Sorg, Dan Hennig, Art Ball and Steve Sabo in pursuit. A quick caution with a lap in the books for a Paul Brown Jr. spin and again Dible would hug the bottom to maintain the lead. Ward would continuously race to Dible's outside but could not take the lead, Brewer, Hennig, Ball and 11th starter John Ivy would stay right on the rear bumper of the two leaders. Following a lap four caution for a Brian Sorg spin, the action again heated up between Dible and Ward as Brewer, Hennig, Ball, Ivy and Sabo battled hard for third.
The action really got hot and heavy with seven laps to go with Dible and Ward still racing side-by-side for the lead with Hennig, Ivy and Brewer right on their heels. Ivy would spin in turn four while challenging for third on lap 15, setting up a five lap scramble. A lap and a caution for a Jimmy McGrath Jr. spin which collected Sorg and now it was a four lap dash to the finish.
Dible would not budge off the bottom while Hennig drove around Ward into the second spot on the restart with Brewer, Sabo and Ball in tow. Hennig would drive to Dible's outside but he couldn't get the pass for the lead either. Dible would go on to his 10th career Fremont victory with Hennig, Ward, Sabo and Ball rounding out the top five.
Fremont Speedway will be back in action for the fifth night of the 29th Annual Ohio Sprint Speedway on Tuesday, June 21 featuring the O'Reilly Auto Parts All Star Circuit of Champion Sprint Cars. The 305 sprints will also be in action and will also make up their rained out A-main from May 28th.
For more information go to www.fremontohspeedway.com
Fremont Federal Credit Union 305 Sprints (28 Cars)
[#]-Starting Position
Heat 1 – Heat 1 (8 Laps – Top 5 finishers transfer to the A-feature)
1. 717-Dean Jacobs[1] ; 2. 8B-Zack Kramer[4] ; 3. 10-Josh Harrison[2] ; 4. 4M-Jamie Miller[7] ; 5. 5R-Jordan Ryan[5] ; 6. 8K-Bobby Clark[9] ; 7. 8J-Jess Stiger[3] ; 8. 22D-Dan Hammond[8] ; 9. 30-Adam Ollom[10] ; 10. M28-Josh Muntz[6]
Heat 2 – Heat 2 (8 Laps – Top 5 finishers transfer to the A-feature)
1. 35-Stuart Brubaker[1] ; 2. 94-John Ivy[3] ; 3. 9-Jimmy Colvin[2] ; 4. 11F-D.J. Foos[7] ; 5. 1W-Paul Weaver[8] ; 6. 39-Matt Merrill[4] ; 7. 19R-Steve Rando[6] ; 8. 40-Caleb Griffith[9] ; 9. 25-Jason Keckler[5]
Heat 3 – Heat 3 (8 Laps – Top 5 finishers transfer to the A-feature)
1. 27-Paige Polyak[2] ; 2. 10X-Dustin Stroup[1] ; 3. 5-Dustin Dinan[4] ; 4. 1X-Lee Jacobs[6] ; 5. 1-Nate Dussel[8] ; 6. 36-Seth Schneider[3] ; 7. 10S-Roger Shammo[9] ; 8. 36X-Dustin Keegan[7] ; 9. 55-Jim Cushing[5]
B-Main – Computer Man Inc. (10 Laps – Top 5 finishers transfer to the A-feature)
1. 8K-Bobby Clark[1] ; 2. 19R-Steve Rando[5] ; 3. 39-Matt Merrill[2] ; 4. 25-Jason Keckler[11] ; 5. 36X-Dustin Keegan[9] ; 6. 10S-Roger Shammo[6] ; 7. 22D-Dan Hammond[7] ; 8. 8J-Jess Stiger[4] ; 9. 55-Jim Cushing[12] ; 10. 30-Adam Ollom[10] ; 11. 36-Seth Schneider[3] ; 12. 40-Caleb Griffith[8]
A-Main – (25 Laps)
1. 8B-Zack Kramer[2]; 2. 9-Jimmy Colvin[1]; 3. 717-Dean Jacobs[6]; 4. 5-Dustin Dinan[3]; 5. 11F-D.J. Foos[4]; 6. 94-John Ivy[7]; 7. 27-Paige Polyak[9]; 8. 35-Stuart Brubaker[5]; 9. 10X-Dustin Stroup[8]; 10. 1X-Lee Jacobs[12]; 11. 1-Nate Dussel[15]; 12. 8K-Bobby Clark[16]; 13. 1W-Paul Weaver[14]; 14. 5R-Jordan Ryan[13]; 15. 10-Josh Harrison[11]; 16. 19R-Steve Rando[17]; 17. 4M-Jamie Miller[10]; 18. 25-Jason Keckler[19]; 19. 36X-Dustin Keegan[20]; 20. 39-Matt Merrill[18]
Hard Charger: 1-Nate Dussel[+4]