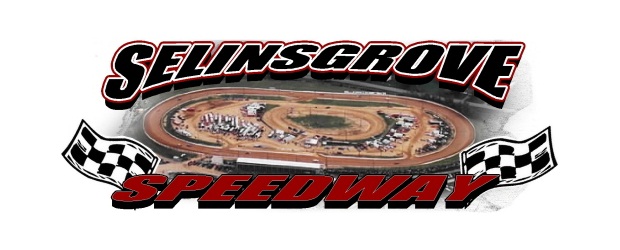 From Selinsgrove Speedway
SELINSGROVE, Pa. – TJ Stutts of Liverpool drove to a convincing win in the
eighth annual Joe Whitcomb Memorial for 358 sprint cars Saturday night at
Selinsgrove Speedway. Stutts collected $1,771 for his first win of the
season and the 13th of his career at the track driving the Wise Motorsports
No. 23M.
Blane Heimbach of Selinsgrove was the night's fast qualifier with a lap
time of 17.498, besting a field of 28 entries.
Jim Yoder of Selinsgrove won his first race of the season in the 25-lap
late model feature and reclaimed the point lead in the chase for the
championship. The victory marked the 10th of Yoder's career at the track.
AJ Hoffman of Richfield won both of the 15-lap pro stock features for his
fifth and sixth wins of the season, respectively. With his sixth win,
Hoffman also tied Kyle Bachman's all-time pro stock win record of 33 career
victories at the speedway.
Keith Bissinger of Orangeville drove to his first win of the season in the
12-lap roadrunner main event.
Selinsgrove Speedway will present a 30-lap, $2,000-to-win championship for
late models plus 358 sprint cars, pro stocks, and roadrunners at 7 p.m.
Saturday, June 25, sponsored by PEPSI and Jeff's Auto Body & Recycling
Center. Track gates will open at 5 p.m.
SELINSGROVE SPEEDWAY SUMMARY – 18 June 2011
358 Sprint Cars – 28 Entries
30-Lap Joe Whitcomb Memorial:  1)  23M TJ Stutts ($1,771)  2) 71 Jessica
Anderson  3) 19 Colby Womer  4) 1 Mark Smith  5) 1W Eric Tomecek  6) 56
Nate Snyder  7) 76 Larry Kelleher  8) 8R Michael Ruttkamp  9) 22T Matt
Boland  10) 66 Ryan Kissinger  11) 99K  Cody Keller  12) 1M  Jason Shultz
13) 5B Josh Beard  14) 42 Alan Spriggle  15) 99B Nyle Berkes  16) 6S Bill
Sherman   17) 74 Matt Heimbach DNF  18) 3 Pat Cannon DNF  19) 12 Blane
Heimbach DQ  20) 16H Matt Horst DNF  21) 1N Brian Nornhold DNF  22) 37
Scott Flammer DNF  23) 21 Duane Mausteller DNF  24) 81 Bob Beidelman DNF
25) 80M Dan Richcreek DNS
Heat Winners:  Matt Boland, Scott Flammer, Brian Nornhold
Consolation Winner:  Eric Tomecek
Time Trials:  1) 12 Blane Heimbach  17.498  2) 19 Colby Womer  17.674  3)
21 Duane Mausteller 17.732  4) 3 Pat Cannon 17.743  5) 23M TJ Stutts 17.749
6) 5 Josh Beard 17.791  7) 1W Eric Tomecek 17.826  8) 74 Matt Heimbach
17.855  9) 71A Jessica Anderson  17.898 10) 56 Nate Snyder 17.930  11) 66
Ryan Kissinger 17.934  12) 1M Mark Smith 17.975  13) 76 Larry Kelleher
17.999  14) 37 Scott Flammer 18.030  15) 8R Michael Ruttkamp 10.044  16)
22T Matt Boland 18.063  17) 1 Jason Shultz 18.147  18) 1N Brian Nornhold
18.192  19) 99K Cody Keller 18.234  20) 42 Alan Spriggle 18.236  21) 16H
Matt Horst 18.295  22) 5W Phil Walter 18.349  23) 769 Steve Nederostek
18.382  24) 99B Nyle Berkes  18.487  25) 81 Bob Beidelman 18.488  26) 38
Buzz Wilson 18.783  27) 80R Dan Richcreek 18.785  28) 6S Bill Sherman
18.858
Late Models – 19 Entries
25-Lap A-Main:  1) 27 Jim Yoder  2) 2J Jeff Rine  3) 32 Dylan Yoder  4) 61
Ken Trevitz  5) 91 Chad Davis  6) 1W Mike Walls  7) 99Z Dave Zona  8) 2
Steve Campbell  9) 99 Jeff Smith  10) 16 Matt Cochran  11) 7M Meade Hahn
12) 63 Donnie Schick  13) 45 Eric Hons  14) 115 Troy Miller  15) 90 Kyle
Rhoads  16) 23P Bud Phillips  17) 3 Robbie Smith  18) 0N Ryan Nearhood DNF
19) 88 Tony Adams DNF
Heat Winners: Eric Hons, Dave Zona
Pro Stocks – 23 Entries
15-Lap A-Main:  1) 19 AJ Hoffman  2) 115 Shaun Miller  3) 70G Kyle Bachman
4) 14 Dave Brouse Jr.  5) 8K Nate Kerstetter  6) 62 Devin Frey  7) 26 AJ
Stroup  8) 21K Mike Kiehl  9) 28 Jason Smith   10) 9 Steve Knepp  11) 88
Matt Hornberger  12) 85 Terry Lauver  13) 99 Peanut Heintzelman  14) 28J
Jeff Ceballa  15) 00 Harold Ranck DNF  16) 2TJ John Glosek DNF  17) 28X
Pete Lauver  DNF 18) 44 Matt Johnson DNF  19) 29 Adam Wray DNF  20) 71 Kurt
Wray DNF  21) 66 Dustin Wolfgang DNS  22) 88N Randy Nowlen DNS  23) 27
Jason Schmidt DNS
Heat Winners:  Kyle Bachman, AJ Stroup, Nate Kerstetter
15-Lap A-Main (from June 4):  1) 19 AJ Hoffman  2) 21K Mike Kiehl  3) 8K
Nate Kerstetter  4) 28 Jason Smith  5) 14 Dave Brouse Jr.  6) 115 Shaun
Miller  7) 29 Adam Wray  8) 88 Matt Hornberger  9) 85 Terry Lauver  10) 62
Devin Frey  11) 28J Jeff Ceballa  12) 70 Kyle Bachman   13) 27 Jason
Schmidt DNF  14) 26 AJ Stroup DNF  15) 44 Matt Johnson DNF  16) 9 Kolyn
Kahley DNF  17) 85L Pete Lauver DNF   18) 66 Dustin Wolfgang DNF  19) 88N
Randy Nowlen DNF  20) 07 Tim Krape DNS
Roadrunners – 26 Entries
12-Lap A-Main:  1) 11B Keith Bissinger  2) 10M Brad Mitch  3) 201 Brian
Johnson  4) 29B Ricky Bender  5) 69 Scott Dunham Jr.  6) 76 Bob Bussey  7)
02 John Fowler  8) 25J Nate Romig  9) 41D Dennis Conrad  10) 77J Jeff
Swanger  11) 89 John Schoch 12) 7 Butch Shaffer  13) 5D Dave Adams  14) 88
Karen Chase  15) 44 Corey Collier  16) 3 Bruce Wyland Jr.  17) 00H Nathan
Engle  18) 28X Jordan Taylor  19) 99 Chris Hoffman  20) 31B Brandon Shultz
DNF  21) 28 Bob Menttzer DNF  22) 129B Rob Pyle DNF  23) 15W Shawn
Wondoloski  24) 15 Dustin Snook DNF  25) 112 Ben Feree DNS  26) 77 Steve
Yoder DNS
Heat Winners:  Bob Bussey, Brad Mitch, Keith Bissinger