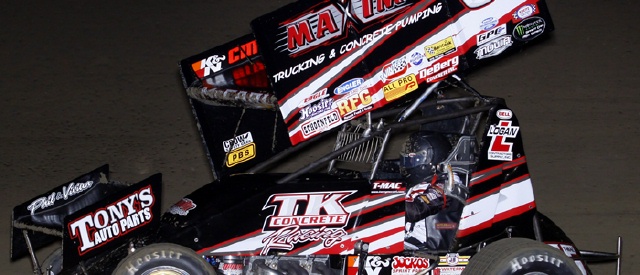 By Bill W
July 12, 2011 – It's not often you get in trouble for winning, but Terry McCarl did just that when he got back to his pit. You see, wife Lori, was hoping her son Austin could make it to Knoxville Victory Lane for the first time ever, but she was also happy with the one-two finish. Instead Dad made a late race pass on a restart to seal his 51st win (fourth all-time) Saturday night in the first of two features. The second saw a charge from 15th to 4th. Other racing saw a fast start at Cedar Lake derailed, and some handling issues in the TMAC Motorsports #24 at Huset's.
TMAC registered the sixth quick time of the night in qualifying, with the top six within an eyelash of each other. "I was disappointed in qualifying," he says. "We were .002 off of third quick. Every point matters and you want to start up front at Twin Features."
The Altoona, Iowa driver finished fourth in his heat. "The car was a little tight in the heat," says TMAC. "These Goodyears are tricky. We made the right adjustments for the feature though."
Starting fourth, TMAC saw son Austin go by him as he moved forward. "We were operating in the middle, and Austin drove around us on the top, so I made the adjustment," he says. "A couple of guys had some problems and we were sitting second behind Austin. I really couldn't catch him, and he was doing a good job in traffic. He had a straightaway lead with four laps to go when the red came out."
Austin's lead was gone, and TMAC was in second as excitement went through the crowd. "The guys told me to change my line a bit, because (Sam) Hafertepe was coming," he says. "Austin kind of got rolled up on the start, but he threw the blocker on me that was good. I had a better run on the bottom of three, and it was rolling well. I thought, 'Oh no, Austin, you're in trouble.'"
TMAC slid in front in one and two and led the last two laps for the win. "He hung on for second, but it was a bittersweet win," says TMAC. "That's the second time this year he's had the feature won, and we ended up beating him. He's doing a great job and I'm really proud of him. It's unfortunate that he bent a valve in his only engine in the second feature, so we're not quite sure what we'll do for an engine for him this week. He started sixth, and he had the thing won. He passed all the fast cars. He has a lot more wins than I do in the future, so I need to take all I can right now."
The track was in good shape for the second feature. "The track has been great," says TMAC. "It's slicked early on, which is good, because you can pass in the heats. It seems that the moisture is coming back later on as well."
It was a steady climb through the field for TMAC after starting 15th. "We really didn't make any changes other than the tires for the second one," he says. "I knew when we pushed off; it would be a little tight. I like tracks like that. We were able to get by (Josh) Schneiderman and take a look at (Dustin) Selvage late. The middle went away for me, and I think that's what happened to Danny (Lasoski). We were running similar lines."
He would end up fourth. "We had a solid finish and cut the point lead on Danny," says TMAC. "I think the program is headed in the right direction, and we have a good motor in the car. It took a little time to get things going, but I'm happy about everything. This weekend is fair night, and I'd like to win that steer."
Friday night, things started well with the Outlaws at Cedar Lake. "We were pulling my #24 out for the first time since we ran the first night at Huset's," says TMAC. "Cedar Lake reminds me of Huset's a lot. We went out 17th, but the car was awesome and it was good to time in fifth."
TMAC did what he had to do to get in the dash. "The worst part about timing in fifth, is the top four qualifiers usually make the dash," he says. "So we had to finish in the top two in the heat to make the dash. The Don Ott takes off well though and we had a great start. We were able to finish second and get in the dash."
He would run fourth. "We were running with the leaders and we had a red," he says. "I fell asleep a bit on the restart. I was lagging back and forgot that they can start in turn three. Danny Lasoski got away from me, and we were fortunate to finish fourth."
Things were looking good from outside row two at the start of the feature. "The car was great for the feature," says TMAC. "We were running fourth, and again we had a restart. I thought we had a good run on Lasoski for second, and I went into turn one and the car seemed to go out of control. It was acting crazy and loose. I stopped, and thought maybe it was a broken shock."
After an inspection in the work area, TMAC restarted, but should have stayed pitside. "I restarted, and Cody Darrah tangled with a lapped car and knocked our front end out," he explains. "That ended it."
Sunday night, the team took the #24 back up to Huset's for the $5,000 to win special. "We came home and changed all the shocks and bars, and went through it," he says of the car. "At Huset's, it was still doing the same thing. It would not enter the corners. It loads and unloads. We changed the steering, the pump, everything before the feature. We had to pull it in. We have to go through it again and find the problem, whether it is in the brakes or whatever."
TMAC would like to return to ELKO with the IRA this Friday (where he won last year), but motor issues will keep him home. Instead, he plans on hitting Knoxville and Huset's again this week.
To check out opportunities to partner with TMAC Motorsports on a nightly basis, visit www.TerryMcCarl.com or call 515 957-0020!
Front Row Challenge/Ultimate Challenge
The 16th Annual Front Row Challenge and the 10th Annual Ultimate Challenge will be held Monday and Tuesday, August 8 and 9, 2010 at the Southern Iowa Speedway in Oskaloosa, Iowa. Order your seats NOW by calling McTwo Promotions, Inc. at 515 957-0020. Visit www.OskyChallenges.com for further details.
Websites for the McCarl Gang!
Driverwebsites.com develops the websites for the McCarl boys. Check out www.TerryMcCarl.com, as well as www.AustinMcCarl.com and www.CarsonMcCarl.com!
In"Terry"gation
Bryan Hardin asks: With over 50 wins at Knoxville in the books, do you think about the Hall of Fame?
TMAC Answers: I'm a historian in racing, and I think I may be in it someday with the racing and promoting. It's not something you try to think about too much. I love the Hall of Fame and Bob Baker has done a tremendous job there. It's something we all need to support. I don't think about being in it too much right now though.
Got a question for TMAC? Send it to us at sprntcar@iowatelecom.net, and we may answer it in this section! Put "? for TMAC" in your subject line.
This Month in TMAC History!
On July 10, 1999, Terry McCarl and Skip Jackson put on a clinic on Twin Features Night at Knoxville. After posting quick time in the Forbrook #5, TMAC started from an invert of ten and passed Skip for the win on the very last lap. Dennis Moore Jr. was third, ahead of Travis Cram and Leonard Lee. In the second feature, the drivers went at it starting 15th (Skip) and 16th (TMAC). Both surged to the front, with Skip winning and TMAC taking second. Rocky Hodges was third ahead of Larry Pinegar II and Jaymie Moyle.
"Tuesdays with TMAC"!
"Tuesdays with TMAC" is an up close and personal look at colorful sprint car veteran Terry McCarl. To receive "Tuesdays with TMAC", send an e-mail to sprntcar@iowatelecom.net with "TMAC" in the subject line.
VerMeer Motorsports would like to thank TK Concrete, Maxim Trucking & Concrete Pumping, Tulip City Agency, Logan Contractors Supply, Van Maanen Electric, Tony's Auto Parts, Monarch's Restaurant & Lounge, Skyline Ready Mix, QTC (Quality Traffic Control), DPLM (Dennis Parking Lot Maintenance), Van Gorp Construction, Don Ott Racing Engines and Ulrich Motor.
TMAC Motorsports would like to thank sponsors Deanfield Farms, Eagle Chassis, DeBerg Concrete, AmeriCashAdvance.com, RFG, Phil and Vivian, Mark Burch Motorsports, Ryan Yager Trucking, 212 The Boiling Point Bar & Grill, Vortex Racing, Hoosier Tire, Chris Spaulding – Attorney at Law, Schoenfeld Headers, K&N Filters, Don Ott Engines, HRP, All Pro Cylinder Heads, Bob and Beulah Elder, Country Builders Construction, Engler Injection, T&P Brothers, Winters, DriverWebsites.com, CM Rock, Jocko's Sprint Parts, Sander, Brown and Miller, Morris Automotive, Chase Graphics, Pro Shocks, Mac Tools, Ben Cook, Bell Helmets, Burnettt's Rock and Landscaping, Morgan Strawberry Farms, Bulldog Pest Control, Aurora Rod Ends, Crow Safety, Justice Brothers, KSE Steering, CIP Racing Hoods, Strange Performance, Saldana Racing Products, Scribner Plastics, Waterman Fuel Pumps, Weiland Racing, Butlerbuilt, PBS Bushings.