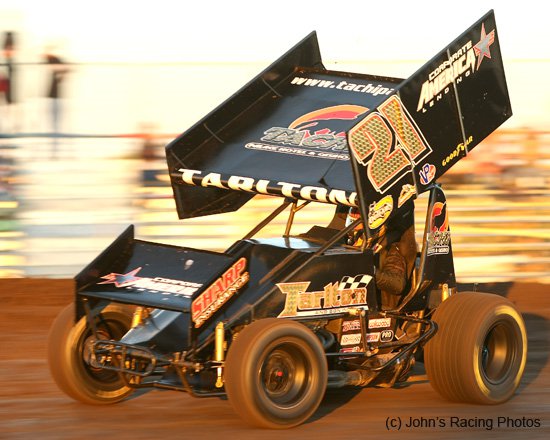 Inside Line Promotions
– EASTON, Calif. (July 25) – After a rough week of racing in Oregon, Tommy Tarlton decided he needed a breather.
Rather than driving his sprint car last weekend, the Easton, Calif., native piloted the tea cups around Disneyland with his family.
"I love to race, but I really enjoy spending time with my family," he said. "We had a great time and I feel refreshed to get back in my race car this weekend."
Tarlton returns to the cockpit on Friday at Ocean Speedway in Watsonville, Calif., with the Ocean Sprints – the series he is only 13 points out of the lead.
"That's a good series and Ocean Speedway is one of my favorite tracks," he said. "Hopefully we can pick up where we left off a few weeks ago and continue to be fighting for victories."
Tarlton has five top-four finishes in six Ocean Sprints' races at Ocean Speedway, including his performance of driving from 11th to fourth in the last event on July 8. He has also been the runner-up twice at the semi-banked, ¼-mile dirt oval.
In 27 races this season, Tarlton has claimed five victories and 19 top fives.
SEASON STATS –
27 races, 27 features, 5 wins, 19 top fives, 19 top 10s, 21 top 15s, 25 top 20s
UP NEXT –
Friday at Ocean Speedway in Watsonville, Calif., with the Ocean Sprints Series
FAVORITE NUMBER –
5.83: Average finish in six features this season at Ocean Speedway in Watsonville, Calif.
SOCIAL MEDIA LINKS –
Website: www.tarltonandson.com/racing and www.tommytarlton.com
Twitter: https://twitter.com/#!/tommytarlton21
Facebook: http://www.facebook.com/#!/profile.php?id=100001286852863
APPAREL –
Tarlton has black t-shirts, sweatshirts and hats, and white women's shirts available for purchase at every race he attends. For information on where you can get them, visit http://www.tarltonandson.com/tarlton-racing-schedule.
ON THE AIR –
Tarlton was a guest on the Lucas Oil ASCS Show by Racinboys on May 3. Click on the link below to listen. Tarlton's interview begins around the 32-minute mark.
http://www.meridix.com/mbp/general/index.php?liveid=Racinboys&recordid=18831
Check out the link below to see highlights of Tarlton's King of the West Sprint Car Series' win at Thunderbowl Raceway in Tulare, Calif., on May 14.
Here are a couple of videos from Tarlton's victory and runner-up performance with the King of the West Sprint Car Series at the Howard Kaeding Classic at Ocean Speedway in Watsonville, Calif., on July 1-2:
http://vimeo.com/25952465 and http://vimeo.com/25950506
Here is a link to Tarlton spinning around on the back of his car during a heat race at Ocean Speedway on July 8:
Check out this link to an in-car video of Tarlton winning the B Main at the Cottage Grove Speedway in Cottage Grove, Ore., on July 13:
SPONSOR SPOTLIGHT – Tarlton and Son, Inc.
Established in 1977, Tarlton and Son, Inc., is a service labor company that specializes in lath, plaster, drywall, scaffold, metal studs and EIFS. Tarlton and Son, Inc., is headquartered in Fresno, Calif., with a second building in Arroyo Grande, Calif. For more information, visit www.tarltonandson.com.
"My dad, Tom, owns Tarlton and Son, Inc.," Tommy said. "I drive for him and I work for him full time. It's so fun being able to go race with my dad. It's turning into a sport that the whole family can enjoy. It's just a great sport that can involve lots of entities, including our family, friends and business partners."
Tarlton would like to thank his sponsors, including Corporate America Lending, Tachi Palace Hotel and Casino, Bandy & Associates, Sharp Insurance & Bonding, Simpson and BG Products for their continued support.