From Rich Vleck
ROCHESTER, NY (August 2, 2011)-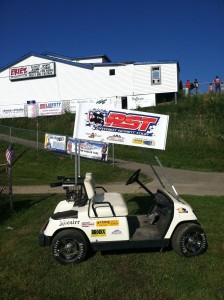 A new and used golf cart were updated this spring by CNY Custom Carts, based in Norwich, NY, and outfitted with Hoosier Tires, strobe lights and the eye-catching top wings. After A-Verdi applied vinyl graphics, these creative creations add eye candy to the PST. Perhaps the largest issue with the carts has been making sure excited youngsters do not jump on the back for a quick ride.
The two PST golf carts are just a preview of what CNY Custom Carts can do. Central New York's largest new & used golf cart dealer can customize, accessorize and service just about anything. It is only fitting that their slogan is "If you can think it, CNY Custom Carts can build it". With a wide variety of golf carts, they have one that is right for you. A sampling of what is possible can be found at www.CNYcustomcarts.com.
The Patriot Sprint Tour golf carts will next be seen Friday, August 12 at the Black Rock Speedway in Dundee, NY for the 2011 A-Verdi Sprint Championship. For more information, visit www.PatriotSprintTour.com.