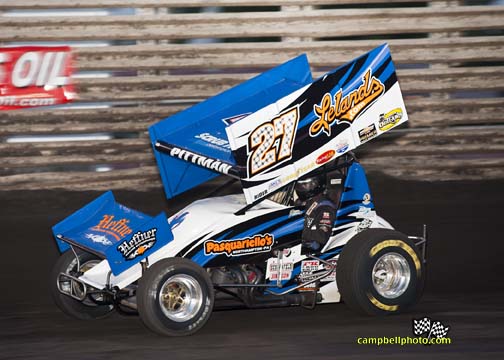 From Port Royal Speedway
Port Royal, PA — (August 20, 2011) — Daryn Pittman of Owasso, OK., was the fourth and final leader in Saturday's 25-lap Aumiller's Insurance print car feature at Port Royal Speedway, coming up with the $3,000 victory after a barnburner, suspenseful event.
In the 20-lap AB Auto Glass late model main, Gary Beward of Thompsontown added another win to his already highest season win total in the division while Drew Heistand of Wrightsville took the ARDC Midget feature checkers.
Both Chad Layton and Todd Shaffer lined up on the pole of the sprint feature and a fleet-running Layton took the lead immediately when the race began.
Layton was way out in front when he went up in smoke with six down, giving up the lead to Shaffer while bringing out the races one and only caution flag.
Fourth starter Rick Lafferty lined up second for the restart and surprised many by driving to Shaffer's inside when green replaced the yellow to drift up in front of Shaffer in the second turn and take control while Pittman raced into third early after starting fifth.
Ninth starter Lance Dewease entered the picture with 15 laps down when he drove by Pittman for third before taking over second from Shaffer with seven laps to go.
But Pittman rallied with Dewease threatening to take command and drove by Shaffer for third a lap later while pounding the inside line as the front four cars raced within a turn of one another, darting in and out of traffic.
With five laps left Pittman almost pulled off a two-car pass of Lafferty and Dewease for the lead as they exited the fourth turn but instead crossed the line in second only to dispose of Lafferty on the next circuit.
But a fierce battle raged on behind him during the final two miles as point leader and 11th starter Ryan Taylor made it a five-car battle at the front.
Pittman was able to cross the finish line first for his second career victory at the track but the race for second ended three-wide at the stripe with Dewease edging out Taylor for second while Lafferty ended up fourth and Shaffer fifth.
Sixth through 10th went to Keith Kauffman, Nicole Bower, Cliff Brian, Mike Wagner and Mike Erdley.
Heats for the 28-car field went to Layton, Kauffman and Shaffer with the consolation going to Jim Campbell Jr.
Both Pittman and car owner Michael Heffner lauded speedway officials for another fantastic racing surface.
"My car was loose early but as the fuel load went out, it worked better," Pittman commented.
"I just kept running the bottom 'cause I was probably just to scared to run up top when it's this fast," he quipped.
Beward started second in the late model main and trailed point leader Scott Haus for 17 laps before finally muscling past him for control just before one of two cautions in the race occurred during the final three circuits.
Before finally sealing the deal, Beward worked constantly from laps 11 through 17 to get the lead, finally getting by using the lowside as Haus blasted the cushion.
Haus attempted moves to the inside on both late race restarts to regain command but all for nothing with the field in the hands of Beward.
Haus was second followed by Mike Lupfer, Chad Hollenbeck and Waylon Wagner.
Sixth through 10th went to Tim Wilson, Mitch Hack, Andy Haus, Bryon Sipe and Eric Zembower.
Heats for the 19 cars were taken by Bob Dunn and Scott Haus.
"It's one Haus ran when he rant for the 33 team," Beward said of the motor under the hood of his car.
"So it feels good to beat him with it."
Bruce Buckwatler Jr. led the first eight laps of the 20-lap ARDC Midget main before Brenden Bright took over.
Bright got beat by seventh starter Drew Heistand at the finish however after Heistand took the lead over the closing circuits.
Bright was second followed by Nick Wean, Buckwalter and Brett Arndt.
Twin heats went to Arndt and Ryan Smith.
Feature Finishes
August 20, 2011
Sprint cars, 25 laps: 1. Daryn Pittman, 2. Lance Dewease, 3. Ryan Taylor, 4. Rick Lafferty, 5. Todd Shaffer, 6. Keith Kauffman, 7. Nicole Bower, 8. Cliff Brian, 9. Mike Wagner, 10. Mike Erdley, 11. Davey Sammons, 12. Dylan Cisney, 13. Luke Bowey, 14. Curt Stroup, 15. Joey Hershey, 16. Josh Dressler, 17. Matt Heimbach, 18. Mark Bittner, 19. TJ Winegardner, 20. Vince Snyder, 21. Duane Troutman, 22. Kyle Drum, 23. Jim Campbell Jr., 24. Chad Layton
Late Models, 20 laps: 1. Gary Beward, 2. Scott Haus, 3. Mike Lupfer, 4. Chad Hollenbeck, 5. Waylon Wagner, 6. Tim Wilson, 7. Mitch Hack, 8. Andy Haus, 9. Bryon Sipe, 10. Eric Zembower, 11. Terry Naugle, 12. Mike Mort, 13. Patrick Bryner, 14. Todd Snook, 15. Bob Dunn, 16. Tim Fedder, 17. Chris Shuey, 18. Steve Stitt, 19. Corey Kepner.
ARDC Midgets, 20 laps: 1. Drew Heistand, 2. Brenden Bright, 3. Nick Wean, 4. Bruce Buckwalter Jr., 5. Brett Arndt, 6. Ryan Smith, 7. Tim Buckwalter, 8. Steve Drevicki, 9. Jason Rice, 10. Dusty Heistand, 11. Shawn Jackson. 12. Eric Heydenreich, 13. Dave Shirk, 14. Steve Buckwalter, 15. Ryan Watt, 16. Alex Bright, 17. Shane Penny, 18. Steve Craig, 19. PJ Gargiulo, 20. Steve Bull