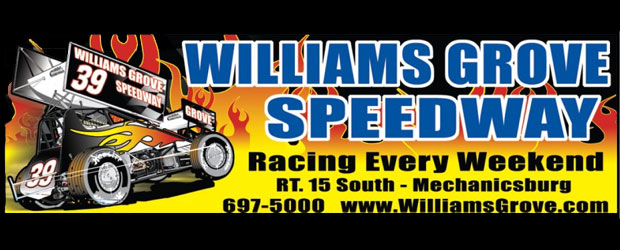 From Williams Grove Speedway
Mechanicsburg, PA — (September 8, 2011) — Due to the extreme amount of rain over the past 36 hours, Williams Grove Speedway is canceling the Friday, September 9 and Saturday September 10 races. With the speedway parking located across the street from an already flooding Yellow Breeches creek, plus the forecast of rain through Sunday, there will be no racing this weekend at the famed half-mile oval.
The 358 Sprint cars will have their rained out race of last week move to Friday night, September 23. The popular division will have two features. The 358 Sprint Cars will join the 410 Sprint Cars. The 410 Sprint Car show will be a Goodyear Diamond Series World of Outlaws tune up.
The Saturday Night Series Champions Night, scheduled for this weekend, will now be on Saturday night, October 8. The Super Sportsman class will run two features that evening. The first will be a make up for their postponed show of September 4. Due to the twin Super Sportsman features, the Four Cylinder division will not be in competition. The program will feature the Super Sportsman, 358 Late Models and the Street Stocks.
The September event will begin at 7:30. The Saturday night race on October 8 will start at 6:30.