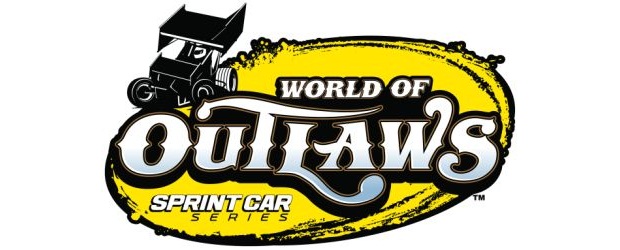 By Kyle Luetters
CONCORD, N.C. — September 26, 2011 — With the final stretch of the 2011 World of Outlaws Sprint Car Series season beginning, there is quite a level of buzz surrounding the 'Greatest Show on Dirt.'
At Hartford (Mich.) Motor Speedway, Joey Saldana proved he was more than ready to come back as he dominated the 25 lap event for his first victory since early July. Saldana, who was sidelined with injuries sustained in a crash at the Kings Royal, used that momentum to pick up another victory two days later at Eldora Speedway during the Four Crown Nationals Weekend.
The following night at Lernerville Speedway in Sarver, Pa., it was a battle of attrition as lap traffic tested the driving skills of Jason Meyers and Donny Schatz. When the checkers flew, it was Meyers who came out on top to score his fifth win of the season.
Meyers leads the Outlaws into hostile territory as they get set for the annual National Open at Williams Grove Speedway in Mechanicsburg, Pa.
WHEN
Friday, September 30, and Saturday, October 1 at Williams Grove Speedway in Mechanicsburg, Penn. Pit gates open at 3:00 p.m., Hot Laps begin at 6:00 p.m. and racing kicks off at 7:30 p.m.
WHERE
Williams Grove Speedway is located at 1 Speedway Drive, Mechanicsburg, Pa. Click here for directions.
TICKETS
Tickets for the racing action at Williams Grove Speedway are available at www.WilliamsGrove.com or by calling the track office at (717) 697-5000.
ON THE INTERNET
World of Outlaws — http://www.WorldofOutlaws.com
Williams Grove Speedway – http://www.WilliamsGrove.com
Dirt Radio Network — http://www.DIRTVision.com
ABOUT THE TRACKS
Williams Grove Speedway is a semi-banked, half-mile oval. The track record is 16.140 seconds, established by Brian Paulus on April 26, 2002.
PREVIOUS WINNERS
World of Outlaws A-Feature winners at Williams Grove Speedway
2011- Daryn Pittman on May 13, Greg Hodnett, on July 22, Jason Meyers on July 23
2010-Chad Layton on May 13, Fred Rahmer on May 14, Lance Dewease on July 23, Greg Hodnett on July 24, Greg Hodnett on October 1, Sammy Swindell on October 2
2009- Greg Hodnett on May 14, Greg Hodnett on July 24, Greg Hodnett on October 3, Cody Darrah on October 3 (Completion of July 25 event)
2008- Steve Kinser on May 15; Daryn Pittman on July 18, Donny Schatz on July 19 2007- Donny Schatz on May 17, Donny Schatz on May 18, Donny Schatz on July 19, Brian Leppo on July 20, Donny Schatz on July 21, Donny Schatz on September 29
2006- Fred Rahmer on May 27, Daryn Pittman on July 22; Doug Esh on Sept. 30
2005-Steve Kinser on May 27, Fred Rahmer on July 23, Donny Schatz on Oct. 1
2004-Don Kreitz Jr. on May 28, Danny Lasoski on July 24, Donny Schatz on Oct. 2 2003-Donny Schatz on July 26, Steve Kinser on Oct. 4
2002-Steve Kinser on May 16, Greg Hodnett on July 27, Lance Dewease on Sept. 28
2001-Donny Schatz on July 26 (completed May 18 event), Donnie Kreitz, Jr., on July 27, Lance Dewease on Sept. 29
2000-Fred Rahmer on May 19, Sammy Swindell on July 29, Donny Schatz on Sept. 30 1999-Steve Kinser on May 28, Mark Kinser on July 30, Mark Kinser on Oct. 2
1998-Johnny Herrera on May 22, Stevie Smith on May 29, Kevin Gobrecht on July 31, Mark Kinser on Oct. 2
1997-Mark Kinser on May 23, Jac Haudenschild on May 30, Mark Kinser on Aug. 1, Sammy Swindell on Oct. 4
1996-Mark Kinser on May 25, Steve Kinser on May 31, Mark Kinser on Aug. 2, Lance Dewease on Oct. 5
1995-Steve Kinser on May 26, Mark Kinser on Aug. 4, Mark Kinser on Sept. 30
1994-Steve Kinser on May 27, Andy Hillenburg on June 3, Sammy Swindell on Aug. 5, Steve Kinser on Oct. 1
1993-Donnie Kreitz, Jr., on May 28, Dave Blaney on June 4, Steve Kinser on Oct. 1, Donnie Kreitz, Jr., on Oct. 3
1992-Donnie Kreitz, Jr., on May 22, Donnie Kreitz, Jr., on May 29, Steve Kinser on July 31, Steve Kinser on Oct. 3
1991- Steve Kinser on May 24, Sammy Swindell on May 31, Steve Kinser on Aug. 2, Stevie Smith on Oct. 6
1990-Steve Kinser on May 25, Sammy Swindell on June 1, Steve Kinser on Aug. 3, Steve Kinser on Sept. 29
1989-Sammy Swindell on May 26, Bobby Allen on June 2, Bobby Davis, Jr., on July 28, Stevie Smith on Sept. 30
1988-Bobby Davis, Jr., on May 27, Mark Kinser on June 3, Steve Kinser on July 29 1987-Steve Kinser on May 22, Steve Kinser on May 29, Steve Kinser on July 31
1986-Doug Wolfgang on May 23, Bobby Allen on May 30, Bobby Allen on Aug. 1 1985-Keith Kauffman on May 24, Steve Kinser on May 31, Doug Wolfgang on Aug. 2 1984-Steve Kinser on May 25, Steve Kinser on Aug. 3
1983-Bobby Davis, Jr., on May 27, Sammy Swindell on Aug. 5
1982-Bobby Allen on May 14, Bobby Allen on May 21
1981-Steve Kinser on June 5, Steve Kinser on June 12
1980-Sammy Swindell on May 16, Keith Kauffman on July 26
1979-Lynn Paxton on July 27
1978-Kramer Williamson on Sept. 24
HALF MILE WINNERS:
Williams Grove Speedway is a half mile oval. So far in 2011, there have been twenty-one races on a track that size. The winners include:Steve Kinser – 4 (Volusia Speedway Park on Feb. 11 and 12, the Dirt Track at Las Vegas on March 3, Lakeside Speedway on June 4) Joey Saldana – 4 (the Dirt Track at Las Vegas on March 2, Eldora Speedway on May 6, Hartford Motor Speedway on September 21, Eldora Speedway on September on 23); Jason Sides – 3 (Volusia Speedway Park on Feb. 13, Calistoga Speedway on April 2, I-96 Speedway on May 30) Donny Schatz– 2 (Knoxville Raceway on August 13, Black Hills Speedway on August 23);Craig Dollansky – 1 (Lebanon Valley Speedway on July 24); Greg Hodnett – 1 (Williams Grove Speedway on July 22); Paul McMahan – 1 (Belleville Highbanks on June 3); Jason Meyers – 1 (Williams Grove Speedway on July 23); Daryn Pittman – 1 (Williams Grove Speedway on May 13); Tim Shaffer – 1 (Eldora Speedway on July 15); Sammy Swindell – 1 (Knoxville Raceway on June 11); Tyler Walker – 1 (Eldora Speedway on July 16.)