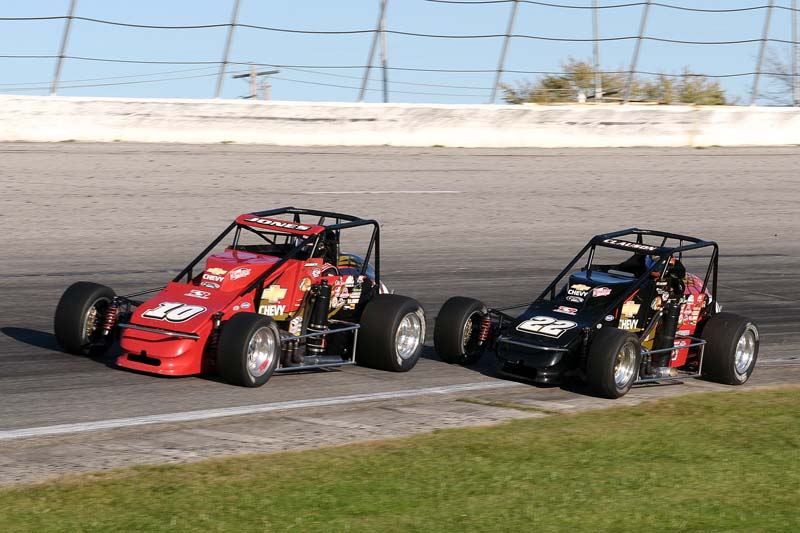 From Dick Jordan
This Saturday's "Rollie Beale 150" USAC Traxxas Silver Crown race at the Toledo (Ohio) Speedway will contain added drama as USAC National Drivers Championship point leaders Bryan Clauson and Kyle Larson enter the event separated by just two points!
Larson sliced Clauson's lead with his victory in last Friday's 25-lap "Gold Crown Midget Nationals" feature at Pontoon Beach, Ill. Tracy Hines and Levi Jones remained in the hunt for the 2011 NDC title with good performances at Pontoon Beach as well. Hines was fifth in Thursday's prelim and Jones won Saturday night's 50-lap finale.
A total of eight races remain on the 2011 NDC calendar. They include Saturday's 150-lapper at Toledo, plus AMSOIL Sprint races October 28-29 at Peoria, Ariz. and November 3-5 at Perris, Calif. and the November 24 "Turkey Night Grand Prix" Mopar Midget race at Irwindale, Calif.
USAC NATIONAL DRIVERS CHAMPIONSHIP STANDINGS AND PROJECTED PAYOUT, BASED ON CURRENT STANDING:
1-Bryan Clauson-1,018 ($40,000); 2-Kyle Larson-1,016 ($20,000); 3-Tracy Hines-989 ($15,000); 4-Levi Jones-969 ($12,500); 5 Chris Windom-957 ($10,000); 6-Bobby East-930 ($7,500); 7-Jerry Coons Jr.-911 ($5,000); 8-Jon Stanbrough-798 ($3,000); 9-Hunter Schuerenberg-790 ($2,000); 10-Darren Hagen-788 ($1,000).