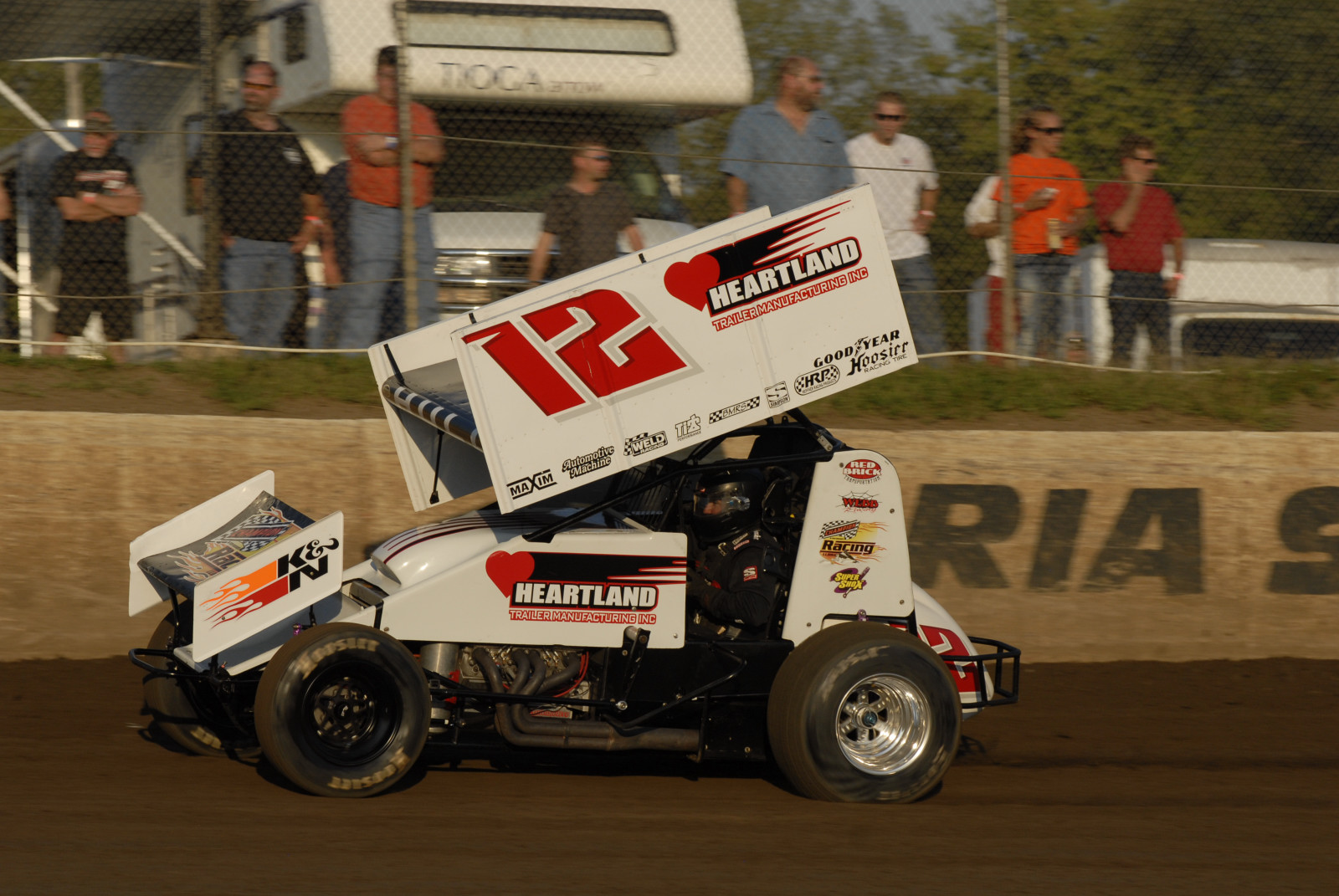 By Pete Walton
Atwood, TN – October 15, 2011 – Top gun Midwest sprint car hot-shoe Jerrod Hull from Sikeston, Missouri charged past early race leader and current USCS presented by Goodyear Rookie of the Year point's leader, Jordon Mallett from Greenbrier, Arkansas on lap six en-route to the www.RockAuto.com USCS victory lane on Saturday night. It was Hull's third United Sprint Car Series presented by Goodyear win of the 2011 season.
Hull crossed the finish line in his potent #12 winged sprint car ahead of 2009 USCS National Rookie of the Year, Justin Carver from Drummonds, Tennessee and defending USCS National Champion Terry Gray from Bartlett, Tennessee in the K&N Filters third place position. The August 13, 2011 USCS Clayhill Motorsports feature winner Brian Bell from Cordova, Tennessee finished in fourth position after battling with Carver and Gray for the runner-up spot for most of the race. Behind Bell, the rookie Jordon Mallett rounded out the top five drivers finishing in the Keizer Aluminum Wheels fifth position.
Behind that group, the evening's Wildwood Engineering Hard Charger, Lee Sowell from Nesbit, Mississippi finished sixth after starting twelfth. Sowell was followed by A.G. Rains from West Memphis, Arkansas in seventh position. The 2007 USCS presented by Goodyear National Rookie of the Year, Don Young from Lakeland, Tennessee was eighth followed by the race's only female sprint car driver, eighteen year-old Morgan Turpen from Cordova, Tennessee in ninth and Current USCS rookie point's leader Jordan Mallett from Greenbrier, Arkansas completed the DMI/Diversified Machine, Inc. top ten.
Jerrod Hull kicked off the evening's sprint car racing program by winning the 6-cars, 6-lap Goodyear USCS Speed Dash. Rookie Jordon Mallett from Greenbrier, Arkansas won the Engler Machine and Tool first Heat. Terry Gray won the Butlerbuilt Second Heat Race. Lee Sowell was the Wilwood Engineering Hard Charger in the main event after he advanced the most positions of any driver in the main event. Jordon Mallett was also the Rookie of the Race.
Results for USCS presented by Goodyear at Clayhill Motorsports – October 15, 2011:
USCS Goodyear Power Dash (6-laps): Jerrod Hull, Terry Gray, Tim Crawley, Jerod Roller, Morgan Turpen and Jordon Mallett.
Engler Machine and Tool First Heat: Winner = , Jordon Mallett, Don Young, Eric Riggins, Jr., Justin Carver, Anthony Nicholson, Ernie Ainsworth, Mike Hampton, Jeff Willingham, Justin Webb and Eddie Gallagher.
Butlerbuilt Second Heat: Winner = Terry Gray, Brian Bell, A.G. Rains, Jerrod Hull, Brad Bowden, Lee Sowell, Morgan Turpen Jim Perricone and Ray Bugg.
United Sprint Car Series presented by Goodyear feature race results:
Clayhill Motorsports 10/15/11 (30-laps):
Finish Start Car Driver/Hometown
1 3 12 Jerrod Hull, Sikeston, MO
2 6 87 Justin Carver, Drummonds, TN
3 5 88 Terry Gray, Bartlett, TN
4 4 23 Brian Bell, Cordova, TN
5 1 14 Jordon Mallet, Greenbrier, AR – Rookie
6 12 51 Lee Sowell, Nesbit, MS
7 9 3 A.G. Rains, West Memphis, AR
8 8 7 Don Young, Lakeland, TN
9 13 80 Morgan Turpen, Cordova, TN
10 2 47 Eric Riggins, Charlotte, NC
11 15 10p Jim Perricone, San Antonio, TX
12 16 28 Jeff Willingham, Ripley, MS
13 07 16 Anthony Nicholson, Bartlett, TN
14 00 40 Ernie Ainsworth, Bartlett, TN
15 2 20 Mike Hampton, McKenzie, TN
16 11 15 Tony Wilson, Paris, TN
17 16 31 Justin Webb, Drummonds, TN
18 00 39 Brad Bowden, Hernando, MS
19 10 25 Ray Bugg, Iuka, MS
USCS presented by Goodyear Sprint Car Race Awards:
Goodyear Speed Dash winner award: #Jerrod Hull www.racegoodyear.com
Engler Machine and Tool First Heat winner award: #14 Jordan Mallet www.englermachine.com
Butlerbuilt Second Heat winner award: #10 Terry Gray www.butlerbuilt.net
K&N Filters Pole Award: #14 Jordon Mallett www.knfilters.com
Wilwood Eng. Hard Charger Award: #51 Lee Sowell (started 12th finished 6th) www.wildwood.com
JE Pistons Top Guns Award: #87 Justin Carver ( 2nd place) www.jepistons.com
K&N Filters Podium Award: #10 Terry Gray (3rd place) www.knfilters.com
Keizer Wheels Top Five Award: #14 Jordon Mallett www.keizerwheels.com
Diversified Machine Inc/DMI Top 10 Award: #47 Eric Riggins, Jr. www.diversifiedracing.com