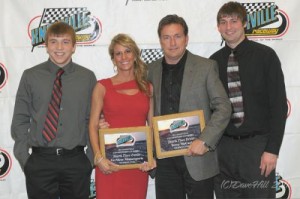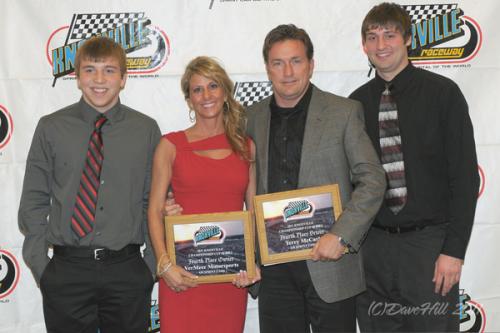 From Bill W
January 16, 2012 – A successful season that yielded a Knoxville Nationals start, multiple wins, Rookie of the Year at Huset's Speedway, and a sixth place Knoxville point finish, has Austin McCarl primed for 2012. He is hoping to partner with someone for this season's campaign and one of the brightest young starts in sprint car racing is looking for some support.
Among the above accomplishments for Austin in 2011, was his second consecutive "Most Improved Driver of the Year" in the 410 class at Knoxville. He went from tenth in the points in 2010 to sixth in 2011. "I'd like to win the championship this year and get it again," he says of the Award. "We sure had to be pretty bad in 2009 to win it twice in a row, that's for sure! It's always fun to get up there at the banquet after you've won an award like that. It helps people know who you are, and maybe they talk about you a little bit."
The Altoona, Iowa driver is busy playing basketball and going to school at Grandview College in Des Moines this winter, but took some time to reflect on a great season. "2010 was more than I expected," says Austin. "I didn't have a whole lot of expectations going in, and we had a solid season. This past year, I wanted to win races, and we were able to. We were able to win at Huset's (twice). I took one away from myself there too."
Marked improvements in qualifying and in his finishes at Knoxville Raceway saw Austin vie for wins on a couple of occasions, and he was solidly in the top ten most nights. "We were close a couple of times," he says. "Unfortunately, my dad got by me on that late race restart (July 9). We had our ups and downs, but it was definitely a solid year when you can finish sixth in the points at Knoxville."
When the best in the sport came in August, Austin emerged from the preliminary nights solidly in the Knoxville Nationals finale field (twelfth overall). "That was really the highlight of my career so far…and so was winning at Huset's, which was a dream come true," he says. "I learned a lot more this past year than the previous years. I'm really looking forward to 2012, but I don't have a whole lot going on. With the right opportunity, I think I'm capable of doing big things."
Despite looking for some help for racing in 2012, Austin has gained faith in his abilities each time he goes out on the track. "It's big," he says. "Your confidence goes up so much once you know how to win. Your mindset is totally different. It's hard to understand for some people, but when you show up knowing you have a car capable of winning, and you are capable of beating Terry McCarl and Danny Lasoski at Knoxville, and Terry McCarl and Mark Dobmeier at Huset's, it's a game-changer."
Despite missing a handful of races at Huset's Speedway near Sioux Falls, South Dakota, Austin was named the Rookie of the Year there in 2011. "Not being there the whole year, I didn't know if I could do it," he says. "I tore some stuff up late in the year, but it was definitely an honor. I felt every time we went there, especially after the first win that we were going there to win the race. We were past just getting laps. My mindset every time was to win."
Austin hopes to carry over his solid runs into the coming year. "My confidence became really good there (Huset's), and at Knoxville too," he says. "We were able to run up front wherever we went, and we're hoping to build on that."
Visit Austin on the Web!
Keep up to date on Austin's exploits and check out the new look at www.AustinMcCarl.com!
Austin's Releases
If you'd like to be included via e-mail, shoot one to sprntcar@hotmail.com with "Austin" in the subject line.