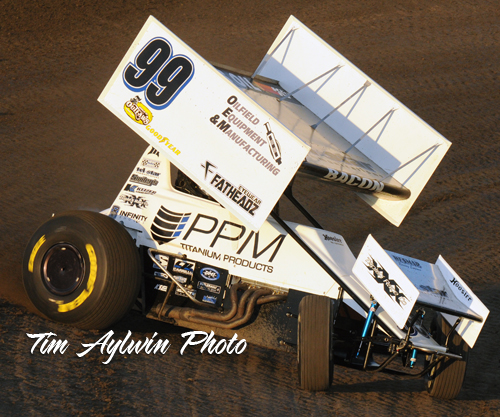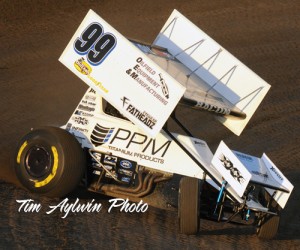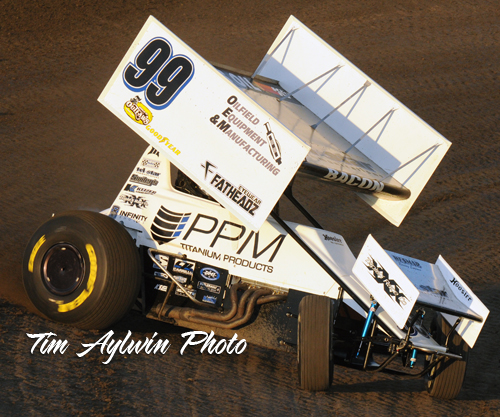 From Bill W
February 21, 2012 – Final preparations are being made as Brady Bacon Racing #99 will hit the road the first weekend in March to compete at Canyon Speedway Park near Peoria, Arizona. The event marks the opener for the Lucas Oil ASCS National Series. The Broken Arrow, Oklahoma driver finished third in the series' standings in 2011, and plans to climb the ladder two more spots this year as he competes for the title.
Brady knows it wouldn't be possible with all the great partners he has. "I'd really like to thank our partners for making this possible," he says. "We've been able to add a few this season. We'd like to welcome on Heath Clips Lawn Care, Eaton Industrial Coatings, Pattison Precision Products, All Star Performance and Schoenfeld Headers. Obviously, we have some great ones coming back like Fatheadz Eyewear, Oilfield Equipment and Manufacturing, Tel-Star Communications, PPM Titanium Products, Triple X Race Co., Infinity Shocks, Smiley's Racing Products and others."
Though he owned his team after the Spring ASCS Western Swing last year, this season, Brady is on his own. "Obviously, this is the first full year doing it on my own," he says. "Last year, we started partnering with Tel-Star Communications and Mike and Megan (Eubanks). This year, we'd like to start like we ended last year (with a strong finish)."
This season's ASCS schedule has expanded, and though there is a smaller purse, Brady sees the benefits. "There are more races on the ASCS schedule, which I'm really looking forward to," he says. "I think it's the right move to grow the series so we can get the purses built back up. That will keep us from having to go to regional races that pay less just so we can race."
Brady has seen success in Arizona, but has never raced at Canyon Speedway Park. "I've never been to Canyon, but I'm sure (promoter) Kevin Montgomery will do a good job down there," he says. "I'm glad we aren't starting quite as early as we did last year. It gives us a chance to get things ready and be more prepared."
Of course, Brady will find time to race elsewhere on his open weekends. "I'll be mixing some other racing in," he says. "We'll be running some non-wing 410 shows, and we'll be running with the World of Outlaws including the Knoxville Nationals again. We're looking at running 80-90 times. I think we have a midget race at Cowtown coming up the week before we go to the Devil's Bowl."
After a pair of weekends in Arizona, the series will take the next weekend off before returning to Devil's Bowl Speedway in Mesquite, Texas. "I'm looking forward to getting back to Devil's Bowl again too. That's a place we've run well at, and I'm glad they've added two more races there this year."
Other than some new partners, the race team is status quo for 2012. Last season ended with a strong surge that saw a Knoxville Nationals Rookie of the Year Award and a surge to third in the final ASCS standings. "I'm looking forward to getting started," says Brady. "Everything is pretty much the same as far as the car goes. We'd tried a lot of different things last year that didn't necessarily work, especially early on, so we're going to go back to what worked for us the last half of the year. We had a really good car the last few races. The key will be keeping the consistency. That eliminates issues, and hopefully, we can contend for the championship."
Follow Brady on his Website, Twitter and Facebook!
Follow Brady at his website located at www.BradyBaconRacing.com! Also keep up with him on Facebook and Twitter (which also can be accessed at the website) at the following links…
Twitter Link – http://twitter.com/BradyBacon
Facebook Link – www.facebook.com/pages/Brady-Bacon-Racing/278125555137
Marketing Partner of the Week – Tel-Star Communications
Tel-Star Communications, Inc. is a personal communications service company. Tel-Star Communications was formed in October of 2000 to bring you the highest quality service available in this complex market of communications. With over 50 years of combined experience, Tel-Star Communications brings you the highest expertise and diversity this market has to offer. Each technician has been trained, tested and authorized by the system manufacturer in telephone design, installation, programming, training, troubleshooting, and system maintenance and repair. Our number one priority is Customer Service and we feel that what we provide is unparalleled with any other service company. Tel-Star Communications will work on any job and will always do it cost effectively. Our philosophy is based on best cost, best product, and what is best for our customer. Visit Tel-Star Communications on the web at www.Tel-StarCommunications.com!
Associate Marketing Partner of the Week – Pattison Precision Products
Pattison Presision Products is an ISO 9000 compliant job shop. PPP recognizes not all manufactured products require the stringent aero-space requirements that can add to cost and lead times. Pattison offers high quality precision products with lower than average industry cost. They understand manufacturing is subject to program fluctuation. Pattison operations are scalable and able to adjust to customers' delivery needs. Pattison has a skilled labor force that continually acquires knowledge and adjusts to the latest equipment technology. Pattison will partner with a customer to help develop their latest projects or programs and has a reputation for working closely with customer engineering, giving manufacturing feedback that enhances customer design, ensuring accurate reproduction of follow on orders.
Pattison is a supplier for:
L3 communications
Flight Safety International
Rockwell Collins
Pattison is able to fabricate large full motion simulator platforms, to the smallest of MIL spec. piece parts, as well as cockpit structures for simulators like the T45, F18, A10, F16, F22, T6 and seats. Pattison processes allow a reduced cost and pass that savings on to its customers. Visit them on the web at www.PattisonCompanies.com!
If you would like to receive Brady's weekly releases, send an e-mail to sprntcar@hotmail.com with the subject "Brady".
Brady Bacon Racing would like the following sponsors for all their help: Fatheadz Eyewear, Oilfield Equipment and Manufacturing, Tel-Star Communications, PPM Titanium Products, Triple X Race Co., Infinity Shocks, Smiley's Racing Products, Heath Clips Lawn Care, Keizer Aluminum Wheels, Eaton Industrial Coatings, Pattison Precision Products, Wesmar Racing Engines, Butlerbuilt Seats, Hoosier Tire Southwest, Diversified Machine Inc., Brown and Miller Racing Solutions, Lightning Wings, Simpson, Pro Pan, CP Pistons, Schoenfeld Headers, Carrillo Rods, KSE Steering, All Star Performance, King Racing, Schroth Racing, FSR Radiators, Three-wide Clothing and Fuel Safe.