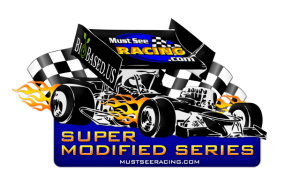 From Must See Racing
Cleveland, OH — (March 3, 2012) — Must See Racing founder and president Jim Hanks, announced Saturday, from a team owners and drivers organization meeting in Cleveland, Ohio the formation of the new Must See Racing Super Modified Series.
"This is an outstanding group of drivers and race teams that will be both competitive and entertaining for the fans at the Must See Racing tracks. The addition of the exotic and fast winged super modifieds is a perfect fit and addition to our Xtreme Sprint Series, which has without question proved, at Bristol Motor Speedway, to be the "World's Fastest Short Track Cars." said Hanks.
"The Must See Racing Super Modified Series was formed to bring added value and entertainment to the fans at the tracks and on our television programming, plus provide an alternative racing option for the race teams with a level competitive playing field while significantly reducing their operational costs with our proven American Race Tire program. This is a win win deal for racing, our series, the race teams, the sponsors and most importantly the fans." continued Hanks.
The new series will be managed by long time super modified driver Randy Burch along with his wife Rhonda. The couple has extensive experience operating a race series delivering wheel to wheel, high speed competition on the race track for the race fans entertainment and enjoyment. The Burch's have assembled a complete staff of experienced and dedicated officials.
"Rhonda and I are very excited to become a part of the MUST SEE RACING management family and look forward to operating a first class series. We are completely prepared and will put forward every effort necessary to extend the MSR success and valued reputation as an outstanding racing organization. This gives the race teams a great alternative racing option and a tremendous opportunity to be on the Must See Racing television programming to showcase this type of racing and their sponsors," said series manager Randy Burch.
The series first event will bring the supers back to Winchester Speedway after a twenty two year hiatus joining the Must See Racing X-Treme Sprint Cars, Full Throttle Modifieds, and front wheel drive divisions in the biobased.us sponsored Xtreme Speed Challenge on Sunday May 20th.
Your browser may not support display of this image. The Must See Racing Super Modified Series information, schedule, drivers, teams and television programming information will be on the mustseeracing.com website in mid March.