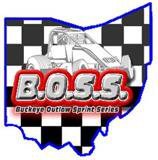 From BOSS
With opening day less than two months away, the Buckeye Outlaw Sprint Series has confirmed its first 8 drivers who plan to run for the 2012 BOSS non wing sprint car championship. In the storied history of Ohio's auto racing, there has never been a traveling non wing sprint car series in the Buckeye state. The CSRA sanctioned traditional sprint car racing from 1935 through 1956 based in Dayton, Ohio, however, that series sanctioned races throughout the Midwest. Therefore the first ever BOSS champion will earn an important place in history as Ohio's first wingless sprint car touring champion.
The 2012 series is scheduled to begin at the historic Fremont Speedway on May 12th. The first driver signing in to run for the title was Russiaville, Indiana driver Dustin Smith who will be back aboard the Kyle & Darren Conaway owned, Lee's Hydraulics/Super Shox #37 which will be wrenched by Mike Warnock. Smith is hoping to pick up where he left off as he led the BOSS series in 2011 with a runner-up finish at K-C Raceway and scoring a popular win at Wayne County Speedway in October.
Smith will have plenty of company challenging for the title, including Troy, Ohio driver Landon Simon in the Simon Racing Claxton powered #24 sponsored by Keizer Wheels and Simpson Race Products. Simon scored consistent finishes in the 2011 BOSS races scoring an 8th at K-C and a 6th place finish in a stout 30 car field at Wayne County. One of the young guns of the series will be 18 year old Michael Fischesser of Sayler Park, Ohio in the Amsoil/Glen Meyer Motorsports #4 Maxim sponsored by Momentum Suspension, Goodsleves Screenprinting/American Racer and powered by Claxton. Another of the young lions set to make his mark on the sport is 19 year old Union City, Ohio driver Todd Keen who will be aboard the family owned #18 with sponsorship from Spirit Medical Transport, Keen's Body Shop, Keen's Auto Sales, and Keen and Son's Painting.
The BOSS series may offer the most diverse driver line-up of any traveling series. Veteran drivers from various backgrounds will also be gunning for the title and hope to be showing the young drivers the fast way around. Two Ohio winged veterans have made the switch to non wing racing and hope their high speed wing backgrounds will pay off in their title hunt. Westerville, Ohio's Kirk Jeffries will pilot his own #59 Triple-X chassis with help from 4 Wide Motorsports Marketing, B.W. Lawn Care, Goodyear of Westerville, Kear's Speed Shop, Best Plumbing and Hinchman. His winged veteran counterpart will be Polk, Ohio driver Aaron Middaugh in his own Gressman powered #91x wrenched by his brother Andy Middaugh and sponsored by Kear's Speed Shop.
Perhaps the most dynamic driver in the 2012 BOSS line-up will represent the Mountaineer state, as Weirton, West Virginia's Mark Cassella will pilot the Lou Gagliardi owned #91. Cassella was a USAC Sprint Car Rookie of the Year in 1995 and has one of the strongest backgrounds of drivers in the 2012 championship chase. However, a serious crash at Terre Haute, IN sidelined Cassella's career for a few years. Cassella and Gagliardi are back in full swing with help from Slack Overhead Doors. Yet another driver with primarily a non wing background is West Jefferson, Ohio campaigner Lewie Christian who will wheel his own #8 car with help from Honda of Marysville, Performance Chrysler-Jeep-Dodge, ISPC, Oil Distributing Company, Toyota Direct and Ohio Auto Color.
Several more drivers have shown their intentions to support most of the BOSS events, so watch for more information to be released soon detailing more championship contenders. If teams plan to run all or most of the BOSS events and would like to have their information included in press releases, please submit your information through the "contact" page on the series website at www.buckeyesprints.com
In other BOSS news, there will be a few scheduling changes in the next week, but officials will have the schedule finalized soon. The Saturday, July 7th "Dick Spencer Memorial" is now finalized and official at Waynesfield Raceway Park. The August 11th event at Waynesfield has been removed from the schedule and the September 16th event at Waynesfield will run under Waynesfield rules and will be a NON POINTS event for BOSS racers.
Watch for 3 dates still to be added in the coming days that will finalize the BOSS schedule with 17 total events. Fourteen of those 17 will be points paying events. Series owner Aaron Fry has also announced that drivers will be able to "drop" one points paying event while chasing the championship. This means a drivers best 13 races will count toward the title. Fry stated the reason for this decision, " …the BOSS series is meant to be a blue collar racing series for sprint cars. Nearly all of my supporters have regular jobs or businesses and most of us are family men as well. There will be weddings, graduations, birthdays, and unfortunately even funerals and I don't feel a driver should be punished for missing one event due to a family circumstance ……".
This new points rule will also help drivers who are able to make it to every event. In the case of a bad day at the track with mechanical issues or a crash in a prelim event, drivers will be able to drop that night and move on.
Buckeye Outlaw Sprint Officials are working hard to secure sponsorships to cover bonus awards at every event in 2012. If you or your business are interested in getting involved, packages are available for as low as $50 to be a part of a BOSS event. BOSS can be reached at sprinter14@hotmail.com or phone 740-703-3768.