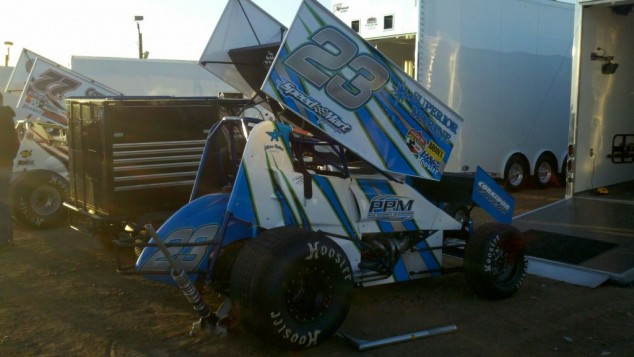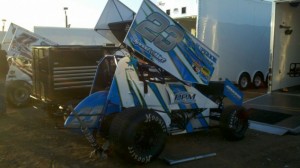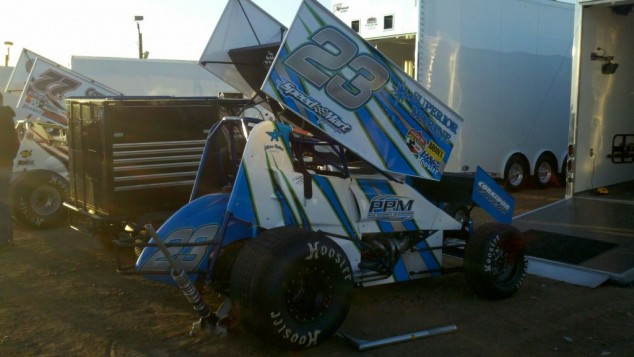 From Peterson Media
The opening weekend with the Lucas Oil ASCS National Tour was an up-and-down event for Snohomish, WA driver Seth Bergman as he scored a 10th place finish on Friday night, and was involved in a wreck on Saturday resulting in a 22nd place finish.
By way of winning his heat race, Bergman qualified for the top eight redraw, and pulled the two pill, putting his Pete Petersen Motorsports/Superior Marine/Speed Mart machine on the front row.
With the waving of the green flag, Bergman fell in line behind TBJ, as the field worked the bottom of the speedway.
After an early caution, Bergman would fall back to the fourth spot, early in the feature.
Laps continued to click off, and Bergman ran in the fifth spot as the final caution and red flew on the 18th circuit.
On the ensuing restart, Bergman got under Wayne Johnson for the fourth spot, but as Johnson countered, Bergman attempted to go to the top side, and wasn't to his liking as he lost several spots and fell all the way back to 10th.
The Washington driver wasn't able to recover and crossed the stripe in the 10th spot.
Saturday night, Bergman and his Corridor Electric/ButlerBuilt/7 Industries backed Eagle returned to the Canyon Speedway Park to wrap up the Copper Classic.
Bergman picked up his second heat race of the weekend, and would line his PPM No.23 up in the sixth row for the 30-lap feature event.
Unfortunately for Bergman and his team, the night would get cut short early in the feature, as he was involved in a wreck, ending his night and giving him a 22nd place finish.
"It was an up and down weekend for sure," said Bergman. "We have some new guys with us this year, and we worked really well together out of the box. We were really good both nights, and Friday I made a mistake that cost us a lock in spot, and Saturday we got caught up in some trouble and ended our night. I'm excited for this season, we have the team to pick up a few wins."
Bergman and his Pete Petersen Motorsports team would like to thank Superior Marine, Corridor Electric, Speedmart Inc, Eagle Chassis, ButlerBuilt, and 7 Industries for their support in 2012.
ON TAP: Bergman and his team will now head off to the Cocopah Speedway next weekend for more ASCS National Tour action.