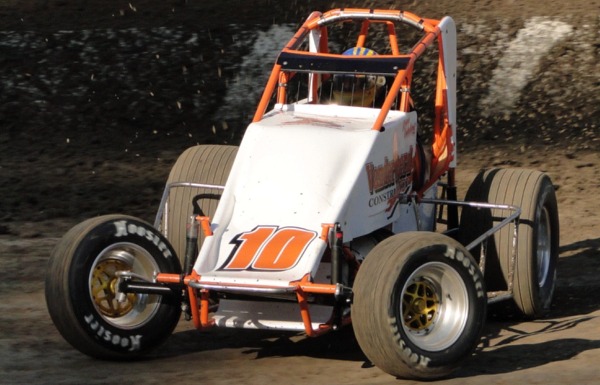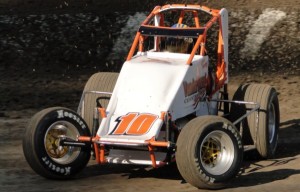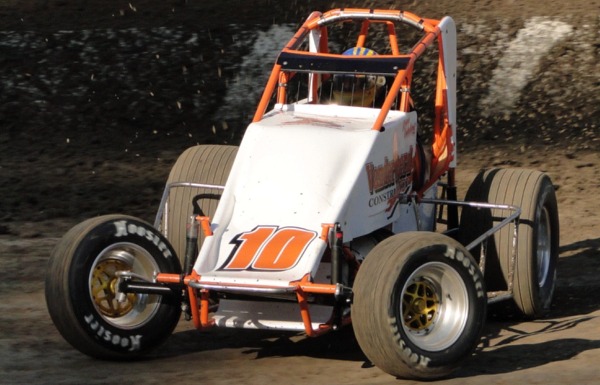 From Lance Jennings
SANTA MARIA, CA – MARCH 5, 2012… This Thursday, March 8th, the USAC West Coast 360 Sprint Car Series will kickoff their 2012 campaign at the Las Vegas Motor Speedway. The non-point "Sin City Showdown" is the first round of the 3-race "Grudge Series" with the ASCS Canyon Region and will showcase both groups with the World of Outlaw Sprint Cars. The spectator gates will open at 4:30pm, hot laps at 6:00pm, Outlaw qualifying is set for 7:00pm, followed by heat races for the traditional 360s.
The "Grudge Series" will resume at Santa Maria Speedway on July 7th for the "War at the Shore" and conclude at Canyon Speedway Park's non-point "Brawl for in All" on September 22nd. Each race of the mini-series will carry a $2,500-to-win and $300-to-start purse, with a $50 entry fee. Thanks to sponsorship from Southwest Contractors, Hoosier Tire, and ParkerStore of Phoenix, the 3-race mini-series has a point fund of $15,000 with $5,000 up for grabs to the champion and $700 for 10th place in points. Promoters Chris Kearns and Kevin Montgomery are currently looking for more sponsorship to pay at least $500 for 15th in the "Grudge Series" standings and the current point fund is listed at the end of this release.
Visalia's Richard VanderWeerd won last season's title on the strength of his consistency. Piloting the family owned #10 VanderWeerd Construction / Battery Worx Maxim, Richard claimed the point lead on July 16th at Hanford after winning the make up feature and led the rest of the way to earn his first sprint car title. The 20-year old driver led the series with three Fast Time Awards (tied) and fourteen top-10 finishes. In addition, VanderWeerd had three heat race victories, one Hard Charger Award and led seventeen main event laps.
Ryan Bernal of Hollister took the series by storm by finishing second in the points, earning Rookie of the Year honors, and claiming the Santa Maria Track Championship. Ryan led the early season standings, but mechanical problems would cost him the top spot. The 18-year old driver rebounded with a fury and led the USAC West Coast 360s with five feature wins, three Fast Time Awards (tied), and 153 feature laps led. In addition, Ryan had four heat race victories and thirteen top-10 finishes on the season. Bernal will have a new ride in 2012, driving Keith Ford's #73 King Racing Products / A&A Precision Machine Spike.
San Martin's "Wide Open" Wes Gutierrez put together a solid season and finished third in the point standings. On September 20th at Hanford's Kings Speedway, the pilot of the WG Motorsports' #007 ButlerBuilt / Competition Suspension Inc. DRC won the Jim Turner Memorial. The 20-year old hard charger led all drivers on the circuit with five heat race victories on the year. In addition, Gutierrez had thirteen top-10 finishes and 42 feature laps led to his credit.
Jace VanderWeerd of Visalia scored fourth in the championship hunt. Driving the family owned #88 VanderWeerd Construction / Battery Worx Maxim, the twin brother of the defending champion won at Santa Maria on April 9th and briefly led the points. The 2010 USAC/CRA Rookie of the Year closed out his season with one Fast Time Award, two heat race victories, twelve top-10 finishes, one Hard Charger Award, and fourteen feature laps led.
Rancho Palos Verdes' Dennis Howell had a strong season and claimed fifth in the final standings. Racing the family owned #62 San Pedro Auto Body / Howell-Meyer Racing Maxim, the 24-year old driver did not win a feature, but was a force to be reckoned with throughout the year. The USAC Western Midget Series graduate had two second place finishes and tied for the series lead with two Hard Charger Awards. In addition, Howell had one Fast Time Award, three heat race victories, twelve top-10 finishes, and twenty-three feature laps led on the year.
Among the other top contenders expected to be in action are Tipton's "Hollywood" Danny Faria Jr., Fresno's T.J. Smith, Justyne Hamblin of Hanford, and Campbell's Bud Kaeding. ASCS Champion Jeremy Sherman, USAC/CRA Champion Mike Spencer, VRA Champion Greg Taylor, USAC Western Midget Champion "The Kruser" Cory Kruseman, Charles Davis Jr., Troy Rutherford, Matt Mitchell, Rick Ziehl, Dustin Morgan, and R.J. Johnson are among a talented roster of drivers that will compete at Las Vegas.
The Dirt Track at Las Vegas Motor Speedway is located twelve miles north of downtown Las Vegas, Nevada off Interstate 15 at Exit 54 (Speedway Blvd). Adult tickets are $39 and Kids tickets (6-12) are $9. For more event information, visit www.lvms.com or call (702) 644-4444.
Two days after the March 8th "Sin City Showdown," Ventura Raceway will host the first round of the All Coast Construction 360 Challenge. The Saturday, March 10th, VRA Sprint Car event also has a $2,500-to-win purse and the Hoosier Medium and VRA Right Rear Tire are legal for both shows. Rules for the USAC West Coast 360s can be found at www.westcoastsprintcars.com and ASCS Canyon Region rules are online at www.canyonspeedwaypark.com. The VRA Sprint Car and Ventura Raceway rules are posted at venturaraceway.com.
The USAC West Coast 360 Sprint Car Series would like to thank Southwest Contractors, Hoosier Tire, Amsoil, ButlerBuilt, Competition Suspension Inc., Cory Kruseman's Sprint Car & Midget Driving School, Crow Enterprizes, DJ Safety, Diversified Machine Inc., Extreme Mufflers, Hilborn Fuel Injection, Hinchman-Indy Racing Uniforms, Integra Shocks, Kaeding Performance, Keizer Wheels, ParkerStore of Phoenix, Ringers Gloves, Rod End Supply, SBI Fuel Systems, Saferacer.com, Saldana Racing Products, and Sander Engineering for their support. If you or your company would like to become part of the series, please email PR Director Lance Jennings at lwjennings@earthlink.net.
For more information on the USAC West Coast 360 Sprint Car Series, please visit westcoastsprintcars.com, usacracing.com, racesantamariaspeedway.com, or follow the series on facebook.
———————————————–
2012 GRUDGE SERIES POINT FUND: (USAC vs. ASCS)
1. $5000, 2. $2500, 3. $1500, 4. $1200, 5. $1000, 6. $900, 7. $800, 8. $700, 9. $700, 10. $700.