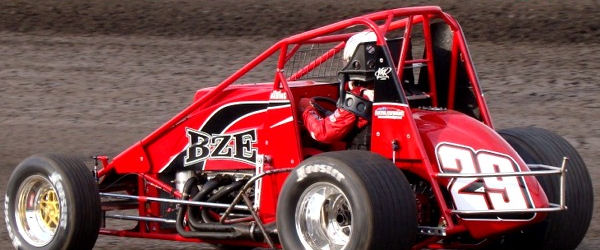 PETERSEN MEDIA
Bud Kaeding thought about changing his number to two at the end of the 2011 season, as he had scored numerous second place finishes to close out his campaign. Thursday night during the Sin City Shootout in Las Vegas, NV, Kaeding thrilled the crowd and got the monkey off of his back as he out dueled Ryan Bernal in a photo finish.
Scoring a third place finish in his heat, Kaeding lined his BZE/Kaeding Performance, Factory Kahne shocks up in the 10th spot for the 25 lap shoot out.
Putting his maxim on the tip top of the LVMS, Kaeding quickly charged his way to the front of the field as he found himself in the second spot by the eighth lap.
Kaeding pressured leader Ryan Bernal who had been working the low side of the speedway.
As Kaeding stalked the young driver, the red flew on the 19th lap, and Kaeding drove around Bernal on the restart to grab the lead.
With the white flag waving, Kaeding nearly lost the lead as he biked in the first set of turns and opened the door for Bernal.
The duo entertained fans with a drag race coming out of turn four, but Kaeding held the spot and took home the big check.
A jubilant Kaeding excited the crowd with impressive donuts into victory lane.
"It feels awesome to finally get back in victory lane," said an excited Kaeding. "This car was on a rail in the feature, and rolled around awesome on the top. I almost gave it away on the white flag lap, but luckily we were a little better then Bernal. I can't thank Buster, Ziggy and all my guys for working their tales off."
Kaeding would like to thank Kaeding Performance, Sprint Car Innovations, Alviso Rock, BZE, Factory Kahne Shocks, Racing Optics, K&N Filters, Yak Graphics, ButlerBuilt, and Brown and Miller for their continued support.
STAY CONNECTED: Stay connected with Bud by visiting www.budkaedingracing.com, www.facebook.com/budkaedingracing or following @Bud_Kaeding on twitter.
PETERSEN MEDIA: Petersen Media specializes in motorsports media constructing news releases, both pre and post race, as well as constructing email lists to keep sponsors, and fans up to date. Petersen media also utilizes today's Social Media networks to provide trackside updates to fans and sponsors, and can customize packages to fit your team's needs.
For more information contact Sales@petersenmediainc.com, 916-342-3424, visit www.petersenmediainc.com, www.facebook.com/PetersenMedia or follow @Petersen_Media on twitter.