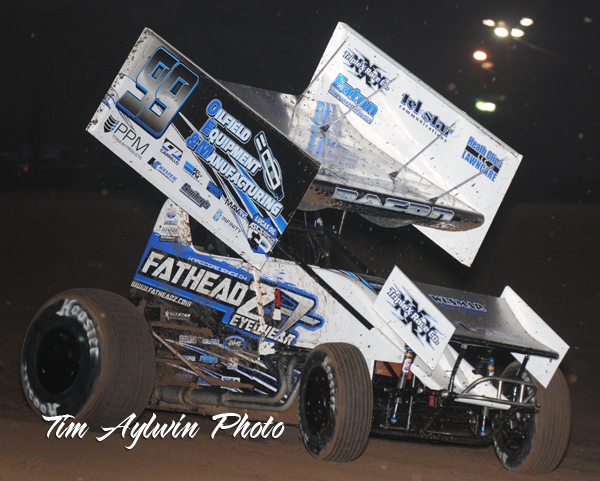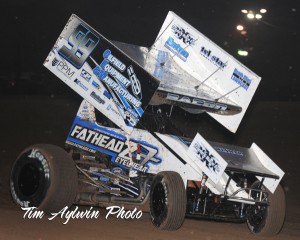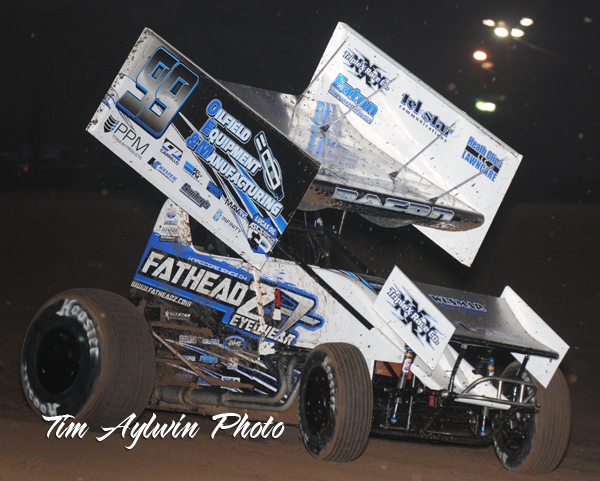 From Bill W
March 12, 2012 – Brady Bacon and the Brady Bacon Racing #99 racing team wrapped up their trip to Arizona last weekend at the Cocopah Speedway near Yuma, Arizona.  The weekend yielded a twelfth place finish on Friday and a seventh on Saturday.  The Broken Arrow, Oklahoma native emerged third in the Lucas Oil ASCS National Series standings.  This weekend, he will drive the potent Wilke #11 midget at the Cowtown Speedway in Kennedale, Texas.
Things got started at Cocopah Speedway on Friday and Brady ran seventh in the heat before having to transfer through the B main.  "We just didn't have quite the weekend we wanted," he says.  "We started in the back of the heat on Friday, and it was just hard to pass.  We were only able to get by one car, and that hurt us and sent us to the B."
A quick start made up some ground after starting 18th.  "We were really good the first four or five laps," says Brady.  "I think we passed about six cars.  At that point, the track really slowed.  We were running the top and it was slick from top to bottom.  We kind of hung around in that spot the rest of the race."
He would checker 12th.  "I think fifth through thirteenth was on one straightaway for awhile," says Brady.  "There just wasn't a whole lot to get a hold of.  It was hard to build any speed to get a run on anyone.  It was slick like ice, and that's not my strong suit when the track gets like that."
A better draw greeted Brady in his Saturday heat.  "We started the front row outside," he says.  "Again, there wasn't too much passing in the heat races (he finished second).  We started eighth (in the main event) after there had been a wreck or two.  We were able to get up to seventh before there was a yellow."
Once in sixth, things stalled a bit.  "We got by Gary Wright and Dustin Morgan, but the yellow came out and we had to go back behind them," says Brady.  "We got back by Dustin and we ran sixth most of the race.  We were dragging stuff onto the racetrack and that was making things very slick and dusty."
The finale resulted in a seventh place finish.  "Roger Crockett got something working from the middle to the top late in the race," says Brady.  "He snuck around us on the last lap.  We were a little bit better on Saturday, but it was hard to gain on anyone.  (Johnny) Herrera was third, two car lengths, then Gary Wright, two car lengths, then Wayne Johnson and two car lengths, and then me the majority of the race."
Though Brady didn't have the weekend he had hoped, the series visit to Cocopah Speedway was a success.  "What a super location and a nice facility," he says.  "It was nice to see they about sold out on Saturday night.  There were around 3,000 people there.  It's good to see that.  Hopefully, they can make a little money this weekend.  That's what we need for promoters to get the popularity of the series and the purses back up where we need them.  I'm sure we'll be going back there sometime."
This weekend there will be a change in disciplines with the switch to the midget.  Cowtown Speedway will host the POWRi Midget Series opener on Friday and Saturday nights.  "We'll be running for Wilke-Pak again," says Brady, who recently ran for the team at the Chili Bowl.   "I believe it's $3,000 to win the first night, and $5,000 to win the second.  It's a place we've won at in a midget, and hopefully, we can do that again."
Follow Brady on his Website, Twitter and Facebook!
Follow Brady at his website located at www.BradyBaconRacing.com! Also keep up with him on Facebook and Twitter (which also can be accessed at the website) at the following links…
Twitter Link – http://twitter.com/BradyBacon
Facebook Link – www.facebook.com/pages/Brady-Bacon-Racing/278125555137
Marketing Partner of the Week – Infinity Shocks
| | |
| --- | --- |
| | Infinity Shocks, is a full service factory authorized Pro Shocks rebuild and repair center, located in Kokomo, Indiana. Infinity Shocks offers Dyno testing for ANY brand of shock absorber. From Quarter midgets to Silver Crown, from micros to World Of Outlaws. Infinity Shocks has the endless consistency to build THE BEST Shocks every day.  Call them today at 765(865-1073), or visit their Facebook page at http://www.facebook.com/pages/Infinity-Shocks/158799684167636#!/pages/Infinity-Shocks/158799684167636! |
Associate Marketing Partner of the Week – Wesmar Racing Engines
Since the inception of Wesmar Racing Engines in 1986, they have grown from a small business with 4 employees, to the present "One of the Top Names" in the sprint car engine building industry with 9 employees. What makes Wesmar one of the top names in sprint car racing? The answers are simple:
Wesmar is not an assembly line engine shop! Each motor is custom built around the driver and his particular wants and needs. After all, wouldn't you feel comfortable knowing YOUR motor is designed for YOU rather than having one "pulled off the shelf?"
Wesmar is constantly updating their motors to keep up with the ever-changing technology, which in turn benefits you, the racer.
Wesmar's motto has always been "True Horsepower." What that means to the racer is – Wesmar gives you the honest truth, no inflated dyno numbers. Your motor does not leave here until we are completely satisfied with its performance!!
Visit them online at www.WesmarRacing.com!