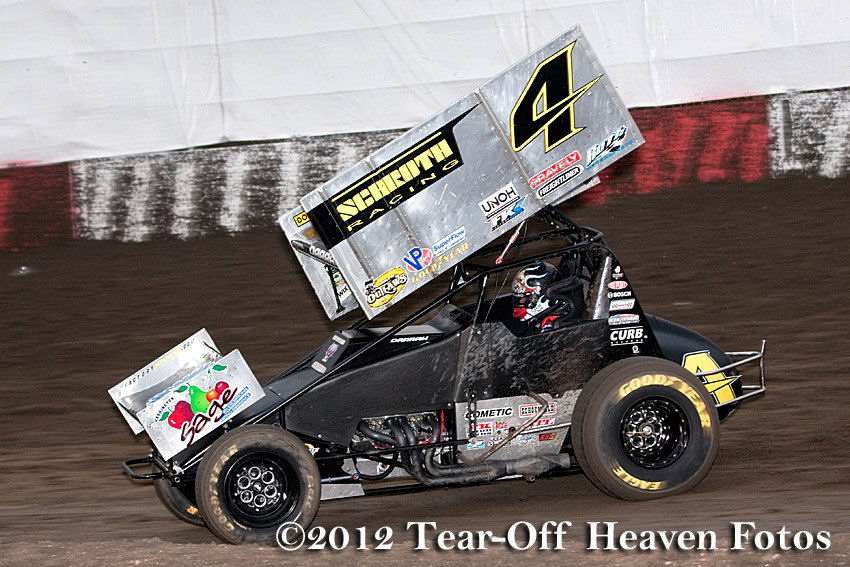 By PETERSEN MEDIA
Cody Darrah and the Tulare Thunderbowl Raceway have a love hate relationship, and that relationship continued on Friday night as a late race restart crash, ended the night for Darrah and his KKR team.
The track is a racy track that Darrah enjoys, but unfortunately, it has gotten the best of him in past trips to the Central California facilty.
"Tulare is a fun track to race, but I have the worst luck there, and unfortunately it continued on Friday," said Darrah.
Being forced to come from the LCQ, Darrah lined his Scroth Racing/Team ASE/Sage Fruit machine up in the 20th spot for the 35-lap contest, Darrah found himself marred in heavy traffic on a very sticky and heavy racetrack.
As laps clicked off Darrah, wasn't able to work through the field, as he was only able to get up into the top-15.
With the race winding down, Darrah was involved in a late race crash during a double file restart, ending his night early, after his crew valiantly tried getting his car back together.
"It was a tricky track to get going forward on, and I thought we were going to end up with a decent finish," said Darrah. We got in that wreck late, and my guys worked their butts off trying to get us back out there, but there was a little more damage then we thought."
ON TAP- Cody Darrah and his Kasey Kahne Racing team will now head to the Silver Dollar Speedway in Chico, CA for the Mini Gold Cup on Friday March 23rd and 24th.
STAY CONNECTED- Check in to www.codydarrah.com or visit his facebook page, http://www.facebook.com/pages/Cody-Darrah/164513250262145?ref=ts for the latest news on Cody.
PETERSEN MEDIA- Petersen Media specializes in motorsports media constructing news releases, both pre and post race, as well as constructing email lists to keep sponsors, and fans up to date. Petersen media also utilizes today's Social Media networks to provide trackside updates to fans and sponsors, and can customize packages to fit your team's needs.