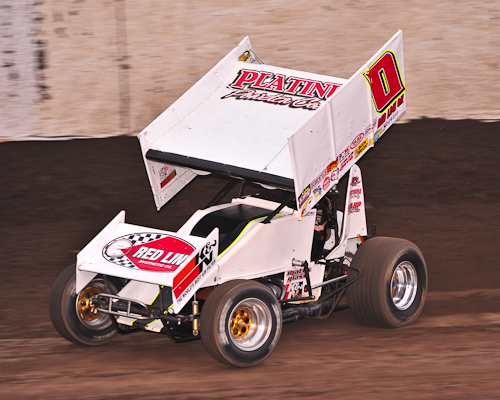 By PETERSEN MEDIA
Jonathan Allard learned a valuable lesson on Friday night, and that is starting in the back on a heavy track is not a good mix, as the Chico, CA driver went through 40-tearoffs in 26 laps and was forced to retire into the pits.
Starting the 35-lap feature from the 13th spot, Allard spent much of the feature trying to fight through traffic to move inside the top-ten on a very sticky and hooked up Thunderbowl raceway.
Keeping himself out of the handful of yellows that had occurred, many drivers began having visibility issues, as they were running out of tear-offs on their helmets.
After a long green flag run of 13-laps, Allard was forced to exit the track, as he had run out of tear-offs himself, and had mudded out his visor, and no longer had visibility.
Allard's night would end with the bizarre circumstance, and he would be scored in the 17th position.
"Tonight clearly shows that it is better off to do the things necessary to put yourself at the front of one of these things," said Allard. "We had a pretty good car, but being buried in the back on a track like tonight makes it tough to pass, and also forces you to use a ton of tearoffs. Evidently 40 wasn't enough and we ended up with a DNF."
ON TAP: Allard and the Williams Motorpsorts team will now head to JA's home track, the Silver Dollar Speedway, for the Mini Gold Cup this Friday and Saturday night.
STAY CONNECTED: For more information on Jonathan, including upcoming events, pictures, and news please check out www.allardmotorsports.com, or follow JA on twitter @Allard0.
PETERSEN MEDIA: Petersen Media specializes in motorsports media constructing news releases, both pre and post race, as well as constructing email lists to keep sponsors, and fans up to date. Petersen media also utilizes today's Social Media networks to provide trackside updates to fans and sponsors, and can customize packages to fit your team's needs.
For more information visit www.petersenmediainc.com, email sales@petersenmediainc.com, www.facebook.com/PetersenMedia or follow @Petersen_Media on twitter.