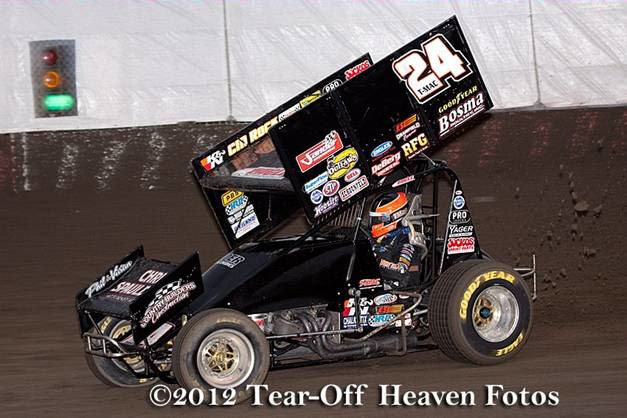 By Bill W, Tear off Heaven Fotos
March 20, 2012 – Terry McCarl posted a season-high fourth place finish on Friday night at the Thunderbowl Raceway in Tulare, California. Unfortunately, the skies opened up afterwards and canceled the finale. The TMAC Motorsports #24 will be back in action this weekend with the World of Outlaws for the Mini-Gold Cup at the Silver Dollar Speedway in Chico.
The Altoona, Iowa driver has had some success at the Tulare bullring. "I felt pretty good at Tulare," says TMAC. "When it is good, it is a really fun racetrack. It is racy and you can get up on the fence. It's always heavy on the first night there, like it is at a lot of tracks."
TMAC was seventh quick amongst the 25 entries. "We came out dead last (in qualifying)," he says. "I think that helped us a little. Paul Silva was helping us, and that helped a lot. Just having him in the pit helped and he is a really good mechanic. Actually, we weren't that great in hot laps or qualifying to be honest. Coming out last helped us."
Silva was helping out while his regular pilot Shane Stewart is "Down Under". "Paul and Brad (Goebel) worked hard every time we came in, and I think we got faster as the night went on," says TMAC, who finished second in his heat and third in the Dash. "We were happy with that. We had been fast in Georgia, and then really struggled with mag problems from Florida on. We finally changed it. When the motor is running, it makes everybody's job easier."
Starting third in the main event on a heavy racetrack, TMAC was set for a good run. "I knew with (Tim) Kaeding starting fourth that he would be tough," he admits. "This is his track. I thought the guy on the outside had an advantage anyway, and he drove right to the front. Everyone was racing for second at that point."
TMAC rode fourth for a time, and was in contention. "Craig Dollansky got around me on the first lap, and then we got to traffic," he says. "I really ran them down, and was able to get up on the high side where Tim was. We got tight after that, and the track got tighter and tighter."
A series of cautions made things interesting, and provided and opportunity to shoot for the runner-up spot. "We were getting some good restarts," says TMAC. "Tim was on the outside and Jason Sides was on the pole. Craig was on my outside, and I got him a couple times, but the yellow came out at bad times. The last restart I was able to get him. I had such a good start that Jason got loose off of turn four, and I had him. I got a run underneath him, but the bottom of the straightaway was still greasy and I spun the tires."
The maneuver ended with TMAC checkering fourth. "(Sides) was able to chop me off into one, and then that opened the door for Dollansky, who rode around the top and by us both," he says. "That stunk, but it was a solid finish for us. Every time we went out, we were faster, and Paul was teaching Brad a few things. Hopefully, he'll be able to help us at Chico this weekend."
TMAC has been joined by the rest of the family this week and is enjoying his time in California. "I have so many friends out here with the Offill's with Country Builders Construction and Craig ("Cowboy") Smith…we just have a lot of fun," he says. "We have a great time coming out here. I'd like to send both of my boys out here to run and learn some short tracks like I was able to do back in the early '90's."
The Mini-Gold Cup gets underway in Chico on Friday night with the finale set for Saturday.
To check out opportunities to partner with TMAC Motorsports on a nightly basis, visit www.TerryMcCarl.com or call 515 957-0020!
Websites for the McCarl Gang!
Driverwebsites.com develops the websites for the McCarl boys. Check out www.TerryMcCarl.com, as well as www.AustinMcCarl.com and www.CarsonMcCarl.com!
In"Terry"gation
Brody Johnson asks: How did you hook up with Country Builders Construction?
TMAC Answers: I had a whole list of people in 1990 where I was trying to get sponsors. I had been driving for my Dad and we were out of money. I had two complete pages of ideas and I went through all of them and had nothing. For some reason, I was talking to Jimmy Sills and he told me about an owner that was looking for a driver out in California. It ended up being Weldon Offill and his family, and I called them up. They were looking for a young guy like me to come out there. It worked out really well, and now they are like family. I love them.
Got a question for TMAC? Send it to us at sprntcar@iowatelecom.net , and we may answer it in this section! Put "? for TMAC" in your subject line.
This Month in TMAC History!
In March of 1992, TMAC scored a top ten in his rookie season with the World of Outlaws at the San Jose Fairgrounds in California. Stevie Smith won that event, ahead of Jac Haudenschild and Steve Kinser. TMAC drove the Weldon Offill #88 that season. He had eight career wins at the now defunct raceway including the 1990 Gary Patterson Classic, the 1991 Johnny Key Classic and the 1999 Trophy Cup.
"Tuesdays with TMAC"!
"Tuesdays with TMAC" is an up close and personal look at colorful sprint car veteran Terry McCarl. To receive "Tuesdays with TMAC", send an e-mail to sprntcar@iowatelecom.net with "TMAC" in the subject line.
TMAC Motorsports would like to thank sponsors Deanfield Farms, Bosma Poultry, Eagle Chassis, DeBerg Concrete, AmeriCashAdvance.com, RFG, Phil and Vivian, Ryan Yager Trucking, 212 The Boiling Point Bar & Grill, Vortex Racing, Hoosier Tire, Chris Spaulding – Attorney at Law, Schoenfeld Headers, K&N Filters, Don Ott Engines, HRP, All Pro Cylinder Heads, Bob and Beulah Elder, Country Builders Construction, Engler Injection, Superflow Technologies, T&P Brothers, Larry Fleck Trucking, Winters, DriverWebsites.com, CM Rock, Jocko's Sprint Parts, Sander, Brown and Miller, Chase Graphics, Pro Shocks, Ben Cook, Bell Helmets, Burnett's Rock and Landscaping, Fatheadz Eyewear, Morgan Strawberry Farms, Bulldog Pest Control, Aurora Rod Ends, Crow Safety, Justice Brothers, KSE Steering, Strange Performance, Saldana Racing Products, Scribner Plastics, Waterman Fuel Pumps, Weiland Racing, Butlerbuilt, PBS Bushings.
untitled