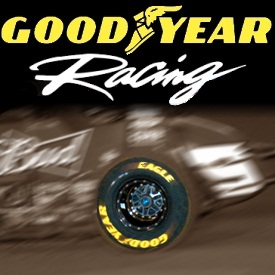 By Lee Elder
CHICO, Calif. (March 26, 2012) – Donny Schatz started on the pole, beat Jonathan Allard to the first corner and went on to win the World of Outlaws Mini Gold Cup race at Silver Dollar Speedway.
Schatz finished the weekend leading the Outlaws standings, having won twice in the young season.
Goodyear is the exclusive tire provider for the World of Outlaws Sprint Car Series, manufacturing the tires for the famed racing circuit at the tiremaker's Innovation Center in Akron, Ohio. The same line of bias-ply tires is supplied to touring series and weekly programs around the country.
Familiarity with the tires the Outlaws race on made things easier for the regional drivers as they competed against the national stars in recent weeks, as the premier winged sprint car series in the western states, the Cancen Oil King of the West Series, also uses Goodyear tires. Western drivers have won two races this season.
Schatz' front row neighbor in the starting lineup at Chico was California's Allard, who finished second after chasing Schatz for the entire 35-lap distance around the quarter-mile oval.
"I've been known for not managing my tires as well as we could have," Allard said after the race. "But the Goodyears lasted, we came home with second and we're very proud of that."
The top five finishers included Schatz, Allard, Joey Saldana, Tim Kaeding and Steve Kinser. Kraig Kinser posted the quickest lap in time trials.
Schatz leads the WoO standings with 978 points. Saldana is next with 958.
More information about Goodyear Racing is available at www.racegoodyear.com. More information about the Outlaws is available at www.worldofoutlaws.com. More information about the KTW series is available at www.kingofthewestsprintcarseries.com.