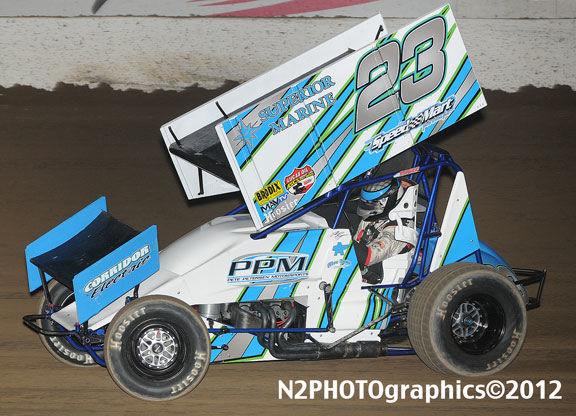 PETERSEN MEDIA
– Resuming his 2012 Lucas Oil ASCS National campaign last Saturday at Devils Bows Speedway, Seth Bergman had a rather forgettable night as a ninth place finish in the B main, ended his night prematurely.
Kicking the night off in heat race action, Bergman's pill draw saw him line his PPM/Superior Marine/Corridor Electric machine in the back of a stout heat.
Finishing in the eighth spot, Bergman was forced to run in one of the twin B mains for a final shot at making the feature event.
Lining up eighth in his B, Bergman had his work cut out for him as only the top three finishers would transfer to the feature.
In the B, Bergman simply wasn't able to move forward as he searched the Devils Bowl Speedway for the fastest way around.
At the stripe, Bergman took the checkered flag in the ninth spot, ending his night as he would not qualify for the feature.
Bergman and his Pete Petersen Motorsports team would like to thank Superior Marine, Corridor Electric, Speedmart Inc, Eagle Chassis, ButlerBuilt, and 7 Industries for their support in 2012.
ON TAP: Bergman and the PPM team will be in action on Friday night in Waco, Texas.
PETERSEN MEDIA: Petersen Media specializes in motorsports media constructing news releases, both pre and post race, as well as constructing email lists to keep sponsors, and fans up to date. Petersen media also utilizes today's Social Media networks to provide trackside updates to fans and sponsors, and can customize packages to fit your team's needs.