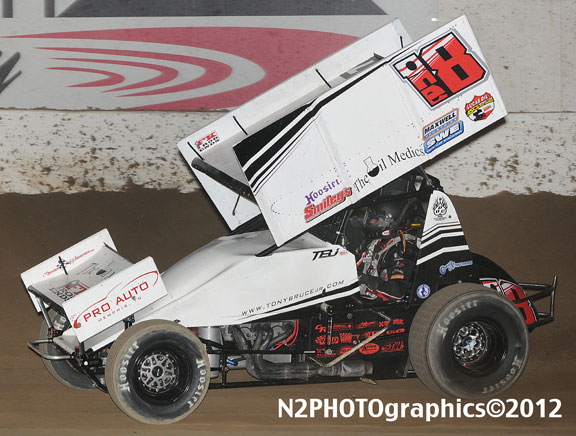 PETERSEN MEDIA
– Tony Bruce, Jr spent his off weekend from the Lucas Oil ASCS National Tour in Texas competing regionally with ASCS as he scored a pair of second place finishes.
Friday night saw the one8 Motorsports team compete with the ASCS Gulf South Region in Waco, TX as the Heart O' Texas Speedway.
By way of his heat race win, TBJ and his Hinchman/Pro Auto/Oil Medics entry qualified the top-eight redraw, but as luck would have it, Bruce, Jr pulled the seven- lining him up in the fourth row.
Showing the same speed he showed in his heat, the driver of the Smileys/SWE/Maxwell Industries No.18 quickly carved through traffic as he made quick work of George White and Sam Hafertepe, Jr.
While running in the third spot, Bruce found himself in a tight battle with Seth Bergman for the second spot.
While working on Bergman, Hafertepe brought himself back in the mix, and the trio dueled for several laps, as Bruce got the second spot for good and worked on chasing down Wayne Johnson.
Johnson proved to be too go, and Bruce settled with the second spot.
"One of these night's we'll get Wayne (Johnson)," said TBJ. "We have been battling him a lot lately and unfortunately he's been coming out on top. I can't complain with second, especially coming from seventh. We have this car working well now, and I can feel some wins coming soon."
Saturday night saw the Bruce Racing team again compete in the state of Texas, this time at the Gator Motorplex in Willis, TX.
The same exact scenario from Friday night replayed on Saturday for Bruce, as a charge in his heat race led to the win, but again led to the seven pill being drawn for the feature event.
Bruce again showed speed in the feature as he quickly worked his way to the front of the field as he chased third row started, Aaron Reutzel the entire way.
While Reutzel got to the lead first, Bruce, continued to pressure the youngster, including a lap 20 restart where Bruce, looked under Reutzel but Reutzel slamed the door on Bruce, and kept him in the second spot.
Over the final ten laps, Reutzel kept Bruce, Jr at bay, and Bruce found himself in the second spot in as many nights.
"I really need to work on my luck in the pill draw," joked Bruce, Jr. "It's tough coming from the back of these shows. The competition is stiff, but we had another good car that got us to the front, and I'm pleased with that."
Bruce would like to thank all of his sponsors, Hinchman Racewear, Pro Auto, The Oil Medics, Smileys, SWE, Maxwell Industries, FK Rod Ends, Butlerbuilt, Factory Kahne Shocks, Randy's Racing Filters, DriversWebsites.com, Racinboys.com, Wilwood, Zemco Headers, Hoosier Tires, Gaerte Engines, Pro Powder Coating, Fuel Safe, Bell, Weld Wheels, and ISC Racer's Tape for their support through the 2012 season.
ON TAP: The one8 Motorsports team is now set for a pair of regional races as Friday night they will be in Waco, TX and Saturday they will travel to Willis, TX.
STAY CONNECTED: Stay updated with TBJ by visiting his website at
www.tonybrucejr.com, or by following him on twitter @tonybrucejr
SPONSOR SHOUT OUT: SWE
With nearly 30 years in the racing industry, Steve Watt of SWE is a dealer of various parts and components for both sprint cars and midgets to end up parked in victory lane on a nightly basis.
"When myself or Wayne (Priddy) feel like we don't have the answer, we call Steve Watt.," said TBJ. "His knowledge is so vast and valuable to our team. SWE has also launched a new line of aluminum race products for winged and non-winged sprint cars for 2012. Give Steve a call when you feel the need learn from one of the best in the business. "