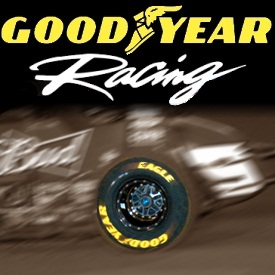 By Lee Elder
ANTIOCH, Calif. (April 9, 2012) – Tim Kaeding is the hottest race car driver on the West Coast.
Kaeding's amazing early-season run puts him at the front of the list of favorites to win the 2012 Cancen Oil King of the West presented by Goodyear championship. He won the series race at Antioch Speedway, adding it to his two World of Outlaws victories grabbed earlier this season. All three wins came on Goodyear tires.
Goodyear is the exclusive tire provider for both the King of the West Series and the World of Outlaws. The Akron, Ohio-based tiremaker provides the same line of tires for both winged sprint car series, meaning drivers like Kaeding can compete in both series secure in the knowledge that they have experience on the tires they'll be using.
Kaeding started on the front row and dominated the feature on the 3/8-mile oval. Jonathan Allard took second, followed by Rico Abreu, Kyle Larson and Bobby McMahan.
Allard posted the best time during qualifying, setting a track record with a lap lasting just 11.756 seconds, good for 87.08 mph.
More information about Goodyear Racing is available at www.racegoodyear.com. More information about the Cancen Oil King of the West Series is available at www.kingofthewestsprintcarseries.com.