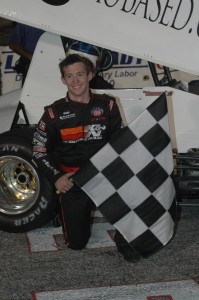 From David Sink
Pensacola, FL – (April 13, 2012) – Tanner Swanson used his pole starting position to capture his first career TRUFUEL Must See Racing Xtreme Sprint Series ( MSRXSS ) victory at 5 Flags Speeday Friday night. The win was worth $3,000 for the California driver who lead wire-to-wire. The event was night #1 of the Royal Oak Southern Shoot Out.The event was the first time since 1992 that 410 winged asphalt sprint cars have raced in the state of Florida.
Swanson was makiing his first career MSRXSS start and the first time ever in a winged asphalt sprint car.Swanson explained in victory lane that it was anything but easy. " The tough part is without having any radios you never know how big a lead you have.Every yellow I got hand signals from the crew telling me how big a lead I had. I worked my butt off to make sure I ran a good line. Right there at the end I know McCune had gotten up to second and I didnt know what kind of car he had ". Swanson explained that his first time in a winged asphalt sprint car was a memorable experience. " Its real fun when your out front by yourself ".Swanson was turning 13.9 second laps twenty-four out of thirty laps in the feature.Jimmy McCune, Mickey Kempgens, Todd Fayard, and Jacob Wilson rounded out the top five.
Twenty-five cars took time during qualifications. Jason Cox set a new track record when he turned a lap of 13.780 seconds around the half mile high-banked oval. The majority of the cars were unable to crack the 13 second barrier earlier in qualifications. It appeared as if Brian Gingras' track record from two seasons ago would stand. With just a handful of cars left. Cox put his name in the record books.Only two  other cars were in the 13 second bracket.Cox picked up a $200 bonus for setting quick time from Deep South Speedway in nearby Loxley, AL.
Heat races went to Brian Gingras, Hank Lower, and Dave Baumgartner. The ten lap B-main went to Brian Olson.
Next up for the MSRXSS will be a visit to Mobile International Speedway for night #2 of the Royal Oak Southern Shoot Out.Go to
www.mustseeracing.com
for info on the series including the 2012 schedule.
5 Flags Speedway MSRXSS official finish 4/13/12
1.  Tanner Swanson
2.  Jimmy McCune
3.  Mickey Kempgens
4.  Todd Fayard
5.  Jacob Wilson
6.  Brian Olson
7.  Mike Larrison
8.  Jerry Caryer
9.  Jim Sheets
10. Aaron Pierce
11. Dave Baumgartner
12. Billy Wease
13. Brian Gingras
14. Hank Lower
15. Collin Cabre
16. Tim Cox
17. Shane Morgan
18. Jojo Helberg
19. Kody Swanson
20. Jason Cox