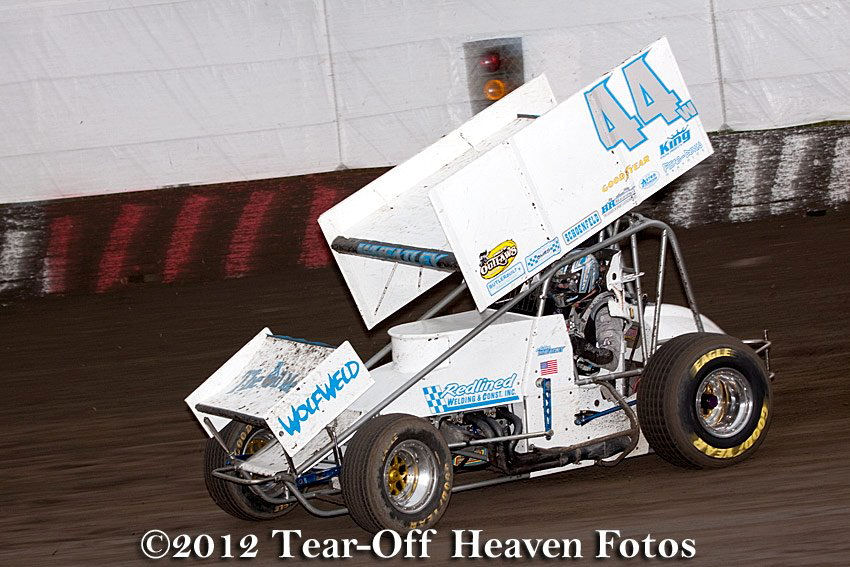 PETERSEN MEDIA
Austen Wheatley has had a couple of weekends he would like to forget about as he now sets his sights on Sedalia, MO this Friday night.
"The last two weekends have been pretty rough," explained Wheatley. "Paducah was pretty cool and our car was good, we just started in the back and couldn't go anywhere with the rubber laying down."
With 29 cars in the pit area, Wheatley timed is Wheatley Motorsports/Redlined Welding/Wolfweld entry in with the 19th quickest lap of the night.
Heat race action saw Wheatley come out of the fourth row and narrowly make a late race pass to earn the final transfer spot, and move directly into the feature.
"We have had a fast car all year," Wheatley continued. "If I can time in a little better, it will really help this team out a bunch."
Lining up for the 30-lap feature in the 19th spot, Austen found passing extremely tough as rubber began laying down on the race track early into it.
"The rubber started laying down, and we were stuck in the back," said Wheatley.
The youngster tried to venture out of line to gain position, but it didn't work to his advantage as he lost a few spots, and fell back to 23rd, where he would eventually finish."
"It's fun to get to some new tracks, and we understand it's going to be tough, and as a competitor its rough, but we are truly learning a lot, and it will help us down the road."
Austen and his team would like to thank King Race Products, BR Motorsports, The Oil Medics, Wolfweld, Redlined Welding & Construction, Schoenfeld Headers, Astro Titanium, BMRS, Fire-Down Graphics and ButlerBuilt for their support in 2012.
ON TAP: For now, Wheatley tentatively has plans to continue on with the World of Outlaws and invade State Fair Speedway in Sedalia, MO on Friday April 20th.
STAY CONNECTED: Stay updated with Austen by following him on twitter @MiniWheats44w, or by visiting his website www.austenwheatley.com.