From T.J. Buffenbarger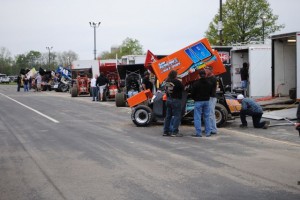 Lima, OH — (April 20, 2012) — The opening night for the Engine Pro National Racing Alliance Sprint Invaders was rained out just before the feature event Friday night at Limaland Motorsports Park.  The feature will be made up on May 11th at Limaland.
Before the rains came Gregg Dalman, Kyle Sauder, Hud Horton, and Randy Hannagan won heat race events over the 33 car field.  Todd Heurman and Ryan Ruhl won the twin B-Main events.
Limaland Motorsports Park – 4/20/2012
NRA Sprints
Heat 1 – (8 Laps – Top 4 Transfer)
1. 49T-Gregg Dalman; 2. 22-Ben Rutan; 3. 11-Tim Allison; 4. 57-Dylan Cisney; 5. 82-Mike Miller; 6. 18-Todd Heuerman; 7. 27K-Ryan Kirkendall; 8. 34-Jimmy Snead; 9. 40-Caleb Helms
Heat 2 – (8 Laps – Top 4 Transfer)
1. 7K-Kyle Sauder; 2. 7-Darren Long; 3. 35-Ron Blair; 4. 2M-Dallas Hewitt; 5. 27-Beau Stewart; 6. 27B-Brad Lamberson; 7. 29S-Marques Huffer; 8. 32M-Derek Hastings
Heat 3 – (8 Laps – Top 4 Transfer)
1. 28H-Hud Horton; 2. 3T-Tony Beaber; 3. 22D-Dennis Yoakam; 4. 49-Shawn Dancer; 5. 4U-Rick Boughan; 6. 10J-Jarrod Delong; 7. 23-Devon Dobie; 8. 17J-John Kettlewell
Heat 4 – (8 Laps – Top 4 Transfer)
1. 22H-Randy Hannagan; 2. 17-Jared Horstman; 3. 5M-Max Stambaugh; 4. B20-Butch Schroeder; 5. 27R-Ryan Ruhl; 6. 12-Kent Wolters; 7. 4J-Bob Gehr; 8. 2-Brent Gehr
McDonald's Dash
1. 22H-Randy Hannagan; 2. 40-Caleb Helms; 3. 49T-Gregg Dalman; 4. 7K-Kyle Sauder
B-Main #1 – (10 Laps – Top 2 Transfer)
1. 18-Todd Heuerman; 2. 27-Beau Stewart; 3. 82-Mike Miller; 4. 27K-Ryan Kirkendall; 5. 27B-Brad Lamberson; 6. 29S-Marques Huffer; 7. 34-Jimmy Snead; 8. 32M-Derek Hastings; 9. 40-Caleb Helms
B-Main #2 – (10 Laps – Top 2 Transfer)
1. 27R-Ryan Ruhl; 2. 10J-Jarrod Delong; 3. 4U-Rick Boughan; 4. 23-Devon Dobie; 5. 12-Kent Wolters; 6. 4J-Bob Gehr; 7. 2-Brent Gehr; 8. 17J-John Kettlewell
A-Main – (25 Laps) [#]-Starting Position – To be run on 5/11/12

Photo Gallery