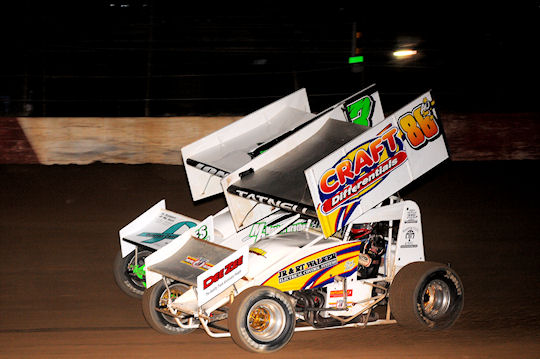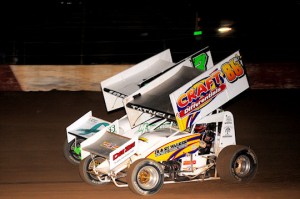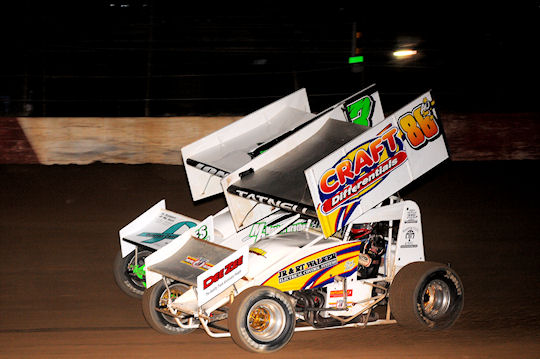 From Greg Parent, UMSS Media Director
Elko, MN — (April 20, 2012) — With a quality 24-car field on hand to compete in the first Upper Midwest Sprintcar Series (UMSS) event of the season, Brooke Tatnell drove the Craft #86 sprinter to victory on Friday night April 20 at the Elko Spring Dirt Nationals. Tatnell passed early race leader Cody Hahn on lap 7 and drove through lapped traffic to record his tenth career UMSS victory.
Tatnell's victory came with some drama though. On lap two, Tatnell and Andy Jones made contact in turn one with Jones' car spinning. Jennifer Eriksen was unable to avoid the stalled car of Jones and made contact, sending both cars to the pits and out of the race. Tatnell and Jones were battling for second at the time behind race leader Cody Hahn.
The feature race had some problems getting underway, as the first attempt to bring the 24-car starting grid to the green was called off. On the second attempt, contact between Tommy Barber and Sye Anderson entering turn one caused a multi-car crash. Barber and Anderson started in row three, so a good share of the field scattered in an attempt to avoid the melee. Chad Patterson made contact with Barber's car which knocked Barber on his side and brought out the red flag. Several other cars were involved.
The third time was the charm, as 2010 UMSS Champion Cody Hahn bolted into the lead from his pole starting position on the opening lap. The yellow light blinked on for the incident involving Tatnell and Jones with one lap scored. The race then went 15 laps green until the final yellow flew for a James Broty spin in turn one. During this green flag run, Tatnell drove under Hahn for the lead on lap seven and never looked back while working lapped traffic. Eastern Wisconsin driver Scotty Thiel worked past Hahn on lap 9 for second and challenged Tatnell briefly for the lead over the course of the next couple of laps. Thiel finished a strong performance with a runner-up finish in the feature.
A late-race pass with two laps to go saw 2011 and defending UMSS Champion Jerry Richert, Jr. move by Cody Hahn for third. Hahn finished fourth ahead of Scott Broty. Completing the top ten finishers were 23rd starter Cam Schafer with an incredible drive forward, 22nd starter Tony Norem with a hard charge towards the front, Casey Heser in his first UMSS race, Austin Johnson also running his first UMSS show, and Billy Johnson who was the inaugural UMSS winner at Elko in July 2010.
The UMSS sprints were initially scheduled to only run heat races prior to their feature, but the usual UMSS format was put in effect when a stock car class was scrapped from the program. Unfortunately a violet crash in a Legends car heat race required a long delay in the racing program, so the initial heats and a feature format was placed back into effect. UMSS heat race winners included Brooke Tatnell, Sye Anderson and Cody Hahn.
The final night of the Elko Spring Dirt Nationals was scheudled to take place on Saturday April 21, but cold rainy weather forced officials to cancel the event. You can follow the UMSS on their website at www.umsprints.com, become a friend of the UMSS on their Facebook page, or pick up a copy of the free UMSS Report newsletter available at many events. The UMSS continues to put on a show for the fans each and every night with exciting winged sprint car racing action. The season is underway!
UMSS Race Results – Elko Speedway Spring Dirt Nationals April 20, 2012 (Race #1):
Alpha Apparel & Promotions Ultimate Sprint Heat #1 (8 laps): 1. 86 Brooke Tatnell, 2. 63 Jerry Richert Jr, 3. 64 Scotty Thiel, 4. 81 Austin Johnson, 5. 56 Billy Johnson, 6. 14k Tori Knutson, 7. 5c Tom Nicholl, DNS: 54 Cam Schafer.
Meeks Video Ultimate Sprint Heat #2 (8 laps): 1. 37 Sye Anderson, 2. 34 Scott Broty, 3. 20G Chris Graf, 4. 12 Johnny Parsons III, 5. 78 Rob Caho Jr, 6. 75c Casey Heser, 7. 33 James Broty, 8. 15 Chad Patterson.
Mastell Brothers Trailer Service Ultimate Sprint Heat #3 (8 laps): 1. 23 Cody Hahn, 2. 73 Andy Jones, 3. 75 Tommy Barber, 4. 10x Jennifer Eriksen, 5. 7x Danny Lee, 6. 5 Anna Kouba, 7. 77 Brandon Allen DNF, 8. 45 Tony Norem DNF.
GRP Motorsports A Main (25 laps): 1. Tatnell, 2. Thiel, 3. Richert, 4. Hahn, 5. S Broty, 6. Schafer, 7. Norem, 8. Heser, 9. A Johnson, 10. B Johnson, 11. Allen, 12. Caho, 13. Kouba, 14. Knutson, 15. Nicoll, 16. J Broty, 17. Lee DNF, 18. Graf DNF, 19. Parsons DNF, 20. Jones DNF, 21. Eriksen DNF, 22. Barber DNF, 23. Anderson DNF, 24. Patterson DNF.
Lap Leaders: Hahn 1-6, Tatnell 7-25.
(4) cautions.