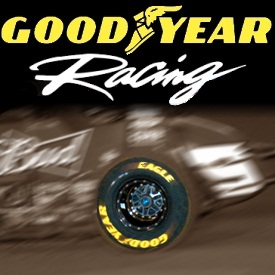 By Lee Elder
AKRON, Ohio (April 30, 2012) – Sammy Swindell and Donny Schatz traded victories on the World of Outlaws Sprint Car Series trail and Swindell finished the week with the lead in the 2012 standings.
Schatz won at Farmer City Raceway in Farmer City, Illinois while Swindell won for the 48th time at Knoxville Raceway.
Goodyear is the exclusive tire provider for the Outlaws sprint car program and is the sponsor of the Goodyear Knoxville Nationals at Knoxville Raceway, sprint car racing's most prestigious race. The same line of bias-ply Goodyear Eagles that the tiremaker builds for the Outlaws' national touring series is also supplied to weekly sprint car programs at tracks dotted around the country, such as one at Knoxville.
Swindell leads the standings with 1,806 points, followed by Schatz with 1,799 and Joey Saldana with 1,781.
Schatz won the first race of the week. Brad Sweet, who recorded the fastest lap during time trials, finished second. Kraig Kinser, Danny Lasoski and Brady Bacon completed the top five finishers.
Swindell's win came after he took the lead from Brian Brown on the 15th lap. Craig Dollansky was second, followed by Saldana, Brown and Lasoski.
Goodyear employs about 73,000 people at manufacturing plants and facilities in 22 nations. Based in Akron, Ohio, Goodyear is among the largest tiremakers in the world and is the world-wide leader in race tire innovation.