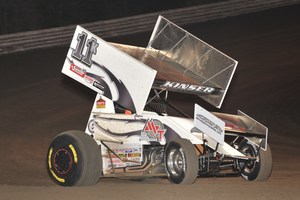 By Kraig Kinser Racing PR
Bloomington, Ind.—May 2, 2012— Kraig Kinser has been going to Eldora Speedway for as long as he can remember, and no matter how many times he visits the legendary track, he still gets goose bumps each and every time he crosses the back straightaway to head into the infield, knowing the history and aura of the famed Ohio half-mile.
Kinser will make his first appearance or 2012 at Eldora this weekend in the Hendrickcars.com Maxim, as the World of Outlaws contest the two-day Outlaw Thunder by Goodyear weekend. The event opens on Friday, May 4, with a full racing program and concludes on Saturday, May 5 with another complete show.
"Eldora has always been a special place," said Kinser. "When I was growing up you always wanted to win the (Knoxville) Nationals and at Eldora. Any race at Eldora is big and I have never won there, so it would mean a lot to win there."
Kinser made his debut at Eldora Speedway with the World of Outlaws in 2001, finishing 12th in that contest. He has made 34 starts in feature events with the series at the historic half-mile, including preliminary feature. The 2005 winner of the Knoxville Nationals has eight career Top-10 finishes with the World of Outlaws at Eldora, including three Top-Five showings. He finished a career-best third in the finale of the spring race at the track in 2005.
"The track is a little different than it was in the past, but I think the biggest difference is that the race cars themselves have changed since the old days," explained the third-generation driver. "They are not the same cars we used to run there and everything continues to change. I always enjoy being right up against the wall there, and some nights it's still that way, and other nights we are kind of lower on the track. I remember watching races there where guys would be bouncing off the wall every lap."
The event this weekend at Eldora will mark the first time the World of Outlaws have contested two nights of racing at the same track since the season-opening UNOH DIRTcar Nationals at Volusia Speedway Park in Florida in February. Mother Nature interrupted a couple of scheduled two-night events on the West Coast in March. A total of eight multi-day events remain in 2012 on the nearly 80-race schedule
"When I first started racing, we had two night shows every weekend, now it's kind of out of the norm," noted Kinser. "When you race at the same track two nights in-a-row, if you find something the first night and do really well, you can build on that the second night as well. Hopefully we can keep the momentum we have had this year going when we get there."
The World of Outlaws will visit Eldora on three separate occasions this season. Following this weekend's two-night event, the series will return to the half-mile on Friday, July 13 for the Knight Before the Kings Royal, with the Kings Royal set for Saturday, July 14. The series will make their final stop of the 2012 campaign at the legendary oval on Friday, Sept. 21, as part of the Four Crown Nationals weekend.
"As much as we do try things and different set-ups to learn for the bigger races, it's not like you are throwing that night away," stated Kinser. "We want to win every night and that's what we set out to do. If something will help us set-up wise for a race down the road there, then we'll certainly try it, and if it doesn't work, we'll change it back pretty quick. With how close everyone is right now, you have to be on your game every time you hit the track."
Kinser is currently fifth in the World of Outlaws championship standings on the strength of 10 Top-10 finishes in the first 13 events of the season. He is just one marker out of the fourth spot and 33 points out of third. The native of Bloomington, Ind. is one just four drivers that has at least 10 Top-10 finishes this season, as he closes in on his first win of the year.
"We just have to keep doing what we are doing," shared Kinser. "We are very quick right now in our Hendrickcars.com Maxim and we just need to get a little luck on our side. I think we have the car and I am there confidence-wise as a driver to do it, and that win is just around the corner."
Kraig Kinser By the Numbers: Eldora Speedway
0.5- Miles around Eldora Speedway
3- Top-Five finishes with the World of Outlaws at Eldora
5- Nights of racing for the World of Outlaws at Eldora this season
7- Events on half-mile tracks thus far this season for the World of Outlaws
8- Career Top-10 finishes with the World of Outlaws at Eldora Speedway
10- Different years having competed at Eldora
12.707- Track record at Eldora Speedway
13- A-Feature events contested this season through April 28
14- Average finish in 34 main events starts with the World of Outlaws at Eldora
34- Feature event starts with the World of Outlaws at Eldora dating back to 2001, including preliminary features
541- Miles from Knoxville Raceway in Iowa, where the World of Outlaws competed on April 28 to Eldora Speedway
1748- Points earned through April 28
2001- Year of first feature event start with the World of Outlaws at Eldora
25,550- Dollars earned through April 28
Keep up with all the action
Follow Kraig Kinser on Twitter at http://twitter.com/kraigkinser11k and receive live updates from the track each and every race night.
Tune in
Listen live to each and every World of Outlaws event on DIRTVision.com with "The Voice of the Outlaws" Johnny Gibson on the call. Visit www.DIRTVision.com for live audio of each and every World of Outlaws Sprint Car Series event.