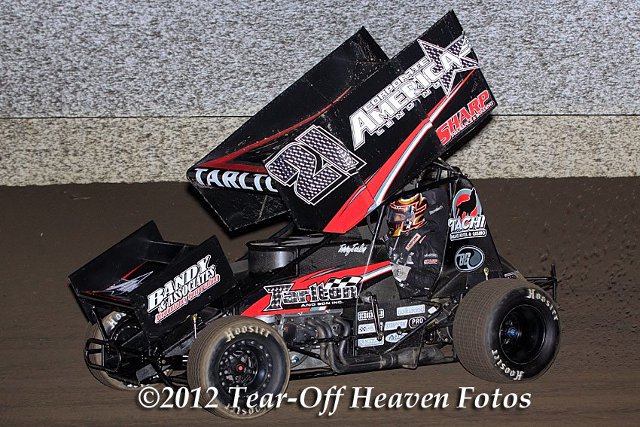 PETERSEN MEDIA
– Making his first start with the Cancen Oil King of the West Series present by Goodyear, Tommy Tarlton defended his home turf well as he posted third and fourth place finishes at the Thunderbowl in Tulare, CA.
Friday night, Tarlton found himself starting in the second row behind the father-son combo of Brent and Tim Kaeding.
Gunning into the second spot early, Tarlton stalked Brent Kaeding until the eight lap, when the veteran driver spun in turn two handing the lead to Tarlton.
On the ensuing restart, Tarlton and his Corporate Lending America/Tachi Palace and Casino/Band and Assocates entry fell to second, as a quick Kyle Larson stole the lead.
Chasing down Larson, Tarlton began to feel pressure from Jonathan Allard for the second spot.
With rubber building up on the bottom of the speedway, Tarlton and his Pro Signs/BG Lubricants/Sharp Insurance worked the low side, while Allard was able to sneak by on the top of the track and put Tarlton in the third spot.
Tarlton would hang on to the third spot at the stripe.
"It's tough to lose one like that," said Tarlton. "We had a very strong car, and feel like this car was good enough to win on Friday."
The Tarlton and Son team was back in action Saturday night, and the Easton, CA driver picked up a heat race win, putting him in the dash where he would finish fifth and line up in the third row of the feature.
Tarlton gunned into the fourth spot as the race went green until the caution flew on lap two for the leader, and he has moved up to the third spot.
Another caution slowed the race on lap five, and a failed restart put the field in single file formation as Tommy ran in the fifth spot.
Tarlton utilized a lap 26 restart to work up to the fourth spot, where he would go on to finish closing out a very strong weekend.
"Paul Baines and my guys gave me a great car all weekend," said Tarlton. "We have been playing with some new things, and it worked out for us this weekend against a very strong field of cars."
Tommy would like to thank Corporate Lending America, Tachi Palace and Casino, Sharp Insurance, Bandy and Associates, Pro Signs, BG Lubricants, and Astro Titanium for their continued support.
VIDEO: Check out some behind the scenes action as well as some of the racing action from Tommy's opening night of action at the Marysville Raceway Park at http://vimeo.com/37919846
STAY CONNECTED: Stay connected with Tommy by visiting www.tommytarlton.com or follow @Tarlton_Racing on Twitter.