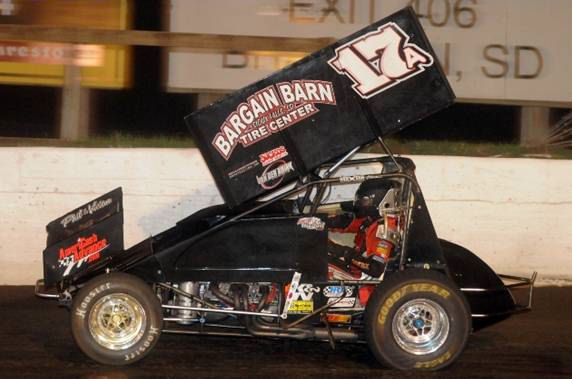 By Bill W, Jeff Bylsma Photo
May 15, 2012 – It was a welcome return behind the wheel of a sprint car for Austin McCarl last Sunday night at Huset's Speedway near Brandon, South Dakota. Backed by the Bargain Barn Tire Center of Sioux Falls, he knocked the rust off with a solid eighth place finish in the feature event. He hopes to climb a few spots this Sunday night at Huset's.
The Altoona, Iowa driver had been crewing for brother Carson McCarl at Knoxville this year, and his brother returned the favor at Huset's. "It was fun," says Austin. "It was great to be back. I have to thank Ben and Troy (Nothdurft) from Bargain Barn Tire Center for bringing me back. It took a while to get going, but it was a good first night."
Things started with the seventh quick time of the night in qualifications. "The motor runs well," says Austin. "I made a little mistake in turn one. I got over the cushion, and that probably cost me a tenth or two."
Starting third, Austin would lead much of his heat before being passed late and finishing second. "We got to the lead in a couple of laps," he says. "The yellow came out with two to go, and I took the white flag. I blew it into three and four a little hard, trying something that I normally wouldn't. There wasn't anything there, my tires spun, and Lynton (Jeffrey) got me at the checkers and made it a good race. I don't like getting beat, but if I did, I'm glad it was him."
He would start outside row two of the main event. "I faded a bit," says Austin. "I showed my rustiness a little bit, I guess. Then it laid rubber and it was tough to pass. It was kind of a learning deal. Traffic wasn't too bad. Things got strung out after five laps. The groove moved down as the laps went on."
Trying to battle in the top five, things got bottled up with lapped cars. "I was trying to get (Bryan) Dobesh and there were a couple of lapped cars there and I wasn't sure what they wanted to do," says Austin. "I kind of rolled on the throttle and that's where Lynton got us. I was a little more timid than I needed to be."
The TMAC Motorsports #17A will be back at Huset's on Sunday. "I'm looking forward to getting back up there this weekend," says Austin. "I think it will be a whole different story with a week under my belt!"
Visit Austin on the Web!
Keep up to date on Austin's exploits and check out the new look at www.AustinMcCarl.com!
Austin's Releases
If you'd like to be included via e-mail, shoot one to sprntcar@hotmail.com with "Austin" in the subject line.
Austin would like to thank Bargain Barn Tire Center of Sioux Falls, AmeriCashAdvance.com, Rossie Feed and Grain, DeBerg Concrete, Sweeter Construction, Deanfield Farms, Phil and Vivian, Bosma Poultry, Vortex, Kosama of Altoona, Chris Spaulding-Attorney at Law, CM Rock, 212 Bar & Grill, Maxim Chassis, Engler, HRP, Aurora Rod Ends, Butlerbuilt, KSE, Hoosier Tire, BRMS, K&N Filters, Sander, Jocko's Sprint Parts, Crow Safety and Bell Helmets for all their help!