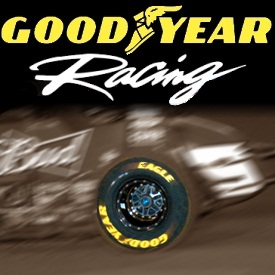 By Lee Elder
AKRON, Ohio (May 21, 2012) – Two of the great veterans in World of Outlaws Sprint Car Series history are at the top of the Series championship standings and they waged a terrific weekend of racing in New York and Maryland.
Steve Kinser led every lap of the feature race and Sammy Swindell finished second as tire strategy played a role in determining the race winner at Orange County Fair Speedway in New York.
Kinser, Swindell and the other WoO competitors race on Goodyear Eagle Dirt Track Special tires. Goodyear offers the WoO racers a variety of tread compounds at every WoO event and the choice of compounds was important at Orange County.
"It's a good race track, but it has an abrasive surface," said Goodyear's Justin Fantozzi. Fantozzi heads up Goodyear's dirt track racing program. "That gave the teams plenty to think about before the feature."
The teams selected rear tires with three Goodyear compounds, ranging from the G100, Goodyear's most aggressive tread surface, to the G300, which has a more robust construction.
Kinser, the 20-time WoO champion, raced on the G200 compound and won the race. Swindell, also a former series champion, choose the G100 and finished second.
Frank Cozze finished third, followed by Daryn Pittman and David Gravel.
The next night, at Maryland's Hagerstown Speedway, Kinser took the points lead for the first time this season with an unlikely 11th-place finish while Swindell finished an even less probable 20th place finish.
Craig Dollansky won at Hagerstown, followed by Daryn Pittman, Paul McMahan, Stevie Smith and Kraig Kinser.
More information about Goodyear Racing is available at www.racegoodyear.com. More information about the WoO is available at www.worldofoutlaws.com.
Goodyear employs about 73,000 people at manufacturing plants and facilities in 22 nations. Based in Akron, Ohio, Goodyear is among the largest tiremakers in the world and is the world-wide leader in race tire innovation.