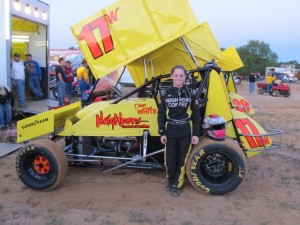 From OCRS
Tulsa OK —  (May 23. 2012) — Lindsay Oklahoma's Harli White will make her return to the Oil Capital Racing Series this Memorial Day weekend in a 2011 Maxim sprint car equipped with a Gerald Brand Engine. The car is fitted with her traditional number 17W and is sponsored by Charlie's Trucking and Forklift and Jerry Tucker Roustabout and Rentals. White's first 2012 OCRS appearance will be Friday night at the Thunderbird Speedway in Muskogee Oklahoma and then on Saturday night, the talent laden pilot will look towards the north as OCRS will roll across the state line into the Caney Valley Speedway in Caney Kansas.
The 17-year-old racer last competed with OCRS exactly one year ago at the Oklahoma Sports Park in Ada, Oklahoma. Driving a Larry Neighbors owned car that night, White transferred from B main to A main and finished a respectable 11th out of 20 starters in her first an only night of OCRS competition. White is an accomplished micro sprint racer and has won several micro features in cars equipped with or without wings. White is excited to be returning to sprint car action. "I have been waiting to get back into a sprint car forever," explained White. "This car is a former Barry McCord car. It has only been raced once this season and there are no races on the motor. There were plans to race the micro more this year but those plans have changed and we got the sprint car to race."
Harli White with the Larry Neighbors owned sprinter at an OCRS event in 2011 / Denise Thomas Photo
White becomes the second female racer on the OCRS roster for 2012 as fellow racer Shayla Waddell from Oklahoma City has been with the series since 2010. Waddell captured her initial OCRS victory last Saturday night at the Salina Highbanks Speedway becoming the first woman to visit victory lane in OCRS competition. When White was asked if she had heard about Waddell's achievement White replied; "Oh yea, I heard about that and I was so happy to hear she won it. That was exciting news to hear." In a male dominated sport, race fans are all very familiar with the talents of these women. Catch these speedy gals and their OCRS colleagues at a track near you for a night of fast n' wild racing action!
Thunderbird Speedway Info:
What: 2nd Annual "Callie's Night" Featuring OCRS Sprint Cars
Where: Thunderbird Speedway / Muskogee Oklahoma
When: Friday Night / May 25, 2012
Racing starts at 7:30pm / Hot laps will start at 7pm
OCRS Drivers Meeting is at 6:30pm
Track is located on the Muskogee Fairgrounds.
The physical address for GPS users is: 1444 S. Cherokee / Muskogee, Oklahoma
Track Phone: 918-869-6883
Website: www.thunderbirdspeedwaymuskogee.yolasite.com
Caney Valley Speedway Info:
What: "Thunder In The Valley" Featuring OCRS Sprint Cars
Where: Caney Valley Speedway / Caney Kansas
When: Saturday Night / May 26, 2012
Racing starts at 7:30pm / Hot laps will begin at 7:00pm
OCRS drivers meeting is at 6:30pm
Track is located 0.8 mile west of the junction of US 75 and US 166 on CR 1600.
Physical address for GPS users is: 1324 CR 1600 Caney, Kansas
Track Phone: (620) 330-0485
Website: www.caneyvalleyspeedway.net