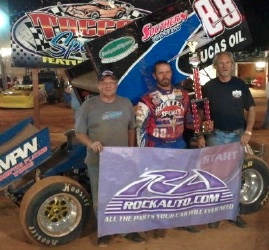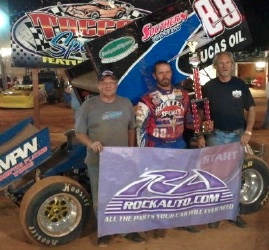 From Pete Walton
West Memphis, AR – May 26, 2012 – United Sprint Car Series presented by Goodyear National points leader Tim Crawley raced from his second row starting position into the www.RockAuto.com USCS victory lane in the United Sprint Car Series presented by Goodyear 7th Annual USCS Sprint Speedweek (2012) mini-series opener at Riverside International Speedway on Saturday night. It was Crawley's second 2012 USCS feature win. Riverside sprint division regular Ernie Ainsworth from Bartlett, Tennessee chased Crawley to the finish line in the runner-up spot with veteran Little Rock Arkansas sprint car driver Johnny Gardner in the K&N Filters Podium Award third place.
K&N Filters Pole Position starter Brad Bowden from Hernando, Mississippi grabbed the lead on the initial start and led the initial seventeen laps before Crawley made the pass for the lead. Two laps later as Bowden was trying to re-take the point in lapped traffic, he tangled with a lapped car and had to re-start at the rear of the field. On the re-start with eleven laps to go, Crawley held the point and went the final distance for the win. Ernie Ainsworth, Johnny Gardner, eleventh starting Derek Hagar from Marion Arkansas in fourth place and 2011 USCS presented by Goodyear Rookie of the Year, Jordon Mallett from Greenbrier, Arkansas rounded out the top five drivers.
Defending series Champion, Terry Gray from Bartlett, Tennessee lead the next group in sixth place. Jamie Veal from Warrnambool, Australia followed Gray in seventh place. Lee Sowell from Nesbit, Mississippi finished eighth in his first 2012 start. The 2009 USCS presented by Goodyear National Rookie of the Year, Justin Carver from Drummonds, Tennessee followed in ninth place and 2010 USCS Mid South regional Rookie of the Year, Jerod Roller from Hernando, Mississippi rounded out the top ten in the main event.
Justin Carver earlier won the first of two USCS presented by Goodyear sprint car B-Main events and Justin Webb also from Drummonds, Tennessee won the second one.  The 2008 USCS Rookie of the Year, Anthony Nicholson from Bartlett, Tennessee kicked off the evening's action with a trip to the www.RockAuto.com victory lane in the six-lap Goodyear Speed Dash. Rookie Nathan Cook from Oakland, Tennessee won the Engler Machine and Tool First Heat. Tim Crawley won the Butlerbuilt Second Heat. Jordon Mallett won the Schoenfeld Third Heat race and 2010 USCS Southern Thunder regional series Rookie of the Year, Eric Riggins, Jr. from Charlotte, North Carolina won the JE Pistons Fourth Heat.
For passing the most cars in the main event Ronny Howard from Nesbit, Mississippi garnered the evenings Wilwood Disc Brakes "Hard Charger" Award. Johnny Gardner from Little Rock, Arkansas collected the J.E. Pistons Top Guns award that rotates from first through fifth places. He also earned the K&N Filters Podium Award for his third place finish in the A-Main. Jordon Mallett earned the Keizer Aluminum Wheels top Five Award and Jerod Roller received the DMI/Bulldog Top Ten Award.
The next United Sprint Car Series presented by Goodyear Outlaw Thunder Tour Speedweek 2012 Round #2 event is at Greenville  Speedway on Sunday, May 27th  @7:30pm.  The series then stops at Clayhill Motorsports in Atwood, Tennessee for Round #3 on Monday night (5/28). After two days off the mini-series picks up again at Clarksville Speedway in Clarksville, Tennessee with Round #4 on Thursday night, May 31st before contesting Rounds #5 and #6 at Columbus Speedway in Columbus, Mississippi on Friday and Saturday, June 1st and 2nd. For a complete USCS schedule and rules, etc., please visit www.uscsracing.com or call 770-460-7223.
USCS presented by Goodyear Speedweek 2012 results at Riverside Int.  Speedway, May 26, 2012
Goodyear Speed Dash 6-laps: Anthony Nicholson, Eddie Gallagher, Tim Crawley, Terry Gray, Justin Carver and Morgan Turpen.
Engler Machine and Tool First Heat: Nathan Cook, Johnny Gardner, Brad Bowden, Justin Webb, Jamie Veal, Brandon Hanks, Cody Howard and Tim Sites and Casey Rowland.
Butlerbuilt Second Heat: Tim Crawley, Lee Sowell, A.G. Rains, Derek Hagar, Wade Oliver, Anthony Nicholson, Jan Howard and Zack Pringle.
Schoenfeld Headers Third Heat: Jordon Mallett, Ernie Ainsworth, Alex Pettas, Michael Herrington, Dylan DeJournett, Cody Gardner and Ray Bugg.
JE Pistons Fourth Heat: Eric Riggins, Jr. Terry Gray, Jerod Roller, Justin Carver, Eddie Gallagher, Morgan Turpen, Tristan Tidmore and Ronny Howard.
USCS presented by Goodyear B-Main #1: Justin Carver, Eddie Gallagher, Anthony Nicholson, Wade Oliver, Morgan Turpen, Zack Pringle, Tristan Tidmore, Tim Sites and Jan Howard.
USCS presented by Goodyear B-Main #2: Justin Webb, Michael Herrington, Ronny Howard, Brandon Hanks, Cody Howard, Casey Rowland, Ray Bugg and Dylan DeJournett.
USCS presented by Goodyear feature race (30-laps) results at Riverside Int.  Speedway, May 26, 2012
88 Tim Crawley, Benton, AR
40 Ernie Ainsworth, Bartlett, TN
31G Johnny Gardner, Little Rock, AR
9Jr Derek Hagar, Marian, AR
14 Jordon Mallett, Greenbrier, AR
10 Terry Gray, Bartlett, TN
35 Jamie Veal, Australia
2 Lee Sowell, Nesbit, MS
87 Justin Carver, Drummonds, TN
5 Jerod Roller, Hernando, MS
44 Ronny Howard, Nesbit, MS
16 Anthony Nicholson, Bartlett, TN
7 Michael Herrington, Gonzales, LA
39 Brad Bowden, Hernando, MS
3 A.G. Raines, West Memphis, AR
3h Brandon Hanks, Burleson, TN
31 Justin Webb, Drummonds, TN
80 Morgan Turpen, Oakland, TN
2 Alex Pettas, Phoenix, AZ
1 Eddie Gallagher, Piperton, TN
4 Nathan Cook, Oakland, TN
47 Eric Riggins, Charlotte, NC
58 Wade Oliver, Southaven, MO
Did Not Start:
1g Cody Gardner, Little Rock, AR
7d Dylan DeJournett, Essex, MO
13 Triston Tidmore, Hernando, MS
15 Jan Howard, Marion, AR
14z Zack Pringle, Benton, AR
20 Tim Sites, Memphis, TN
61 Cody Howard, Byhalia, MS
C4 Casey Rowland, Nesbit, MS
25 Ray Bugg, Iuka, MS
USCS presented by Goodyear Sprint Car Race Awards:
Goodyear Speed Dash winner award: #16 Anthony Nicholson  www.racegoodyear.com
Engler Machine and Tool First Heat winner award: #4Nathan Cook  www.englermachine.com
Butlerbuilt Second Heat winner award: #Tim Crawley www.butlerbuilt.net
Schoenfeld Headers Third Heat: Jordon Mallett  www.schoenfeldheaders.com
JE Pistons Fourth Heat: Eric Riggins, Jr. www.jepistons.com
K&N Filters Pole Award: #39 Brad Bowden  www.knfilters.com
Wilwood Eng. Hard Charger Award: #44 Ronny Howard www.wildwood.com
JE Pistons Top Guns Award: #31g Johnny Gardner (3rd place) www.jepistons.com
K&N Filters Podium Award: #31g Johnny Gardner (3rd place)  www.knfilters.com
Keizer Wheels Top Five Award: #14 Jordon Mallett  www.keizerwheels.com
Diversified Machine Inc/DMI Top 10 Award: #5 Jerod Roller www.diversifiedracing.com