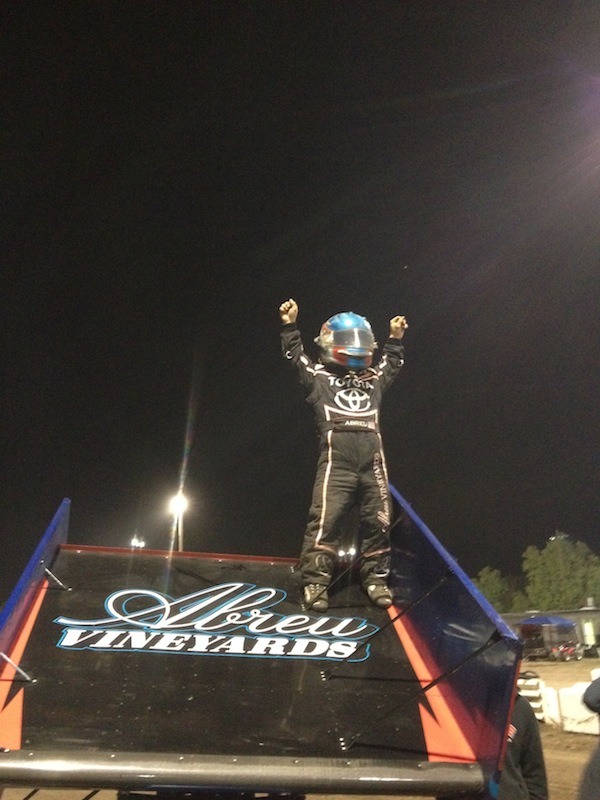 PETERSEN MEDIA
One year ago to the day, Rico Abreu made his debut in a 410 winged sprint car at his home track, the Calistoga Speedway, and last night the local product returned to the vaunted ½ mile speedway and showcased the skill set he has acquired in 365 days as he simply dominated the 25-lap feature event to score his third career sprint car win.
Over the last month, Abreu has been one of the hottest drivers around since finally breaking into victory lane in Chico, and the youngster has since picked up the last two Cancen Oil King of the West series races he has competed in.
"This feels so great to get a win here at home, about 10 minutes from where I sleep, and in front of so many family members and friends," said the ecstatic Abreu."
Flying in from Indiana just one night after competing in a pavement midget race, Abreu hit the track in time for wheel pack, and ended up qualifying his Abreu Vineyards/Stadelhofer Construction/Kaeding Performance No. 89 seventh fastest putting him on the front row of his heat race.
Scoring a second to Tim Kaeding, Abreu transferred into the dash, where Jonathan Allard ultimately traded him the two pill, and put him on the front row.
"Sometimes things just go your way, and it was pretty awesome that I ended up with the two, and started on the front row of the dash," Abreu continued.
Getting the jump, Abreu stretched his lead, and cruised the easy victory putting his Matt Britt, and Clark Riolo tuned machine on the pole for the 25 lap feature.
Just like the dash, Abreu got a great jumped and rocketed off to an early lead, until the race was slowed on lap one for an upside down Tim Kaeding.
Abreu again got the jump on the restart and simply put on a show for his hometown fans.
Getting through traffic like a seasoned veteran, Abreu had stretched his lead a half a lap over second running Jason Statler.
As the white flag waved the crowd rose to their feet in excitement for Abreu, and as the youngster came out of turn four he was greeted with the yellow flag instead of the checkered flag as a car slowed in turn four, in what was the most controversial call of the night.
"Usually nothing good happens for the leader on a green, white, checkered, finish, but I just told myself to keep calm, and nail my restart."
Abreu did just that as he held second running Willie Croft at bay, and went on to put his Outlaw Wings/Factory Kahne/Swift Metal Finishings machine in victory lane.
"My guys simply worked their tails off all night, and it's just so amazing to win on this track. It's big, it's fast, and it bit me last year, and to win here in just my second start is simply special," the excited youngster finished with.
Saturday night Abreu was in action aboard his Keith Kunz midget at the Night Before the 500, and after qualifying third quick, and finishing third in his heat- Abreu backed up to a middle of the pack finish.
Rico and his team would like to thank Abreu Vineyards, Toyota, ButlerBuilt, Kaeding Performance, Stadelhofer Construction, Outlaw Wings, Swift Metal Finishings, and Petersen Media for their partnership.
ON TAP: Rico will now head back to Indianapolis for the next month as his midget schedule picks up. Abreu's next event with be the Hut 100.
STAY CONNECTED: Stay updated with Rico by visiting his website at www.ricoabreuracing.com, 'liking' him on facebook at www.facebook.com/ricoabreuracing or following him on twitter @RicoAbreu24.
VIDEO: Be sure to check out http://www.youtube.com/ricoabreuracing for video of Rico, as content is constantly being uploaded!