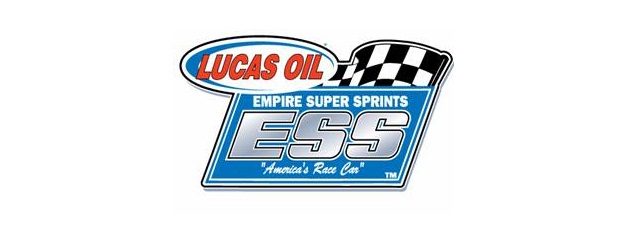 By Dean Reynolds
FONDA, N.Y. – There is no place like home for Jessica Zemken. On Saturday night she returned to the place that she spent so many nights as a child watching her dad race and promptly dominated the evening.
She won her heat race, the four lap dash and then she went out and won the Lucas Oil Empire Super Sprint Earl Halaquist Memorial 25-lap main-event as part of the SUNY Canton Series and the Universal American Stars and Stripes tour. The victory netted her $2,125
"I had to work for that one but this feels awesome," said Zemken afterwards in Victory Lane. "I definitely didn't have the best car tonight. We went with a really hard tire and I don't think it was the way to go but ultimately we had to go slower to go faster here at Fonda and it paid off."
Zemken, from Sprakers, N.Y., started the race from the inside of the second row and she watched as Cory Sparks vault out to the early race lead at the green flag.
Sparks paced the field in the early going with Zemken in tow aboard her own No. 1z Corr-Pak backed machine. She began to close once Sparks encountered slower traffic on the ninth circuit.
That traffic ultimately opened the door for Zemken as she made a pass for the lead, but before the lap could be completed Alain Bergeron had slowed in the second turn bringing out the caution forcing Zemken back to the runner-up position on lap 13.
When racing resumed, Sparks went to the outside lane for the restart and drove away from Zemken initially. She tried to follow him on the top lane but it wasn't working. On lap 17 she moved to the bottom lane which eventually paid off.
As Sparks worked the high-side of the speedway Zemken went to low groove and on lap 19 she made the move to take the top spot away in turns three and four on the inside.
"I was terrible up on the top so I had to try something," said Zemken. "Traffic had helped me out and I really didn't need that restart there with him (Sparks) on the outside that really killed me and I knew I had to try something so I went to the bottom and tried to be smooth and consistent and it worked out."
Once she found the bottom, Zemken was able to drive away from Sparks to eventually go on to earn the victory at the Track of Champions.
Like Zemken, Lance Yonge, of Penn Yan, N.Y., found the bottom in the closing laps and moved from fourth to second in the final corner as he passed Sparks and Fonda Speedway Modified regular Bobby Varin.
"Once we got back going after that restart we got back to the bottom and it was faster," said Yonge. "These guys are so good here with Jessica (Zemken) starting up front. I wish we could draw a good number and start up with them guys and it might be a good race."
Sparks, of Edinburg, N.Y., ended up fading back to third at the final checkered. He was happy with the outcome at the end after suffering a broken spindle.
"I was lucky to finish that race at all," stated Sparks who debuted a new sponsor Adirondack Harley Davidson. "We broke a spindle at the end and we were just fortunate to make it to the checkered flag."
Varin ended up finishing in fourth after starting 14th and Justin Barger, of Montrose, N.Y., completed the top five.
ESS/FONDA NOTES: A solid field of 32 sprints played host to Fonda's biggest crowd of the year…Making first starts of the 2012 season were Zemken, Varin, Warren Alexson, who was impressive with his heat win, Mark Zemcik, Luke Munroe, Jami Russell, Charlie Donk, Robbie Stillwaggon and Josh Pieniazek who rolled his sprint over during his heat but came back in the B-Main only to miss by one spot…Kevin Loveys was subbing for the injured Steve Poirier and he missed the A-Main by two spots…The Lucas Oil Tour will return to Fonda on Sat. Sept. 22 as a part of McDonalds Weekend.
Lucas Oil Empire Super Sprints – Fonda Speedway Earl Halaquist Memorial.
A-Main – Jessica Zemken ($2,125), Lance Yonge, Cory Sparks, Bobby Varin, Justin Barger, Chuck Hebing, Sammy Reakes IV, Jeff Cook, Dan Kaszubinski, Warren Alexson, Jason Barney, Shawn Donath, Mike Stelter, Michael Parent, Charlie Donk, Matt Tanner, Paul Habeck, Paul Kinney, Jami Russell, Robbie Stillwaggon, James Hanson, Etienne Girard, Alain Bergeron. DNS Kevin Ward Jr.
Lap Leaders – Sparks 1-18, Zemken 19-25.
Did Not Qualify – Kory Gurney, Josh Pieniazek, Luke Munroe, Mark Zemcik, Kevin Loveys, Patrick Vigneault, Kyle Dutcher, Joe Trenca.
Car Mate Custom Built Trailer Heat 1 – Alexson, Cook, Reakes IV, Stillwaggon, Donk, Kinney
Car Mate Custom Built Trailer Heat 2 – Sparks, Yonge, Hebing, Barger, Varin, Donath
Car Mate Custom Built Trailer Heat 3 – Zemken, Barney, Tanner, Stelter, Kaszubinksi, Habeck
Winners Circle Restaurant/Cobra Coaches Dash – Zemken.
B-Main – Ward Jr., Parent, Bergeron, Russell.
Provisionals – Girard, Hanson.
Bonuses:
Westward Painting Company Halfway – Sparks ($100)
Lee's Repiar Auto and Truck – Varin (10 pos.) $50
Ohsweken Speedway Winners Bonus – Zemken $50
Fondations 55 Pick 5 – Barger $50
Noeth Eastern Pool and Spa Power Pick – Bergeron, Kinney $50
Car Mate Custom Built Trailers – Alexson, Sparks, Zemken. $25
The Lucas Oil Empire Super Sprints are brought to you by: Lucas Oil, Le Groupe Ultra, SUNY Canton, Universal American, Hoosier Racing Tires, Fondations 4 Saisons, Cobra Coaches, Westward Painting Company, Mach 1 Chassis, Lee's Repair Auto and Truck, Fondations 55, Eric Varin Roofing, North Eastern Pool and Spa, Car Mate Trailers, Brodix Cylinder Heads, Ohsweken Speedway, Northwood 2 Construction/Lasalle Motorsports, AKS Firearms, Jasmin Peloquin Sport, 730 Truck Stop, Riverside Bar and Grill, FX Chevy and many, many associate sponsors!!